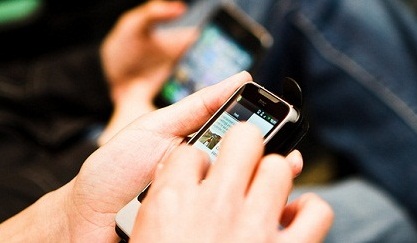 Image source: icelava
Nowadays we no longer depend on a PC to check emails, interact on social networks, check flights, and shop online. We can do that and a lot more with a mobile device, and we can do it no matter where we are – in a bus, in a store or in a coffee shop. When it comes to the web and mobile devices, there's no longer a space limit. But there's definitely a time limit – if we're looking for information, we expect to find it immediately, if not sooner.
This is where frustration comes in. There are few sites that have a version designed for mobile devices. Just imagine how frustrating it is to access a site and instead of being redirected to the mobile version, you have to navigate through the desktop version. This means scrolling, zooming, scrolling and zooming again. If it's difficult to get around and find the information we need, than we just give up and exit.
Mobile is not desktop
Designing for mobile is not like designing for desktop. It's a bit more complicated because it's all about sacrifice. You will be forced to remove a lot of content and keep your message clear and simple.  This means that if there is content that you can take out and still get your message across to the user, then you should have no problem removing it.
When it comes to designing for mobile, you must stick to the content and navigation that makes it easier for the user to get around and find what he needs fast. The keyword is simplicity – take advantage of the little space you have available to squeeze in only the relevant information.
Now that you realise how important it is to design a mobile version for your site, here are some more specific things to consider:
Starting from scratch?
That is usually the first question that you ask yourself: should you use your desktop version and convert it or should you just create a mobile version from scratch? We suggest you use a sub domain of your main site. This way you can get insights in to your visitor's behavior on your mobile site and optimize it accordingly.
Find out more about your visitors
Before removing any content, it's better to find out first what information your visitors are looking for on your site. Gather some insights from them (using a poll might be a good idea or just go through your Analytics account) so you can decide how to organise your content in order to give them easy access to the areas of your site that they're visiting the most and remove the ones they're not interested in.
Focus on navigation, not on a pretty design
The most popular screen resolution for smartphones is 320×480. This means that you have to be smart about the little space you have available. Keep design elements to the minimum and make the navigation simple so they can find their way around easily. Jakob Nielsen, the user interface guru, says that "when everything is prominent, nothing is prominent".
Using a 3 elements simple page structure can't fail: header with your company logo, body with a short description of a post and a footer with contact details or other relevant information about your site. Try to get passed the pretty design elements because an attractive design not a priority, but an easy navigation is!
Don't make them zoom in
Make sure to optimise the navigation in order to make it as easy as possible for your visitors to go through your site. For touchscreen devices, pay extra attention to the clickable areas – links and buttons. These have to be big so people can easily click on them without having to zoom in.
If in doubt, cut out
Cut out as much content as you need and only leave that information that is relevant for your visitors. At the beginning of your research, you have managed to determine what your visitors are looking for on your site – that's the information they need and that's the one you have to include. Find our more about writing for mobile.
Using images
Images take up space and considering the little space you have available, it's better to leave them for the desktop version. However, you can use images but only if you believe it would reinforce your company's message and make it more powerful.
Test it over and over again
Once you have finished designing and implement your site's mobile version, start testing it on as many mobile devices as you can to see how it look and moves. This is something you would need to do constantly to ensure there are no issues and that everything is displaying correctly.
What are, in your opinion,  the most important things to consider when designing for mobile?