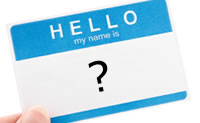 Part of the challenge of buying a domain name is juggling alternative spellings and domain extensions to find a decent one.
But imagine if none were taken and you could pick any domain name you like. What would you have? And why?
CreativeMorning is a regular event which happens in New York. We've not been (it's too far from London and we'd never get it through on expenses), but we noticed they used this simple concept as an icebreaker, asking people to scribble down the domain they'd most like to own.
You can see what people chose on Flickr. For such a simple idea, it offers a surprising insight into people's personalities, priorities and motivations. Or we can pretend it does – the scientific basis of such judgements is probably flaky, to say the least.
Still, it's a good game to play. You can take a guess at who doesn't like early mornings, who's got a cold, but definitely not swine flu – and who's into buying and selling domain names for money.
So, over to you. If you could choose any domain you like, what would it be? And why would you pick it? Leave a comment and let us know.