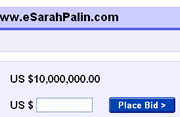 It looks like at least one domain name opportunist is trying to cash in on the coverage surrounding John McCain's presidential running mate, Sarah Palin.
The Alaskan was catapulted onto the world stage last week when she became only the second ever female US vice-presidential candidate.
We don't normally cover US politics in great detail on this blog, but I noticed this morning that someone is offering the catchy domain name, esarahpalin.com on eBay. You can find the auction here.
Bidding starts at a bargain $10m, but if you want to be absolutely certain of securing this awesome domain name, you'll need to fork out $21m to close the auction early using eBay's Buy it Now feature.
Is it for real?
Let's be honest. $10m (never mind $21m!) is an awful lot of cash for this domain. Worse, it could well turn out to be worthless if Sarah Palin disputed its ownership. And given the WHOIS record shows the domain was only registered on 8 September, she'd probably have a strong case.
This all makes me wonder if the auction is for real. Perhaps the seller is hoping to make a fast buck, unloading the domain before the McCain camp notices it and files a dispute. But if that's the case, why ask such a ridiculous amount of money for it?
It's not as if esarahpalin.com exactly trips off the tongue either. Still, if you don't fancy spending $10m+, you could get in there and grab isarahpalin.com for £8.99 while it's still available. Don't all rush at once…
Would you pay $10m for this domain? Or indeed, for any domain? (If it makes any difference, the seller is offering free shipping on your $10m purchase. Very generous.)