Google announced recently that it has improved the way sitelinks appear. The newer version is expanded and it's presented as a column of relevant links.
Now when people search for a site they instantly see a greater idea of what your site includes.
The purpose of this update is for users to get to the information they need easier and faster. By showing them the most relevant links, they no longer need to go to the site's homepage and then navigate through it to get to the information they're looking for.
So, this is how sitelinks look like now: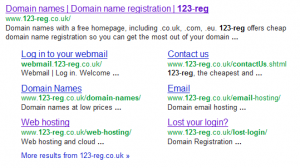 Who can benefit more from the new sitelinks?
Aside from the user who's saving time with searches, there are also the big brands that are benefiting from this change.  Let's think about it – the new version of sitelinks takes up a lot of space on the first page of results, which equals to less space for its competitors or less relevant sites.
This means that users will pay more attention to the main result and less to the ones situated below. To big brands this translates to an increased number of conversions coming from organic visits and powerful keywords.
So what should be your next move?
You should focus more on optimising your content correctly and on website architecture – site structure, URLs naming, etc.
What do you think about Google's sitelinks update?