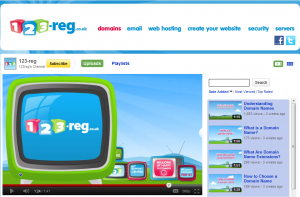 Our recent blog on creating your YouTube campaign proved very popular so we thought we'd try and help with some more YouTube tips and tricks. Not many marketers are aware of how valuable YouTube is from a SEO point of view. If the videos that are uploaded to your channel are optimised correctly, you can get great results.
If you already have a YouTube channel set up, it's important to know how to optimize your videos . The process is simple. Once you've uploaded your video to YouTube, include a title, a description and some tags to go with it.
For instance, on our 123-reg YouTube channel we've uploaded several videos explaining what is a domain name, how to choose a great domain name and so on. Let's take for instance this video that explains how to register domain names.  The title as well as the description includes the keywords we are targeting – domain name and register a domain name.
Start the description with a link back to your website followed by a short paragraph that delineates what the video is about. For example, our description looks like this:
"http://www.123-reg.co.uk/ – To register a domain name you need to first check its availability: mysite.com. This search is done through a domain name registration company, like 123-reg."
The description you include will appear in search results on Google and your video will show up as a result of a search using the keywords you've targeted.
As a last step, you have to fill in the tags for that video.  You should first include your main keywords and then variations of those. For instance, for our video here are some of the tags we used: "domain, domains, domain name, register domain names, how to register a domain, check domain availability".
Don't forget to check out the new 123-reg YouTube channel.