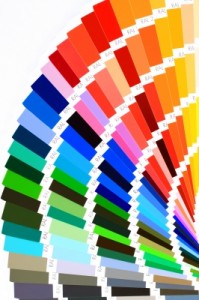 If ever there was a single factor in web design that could alienate or entrance a client in one hit, it is colour. Colour schemes are incredibly emotive things and have many connotations to different people so here are 6 tips to try and help you get it right first time.
1. Ask the client first
We all know what the client thinks in design terms is unlikely to be what they really need – you are the designer after all – but what they will know is what they don't like. At least if you know this from day one, you can eliminate that from your choices and avoid those tumbleweed moments when you first present the new design to the client.
2. Work to brand guidelines
The chances are the smaller of your clients won't have a nice formal, shiny brand guidelines booklet or PDF. If they have great – certainly ask – and make sure you work to them. If they have taken the time to create the guidelines then don't expect there to be any leyway to deviate from them unless the client expressly asks in the brief. If there are no formal guidelines, create your own based on what you know of the client. What uniformity, branding, etc do they use on their headed paper, sales literature, business cards, website etc.
3. Imitate images
In many cases a client will give you a brief asking for a specific image to play a big role in the design or content. If so, it makes sense to compliment the image with the rest of the design, so use the colours in the image  as a basis for your colour pallette.
4. Look at what they like
Colour is a very emotional response and there is countless research and theory on what inspires and causes this, but the quickest way to decide what will work is have a look at websites, magazines, even clothing design that appeals to your target audience and is successful with them. What works for them? Is it solid colur? Certain shades? Colour can be very influential and something familiar (although obviously not a blatant copy) is re-assuring to new visitors.
5. Think textbook. Think Theory
Yes we are creatives but the reason those academics keep plugging on about Chevreul's law and Newton's colour wheel is because they work. The audience will also have their brain trained to these methods, so it would be foolish to risk too much immediate jarring when they first view your new site. Adobe Kuler is a great starting place if you need some help coming up with colour scheme options.
6. Note your responses to the first 5 tips
No we are not just stretching a 5 point tip article to 6. In fact this is probably the most useful one to remember. If you have made a decision on choosing a colour scheme based on the above criteria, as least you have something very substantive to put to the client when they say "why did you choose that colour?" Again, remember you are the designer and any client worth their salt who has commissioned your professional skills will be impressed if you can justify your colour choices in this way. That probably applies to the amount of white space you have left too.
Happy colouring.