Advertising your business is key whatever industry you are in and whatever your size. If people don't know who you are how are they ever going to find you?
Online advertising is the quickest and easiest to show results in but it can be very difficult to master. It's not easy getting it right but with some expert guidance and advice you can steal a march on your competitors which is where 123-reg can help.
We've launched our new Google AdWords service where our team of Google trained experts will help choose your keywords, help create your perfect advert, target your audience to make the most of your ads and manage your whole AdWords campaign too.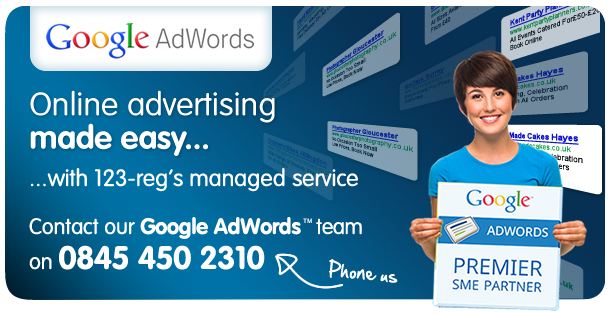 Google AdWords – also known as Pay-Per-Click (PPC) online advertising – is a quick and easy way to advertise your site on Google. If somebody is searching via Google and what they are searching for matches what you offer, your ad will be shown at the top or to the side of their search results. This is targetted advertising meaning that your ad will only be shown to people who are interested in what you offer. Since you only pay when a customer clicks your ad and visits your website you can be sure that the traffic coming in is already relevant to your website making it one of the most cost-effective way to advertise on the internet.
What can we do for you?
When you sign up for Google AdWords with 123-reg you get access not only to our team of Google accredited experts to help set up your ads and advise every step of the way, but also:
Managed campaigns – We do the hard work by fully managing your Pay-Per-Click campaign allowing you to turn your attentions to building the other parts of your business.
Geo-targeting – Our experts can help geographically localise your ads so that the people who see your ads are always near to where you are based i that is important to yor business.
Tailored Ads – Our accredited and Google trained team can build you personalised campaigns specifically for your business using specific key words and ensuring your audience is utilised for maximum effect.
Budget control – Our pricing structure is simple making it easy for you to control the amount you are spending per month, keeping your budgeting simple too. You needn't have a massive budget either. Our experts are trained to work with SMEs and make the most of what budget they have have available.
Reporting – As a 123-reg Google AdWords customer we'll keep you up to date with regular reports and help you understand your campaigns and how you can optimise your performance.
So if you've never tried Google AdWords before, or perhaps never got the results you had hoped for give the 123-reg PPC management team a try now.