Pitch to Rich with #VOOM and 123 Reg
Virgin Media Business #VOOM 2016 launched yesterday. It's a chance for any small business to pitch their business idea to Sir Richard Branson and win a share of the £1 million prize fund.
Sounds exciting, right?
As you might imagine though, competition is tough. Last year 2,667 pitches were submitted and just a handful of those made it down to the final stage.
Now it sounds daunting!
Don't worry. You don't have to do this alone. 123 Reg has teamed up with #VOOM and we will support the best entries from 123 Reg customers with our expert #VOOM team.
After all, two of last year's winners, AppyParking and Cauli Rice, were 123 Reg customers!
All you need to do to get this support is take part in the survey below.
But first, let's look at what you'll need to do in order to enter the competition itself.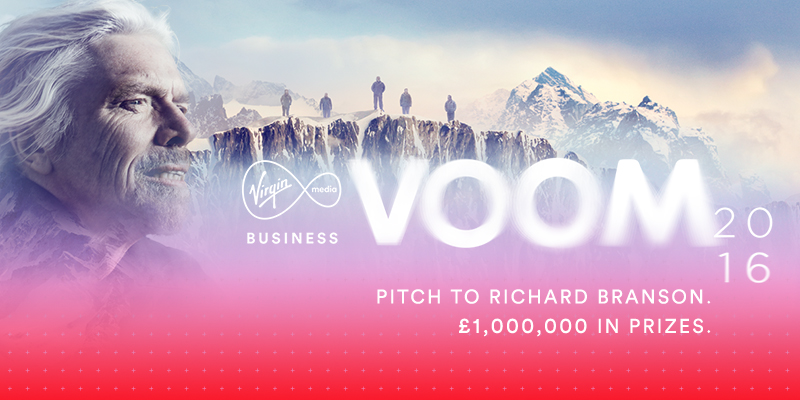 1 – Decide which category you want to enter
There are two main categories: Start-Up and Grow. If you only have a business idea, or your business has just launched, then the Start-Up category will be the one for you. The Grow category is for businesses that have a proven business model and a clear idea of how they're going to scale things up.
2 – Decide if you want to enter for an optional award
As well as the two main categories, there are three optional award categories you can enter. These are:
Export Award – For businesses that are already trading outside of the UK
Impact Award – For businesses that are focused on more than just profits. Entrants to this award won't just create a product or service that solves some of the world's most pressing challenges, they'll also need to demonstrate a financially sustainable business model and will be able to accurately measure social or environmental impact.
Crowdfunding Award – For businesses that choose to crowdfund during the #VOOM competition itself.
Remember though, these three award categories are optional. You can just enter the main StartUp or Grow category if that's what suits you best.
3 – Make your pitch perfect
Once you've decided which category you're aiming for, it's time to start work on your pitch. Here's what you'll need.
A sentence about your business – What makes your business and what it does so special? Distil that down to a sentence and you're one step closer to a winning pitch. A word to the wise though – the early stages of #VOOM voting are open to the public. That means you'll be trying to convince an audience of non-experts so keep it simple and avoid jargon.
A video pitch – You'll have 90 seconds to sell your business on film, so make the most of it. All you'll need is a smartphone with a video camera, a tripod and the gift of the gab.
Add the bells and whistles – Anything extra you can add to your pitch such as logos, images and social media links will help your chances. You should also add some extra copy to further explain what you do.
Now, out of these pitch elements only the copy part is compulsory. Everything else like social media and video is just added extras. But it's the added extras that will help you stand out from the crowd, so make sure you give it your all.
If you need some inspiration to get you started, check out this video from the #VOOM team.
4 – Let us give you a helping hand
You could go off and try to win #VOOM on your own, but everything is always easier when you've got a helping hand. At 123 Reg we're ready and waiting to help craft your entry with our team of #VOOM experts! To get us on your team, fill out the survey by clicking on the image below.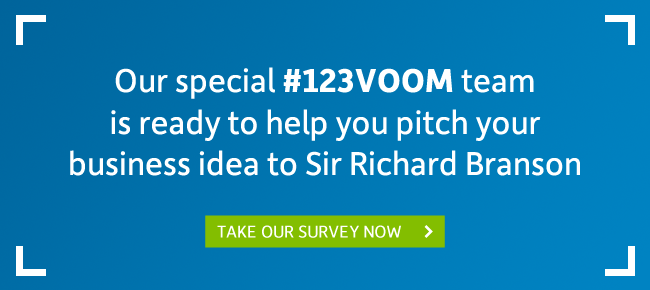 We'll then hand pick 15 entrants  and guide them through the pitching process including meet ups with last year's winners to get their input on your entry, help on how to distil your idea into a #VOOM-winning sentence and help crafting your video entry. Once you've made your entry, we'll promote it on our website and via our social media channels. We'll also give you advice on how to clock up as many of those all-important votes as possible.
Throughout the competition we'll post guides on our blog to further help you craft your winning entry and #VOOM your business.
Closing dates
If you want to enter #VOOM on your own, then you have until May 10th to do so. However, if you want your entry to be supported by the 123 Reg team, then you'll need to complete the survey before April 2nd. Get started now, and give yourself the biggest possible chance of walking away with a share of that £1 million prize fund.