Introducing Dot London: The nation's capital domain
In late 2013 it was announced that London & Partners, the promotional organisation for London, was successful in its application to set up and manage the new dot London domain name. Thanks to London and Partners, the capital will be one of the first major cities to launch its very own domain name.
From 29th April 2014, business and individuals in London will be able to register for one of the most talked about new domain names and 123-reg is delighted to announce its partnership with London and Partners.
We fully expect London's internet kite mark to be incredibly popular and independent research from YouGov suggests that more than 200,000 of the capital's SMBs are already interested in registering a .london web address.
For this reason, we sat down with Alex Kinchin-Smith, Director of dot London, to help you recognise the opportunities of London's exclusive domain name and how it can help your business attain both trust and exposure in one of the world's most thriving cities.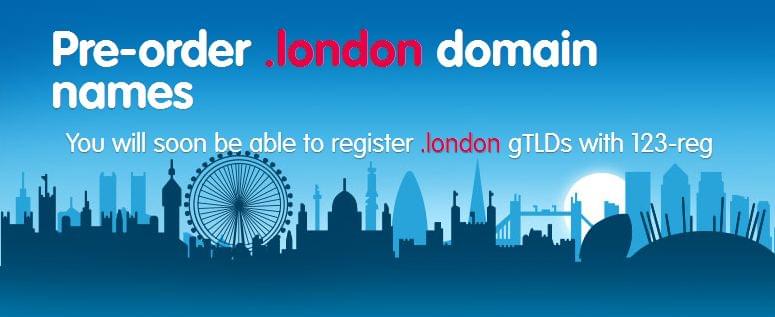 Q: Why London?
'London is one of the best cities on earth and is the powerhouse of the UK economy. It is a city that welcomes and nurtures enterprise; providing great new opportunities for businesses and individuals alike, within a changing technology environment. Dot London will appeal to those that want to show their pride in being part of our great city.
London is a centre for innovation. We want the new London domain name to serve as a platform for digital innovation. It will be the creativity and dynamism of entrepreneurs across the capital that will drive the success of the domain – using it to deliver exciting new products and services that will bring to light everything that is best about London.'
Q: When and how can I register my new .london domain?
'Dot London will be available for registration on 29 April 2014 and this launch period will last for three months. In the first phase of the launch, those applicants with a London postcode will take priority, as well as organisations that have registered through the ICANN accredited Trademark Clearing House.'
Q: Will this be first come, first served?
'This launch period will run on an application basis, rather than on a first come first served basis. We believe that it is the fairest way to ensure that those who are given priority status can apply for the domain names they want.'
Q: What are the benefits to me and my business?
'This a unique opportunity for businesses, organisations and individuals to identify themselves directly with London and to secure a memorable domain name. London leads the way for investment, innovation and culture and is at the cutting edge of new technology.'
Q: And is it important to advertise my location?
'New gTLDs offer a more relevant and personal web address. As the importance of localised search grows, those who identify themselves in this way will inspire a greater sense of trust and legitimacy. City based gTLDs will offer an extraordinary opportunity for Londoners to both distinguish themselves as part of a local community and display a sense of pride in their association with the city. London is truly global and enshrines all that is best about business, culture, technology, tourism and creativity. It is with these values that we launch dot London and what makes it such an attractive new domain name.'
London's very own domain name will give Londoners a unique opportunity to stand out from the crowd. During the early stages of the new gTLD process, dot London has been the most sought after domain for 123-reg customers so it is important that if you are interested in the domain, that you look to secure this as soon as you possibly can.
From 29th April 2014, we will be taking registrations for the .London gTLD so be sure to register your interest in a Dot London domain name here.