Seven ways to find product ideas to sell online
Want to start an online shop or add new products to your catalogue but have trouble coming up with product ideas to sell? Are you browsing the web and feeling like everything you could possibly sell is already being sold? Or that there's so much competition for the products you've decided to sell that you don't stand a chance to make a profit?
Sure, finding profitable product ideas is not easy but it's also not impossible. Think about it – there are so many products being launched all the time that you're bound to find yours. Read this post for seven ways to find products to sell in your online shop.
1.   Start with what you have
You could go online and spend days searching for inspiration. Or you could start with what you already have. Maybe you've written down some product ideas a couple of years ago that you've forgotten about. Or maybe you have a folder somewhere on your computer where you saved some notes and ideas to use in the future.
Now's the time to dig them up. You might realise that they're actually worth selling or serve as inspiration to help you come up with different product ideas.
2.   Get inspired by your own passions or paint points
There are lots of successful entrepreneurs who have started their businesses because they were passionate or frustrated about something.
So, when trying to come up with product ideas, consider these questions:
What are you most passionate about?
Is there a particular product, niche or industry that you're interested in?
What pain points do you have in your life?
For example, let's say you're passionate about music, and you especially enjoy listening to music on vinyl. You also love talking to people about your favourite bands and the pickup and equipment you use to ensure the best sound quality. You might also enjoy DJ-ing occasionally. Wouldn't it make sense then to sell music products like vinyl, posters, and equipment?
And if it pains you that there are lots of great unknown local bands that are struggling to reach more people, why not make it your mission to support, promote, and sell more local music in your store?
3.   Get inspired by other people's hobbies and passions
You can also sell products based on the passions and hobbies of your friends, family, and loved ones or, why not, people across the globe. Did you know that Wikipedia has a huge list of popular hobbies around the world?

So, if you want to sell online and outside of the city or community you live in, this is a great place to start your research. Browse through the lists of hobbies and write down any product ideas you think might work.
4.   Pay closer attention to the needs and wants in your local community
Let's say you live in a community with lots of pet owners and pet shops. But as you visit the pet shops and listen in on the conversations, you realise some products they'd love to buy are out of stock or just don't exist.
That's valuable information coming directly from customers. Why not use it to create a new product, or to sell an existing product that isn't being sold in your area?
Of course, you can get this feedback online too. Just look at customers' reviews and comments on a shop's product page and social media profiles. See if there's any product that's always out of stock or on everyone's "would buy that if it would exist" wishlist.
5.   Browse through popular online marketplaces
You can also gather inspiration from popular marketplaces like Amazon, Etsy or eBay. Simply run a search for a particular product and read through customers' comments. You'd be surprised how many people share product ideas or suggestions on what they'd improve to a particular product.
Aside from ideas, these marketplaces can also give you valuable information on what's popular and trending. For example, Amazon have lists for Best Sellers, Most Wished For, and Movers & Shakers for most product categories.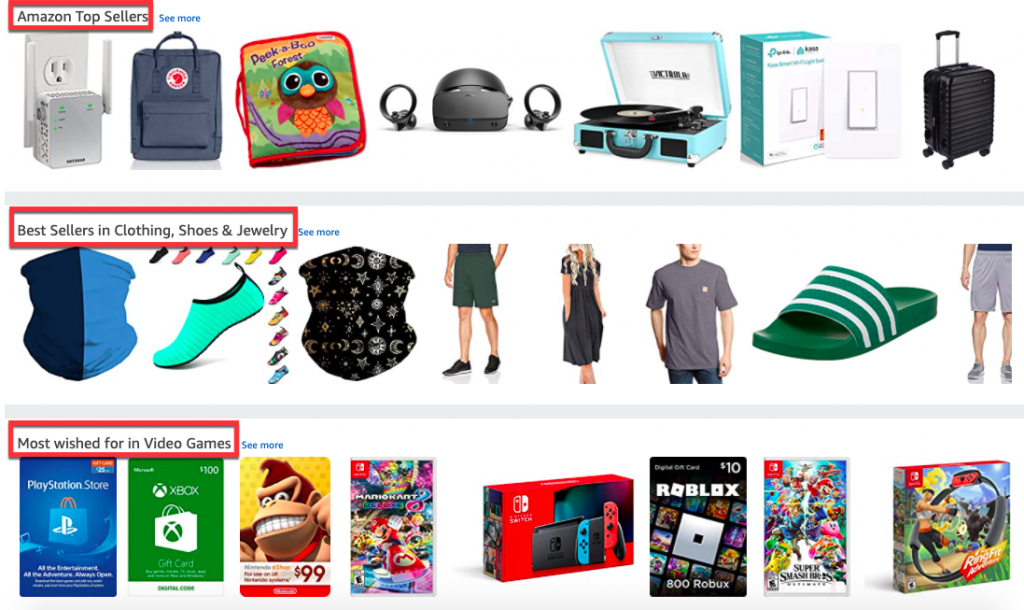 Kickstarter also have categories of products that you could sort by Popularity, Most Funded and Most Backed so you get an idea of what's trending and in-demand.

Etsy too have lists of products for Most Wanted, Best Selling and Most Popular items.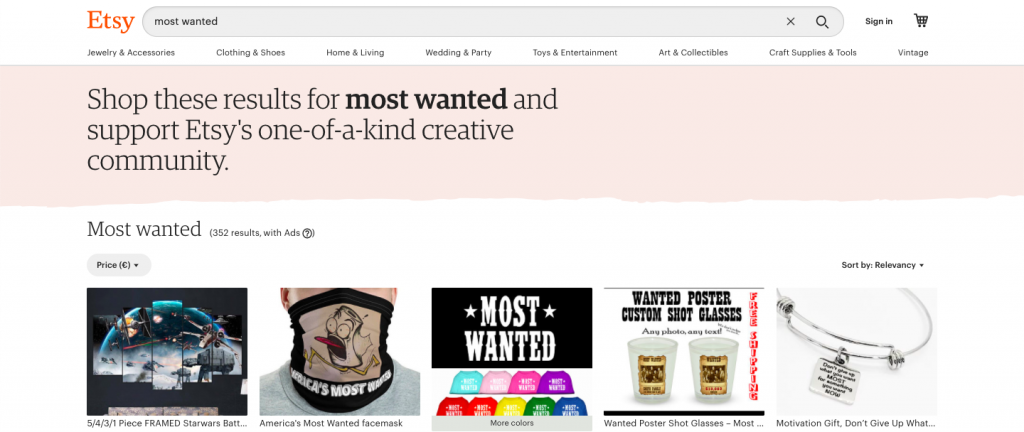 These well-known marketplaces are fantastic for researching and finding product ideas that might be worth selling on your own online shop.
6.   Create your own digital product or course
There are lots of benefits to selling digital products. Since they're not tangible products, you'll never have to worry about manufacturing or shipping costs. You'll also never have to worry about being out of stock.
Best of all? You get to use your own knowledge, skills, and expertise to create an amazing product that people all over the world find useful. This can also help you stand out from the crowd because turning your experience into a product is a smart way to enter the market with a leg up that isn't easy for others to duplicate or copy.
So, what can this digital product be? Depending on your skills, it can be anything from a blogging or cooking online course to stock photography, website templates, or an app that helps people get organised, stay fit or accomplish a specific goal.
If creating an online course appeals to you, make sure to check out our beginner's guide to selling your own online course.
7.   Keep an open mind
It's easy to miss potential ideas when you're focused on a specific product, niche or industry. So, keep an open eye and an open mind. You never know when a new idea pops up just as you're reading an article or scrolling through your social media feed.
Make sure to write down any interesting ideas and keep a list on your smartphone or computer to refer back to later when it's time to conduct market research for your product idea.
Wrapping up
Finding product ideas to sell online is challenging. It also takes time and research, so make sure you're patient. When you have your list of ideas with products you'd like to start selling online, validate them to ensure there's a market demand for each of them. Read this post for some tips and advice on how to test the waters for your new idea without spending lots of money. You can also check out this guide on how to start an online shop.