Six tactics to increase the average order value on your shop
You might think that you need to constantly find new customers in order to generate more sales. The truth is you don't. In fact, there are many ways to increase sales and revenue without having to acquire new customers.
How? By focusing on your existing customers and ways to encourage them to buy more products or more expensive products (or both). That comes down to knowing how to measure and increase your average order value.
What is average order value?
Average order value (AOV) is the average amount of money that each customer spends when placing an order on your store. You can calculate your store's average order value by
dividing your store's total revenue by the number of orders taken.
For example, if you have 100 orders on your store and a total revenue of £1,500, this means that your average order value is £15. This is the easiest way to calculate it.
To increase your AOV, you'll need to entice customers to buy more products, or more expensive ones.
So, in this post, we'll look at six excellent tactics that can help increase the AOV of your store and get customers to make bigger orders.
Set a minimum purchase amount for free shipping eligibility
The easiest way to increase average order value is to offer a free shipping threshold. For example, "free shipping on all orders over £50".
So once you've calculated your AOV, add 30% to it. For instance, if your AVO is £30, with the 30% increase it becomes £39. You could then offer customers free shipping on all orders over £39.
Aaron Zakowski found that a 30% increase to your average order value worked best as a free shipping threshold. Of course, this percentage is not set in stone as it depends on your AVO, the industry you're in, the products you sell and the prices you practice. But you can try it out to see if it works for your shop.
Here's an example from Asos:

This can encourage them to add an extra product to qualify for free shipping, while also helping to increase your average order value.
Don't forget to add a promotion bar in the header to make it obvious that you're offering a minimum order incentive. A simple message like this one from bergfreunde.eu will do:

Offer discounts or gifts
While it may seem counterintuitive, offering a discount can help increase average order value. Just make sure to add a minimum spend that customers need to meet to be eligible for the discount.
For example, you can give out a 10% discount on orders over £75. There are also shops that offer volume discounts like £10 off when you spend £75, £15 off when you spend £100, £20 off when you spend £125 or more.
Another example includes offering a gift like in these examples from Paula's Choice:


Provide product recommendations
Most often, customers are so focused on buying a specific product that they neglect to browse around your shop to find more.
A simple way to get them to discover more products is to display them directly on the page they're on, whether that's the checkout page or a product page. This product recommendation section can include your most popular products or products that other customers looked at or purchased.
Here's an example from bergfreunde.eu: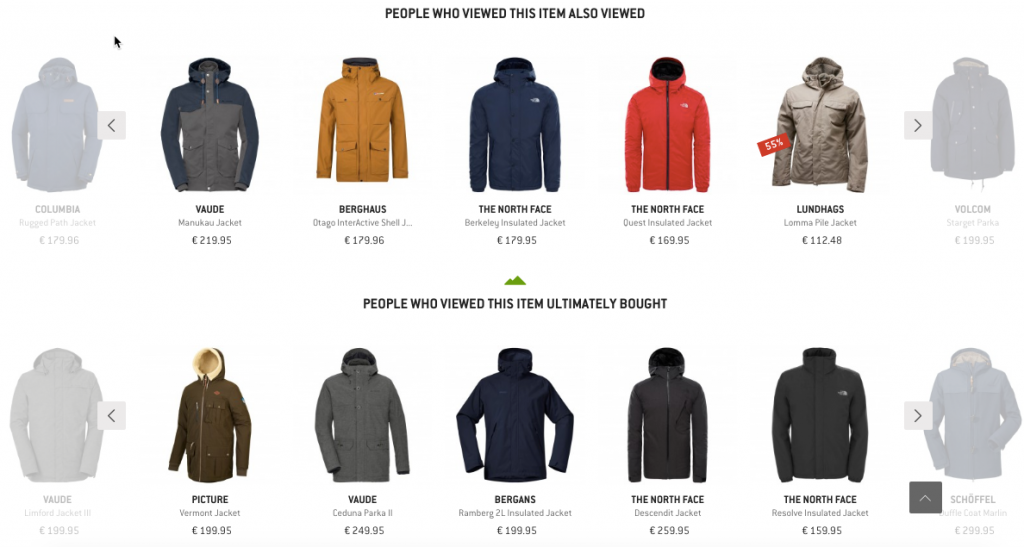 This is an excellent technique to try, especially since it also incorporates social proof which is effective at getting people's attention and enticing them to buy.
Of course, you can recommend any other products in this section, depending on your business priorities. For instance, if you're looking to sell some slow-moving stock, this is the perfect place to display them and get traction on those products.
Upsell or cross-sell complementary products
Much like the previous tactic, this one involves recommending products to your customers. The difference is in the types of products you'll recommend, which aren't similar to the ones they've viewing.
For example, if your customer is looking to buy a laptop, you can recommend a complementary product like a laptop stand or a mouse. This is known as cross-selling.
A good strategy to cross-sell successfully is to add the products the model is wearing as product suggestions. So, for example, if a customer is looking to buy a pair of jeans, you can add a t-shirt as a cross-sell. Since the customer sees the two items pairing well together, they'll be more likely to purchase both products.
ASOS does this very well with a "buy the look" section displayed below the product: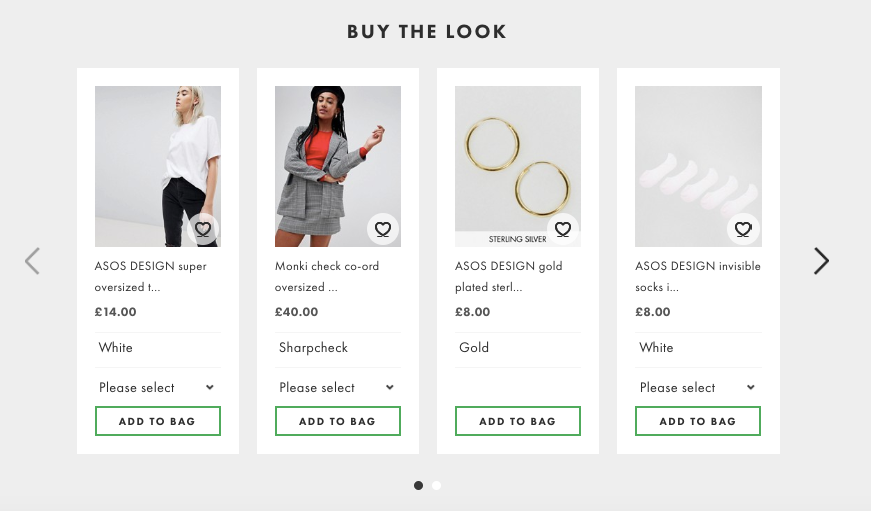 Upselling, on the other hand, encourages customers to purchase a more expensive variant of the same product, or the same product with additional features.
Amazon is fantastic at up-selling by using the "frequently bought together" tactic to increase the order value. This takes the value of this order from £10.49 to £31.47.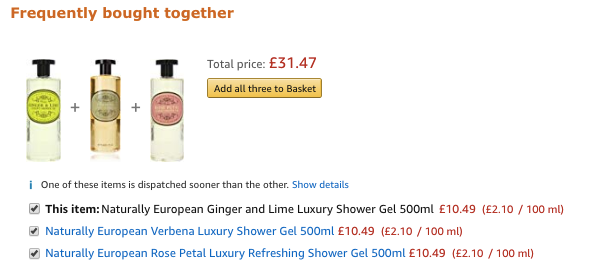 As you can see, a simple up-sell can triple the order amount.
Don't hesitate to use these two sales techniques as they're effective at encouraging customers to buy more. That's because many of your customers won't browse through your entire shop to see what other products you're selling. So, making recommendations, offering additional items or a bigger, more advanced product variant can reveal possibilities they didn't think they had.
Now, whether you choose to cross-sell or up-sell (or both), make sure that it's not distracting or forced upon the customer.
Offer bundle deals
If you want customers to purchase more items, try creating product bundles that cost less than if the same items were purchased individually.
The strategy is simple and is also known as BOGO, meaning "buy one, get one". Whatever offer you decide on is up to you.
"Buy one, get one free". "Buy one, get one half off". There are lots of options to choose from.
The reason this promotional tactic works so well is because it encourages people to spend more money. After all, how could they pass on such a good deal?
Happy Socks uses this strategy on their website: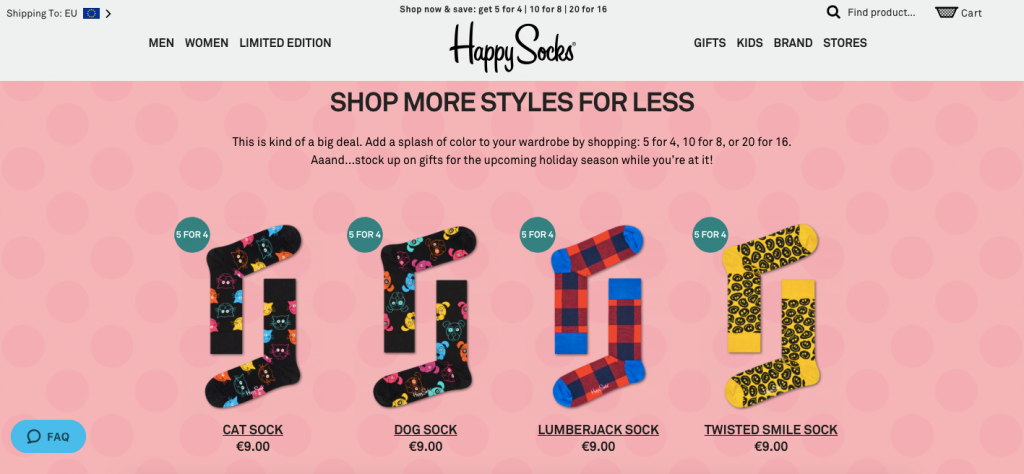 It's the first thing customers see when they land on their website or on any product page.
So if a customer buys a single pair of socks, the price is £9.95. If they buy a 5-pack, they only pay for four. If they buy a 10-pack, they will benefit from additional savings. So, the more they buy, the bigger the savings.
This tactic is effective because it makes customers feel they're getting a better value if they buy more.
Include a gift wrap or personalised card option
Another way to increase the AOV of your online shop is by enhancing the value of your products. A simple tactic to do that is to offer additional options like gift wrapping or a personalised greeting card.
Think about it. Lots of people buy gifts online, whether it's for birthdays, anniversaries, graduations, weddings, Christmas or other holidays and milestones. So why not be helpful and make it more convenient for your customers to buy a gift online?
Here's how this online shop offers this option at checkout: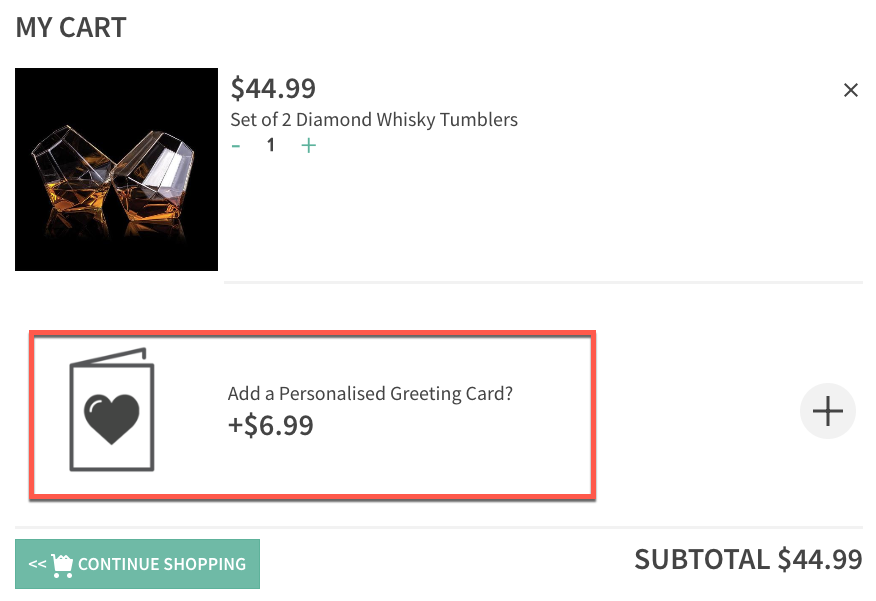 At this point, it's all about convenience for your customers, and you're helping to make their lives easier.
Ultimately, it improves customer experience, which is something that can differentiate your shop from the competition.
Wrapping up
Attracting new customers to your shop is important for any business. However, it shouldn't be the most important one, considering it's five to 25 times more expensive to acquire new customers than it is to retain existing ones.
Save yourself time and resources and instead focus on encouraging existing customers to spend more money on your online shop. If you implement the strategies we've outlined in this post, we're confident you'll notice an increase in your shop's average order value.