Five ways to build an email list for your non-profit
What could you do with an email list?
Boost donations? Entice more people to volunteer? Raise more awareness for your non-profit? Get more people to spread the word about the causes you support?
Probably all the above.
After all, according to a recent M&R Benchmarks report:
In 2017, non-profits raised $42 for every 1,000 fundraising emails sent
Non-profit email revenue increased by 24% in 2017 and accounted for 28% of all online giving
57% of online revenue for Wildlife/Animal Welfare non-profits was driven by email
In addition, Dunham+Company found that the percentage of donors motivated to give online via email has jumped 40% since 2015.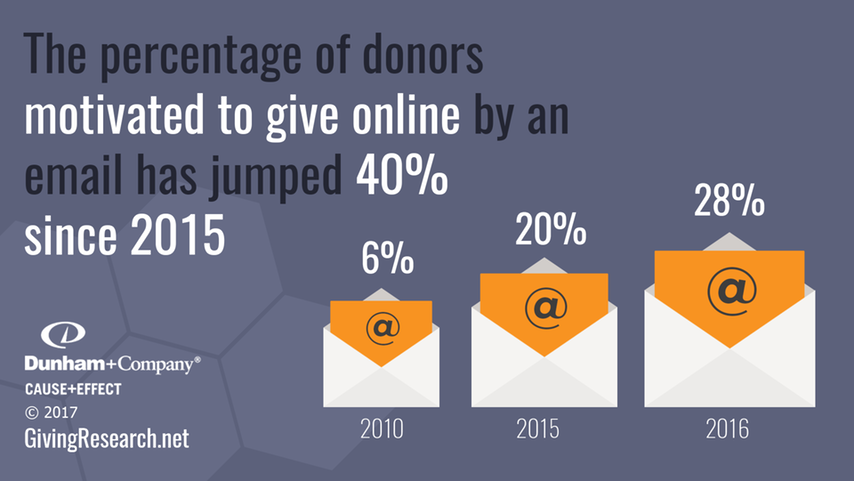 It's clear that building an email list for your non-profit is very important. That's because it not only helps to increase donations but it also gives you a powerful tool to connect with your audience, to keep them up-to-date with the causes you support, as well as to learn more about what they care about.
So how do you go about building your email list? In this post we'll look at five effective techniques you can use to engage and motivate more people to subscribe to your mailing list.
1. Add a sign-up form on your website
The most common approach to build an email list is to add a "Sign up", "Subscribe" or "Get our emails" call-to-action button on your website and ask people to subscribe.
This is most often placed in the header and/ or the footer, like in these examples: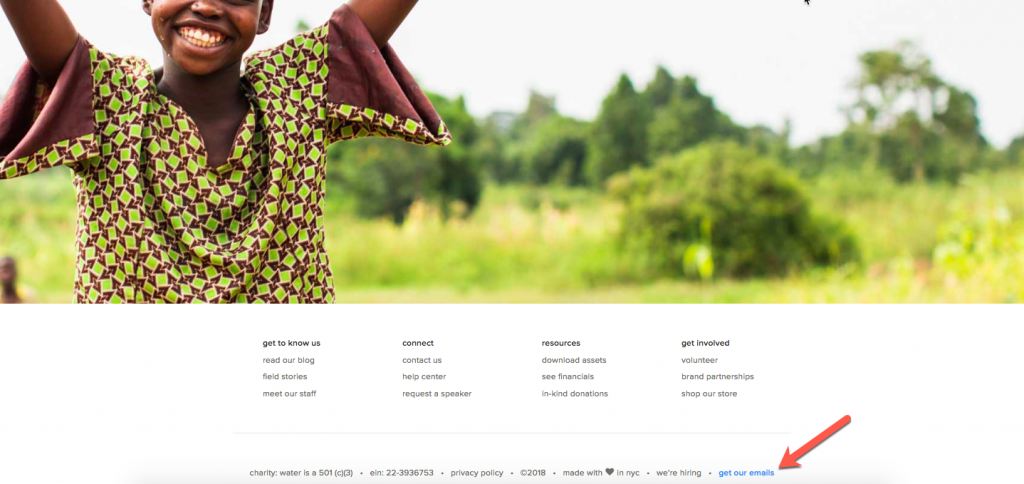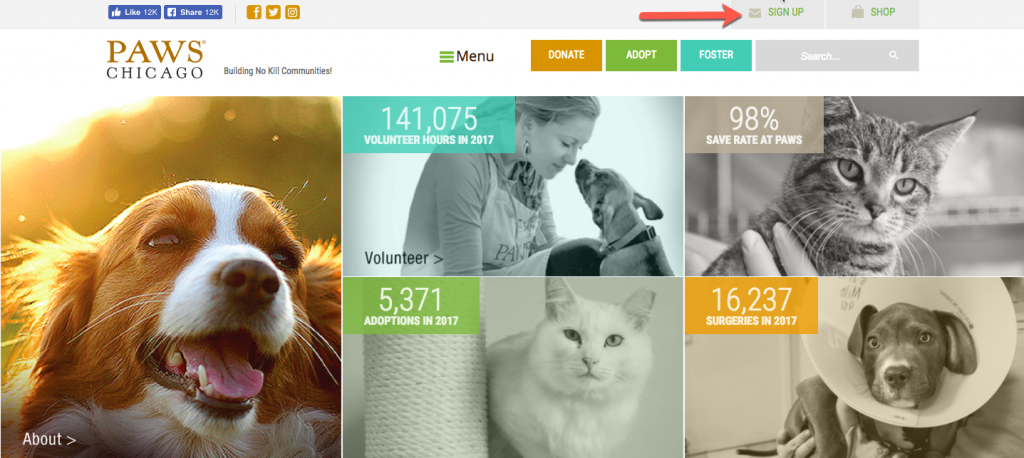 While this is a simple approach, it's only effective when you use a strong message. A generic one like "get our newsletter" or "join us" won't convert well because it's more about you than it is about them and what they'll gain by subscribing.
So, when crafting your sign-up message, think about what's in it for them and add in some benefits that'll motivate people to join your mailing list.
Here's a good example from Conservation International:

2. Create pop-ups
Another good way to capture emails is by using pop-ups. You can set up a pop-up that asks visitors to subscribe as they're leaving your site or once they've been on a page for a certain amount of time.
Few non-profits use them although pop-ups can be quite effective. Why? Because they're afraid people find them annoying so why risk it?
Here's the thing: sure, users dislike pop-ups. But that doesn't mean they don't work. A study by Sumo revealed that the average pop-up conversion rate is 3.09%. To put that into perspective, if you get 150 visitors per day to your site, you'd have 139 signups in a month.
Want to try using pop-ups on your non-profit website? Check out this example from charity:water if you need some inspiration: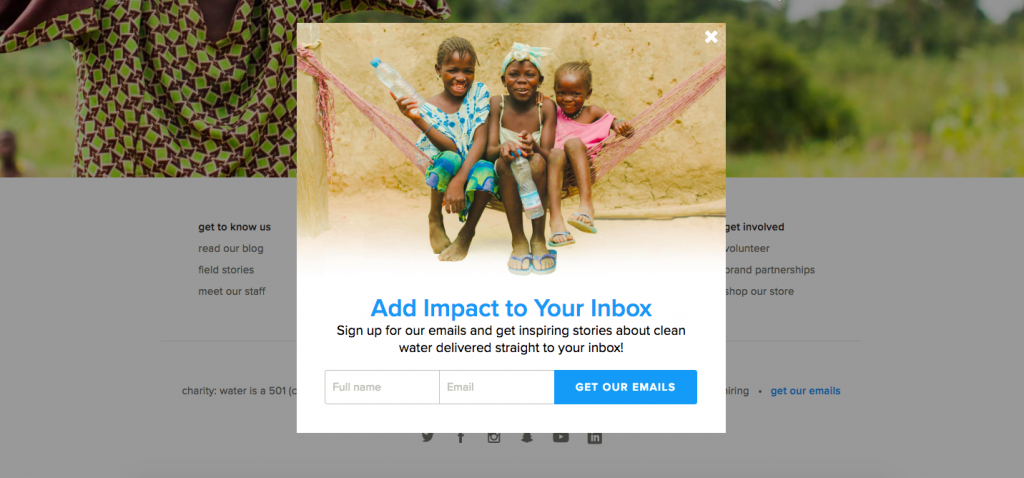 3. Offer something of value
Being a non-profit doesn't mean that it's all about you and your needs. If you want people to get involved – to donate, volunteer or spread the word about your causes – you need to offer something of value to motivate them to give you their email address.
So, think about the people who usually support your non-profit. What do they care about? What motivates them to take action? What information or educational content could you provide that they'd find valuable or interesting? Or that they couldn't find elsewhere?
This technique – offering something of value in exchange for an email address – is what digital marketers refer to as "lead magnets". And it's an effective way to build your email list.
What can you offer of value? It can be anything from a case study or a report to a useful checklist, cheat sheet or toolkit or even a white paper.
Let's take a look at a few examples so you can see how other non-profits are using lead magnets to grow their mailing lists.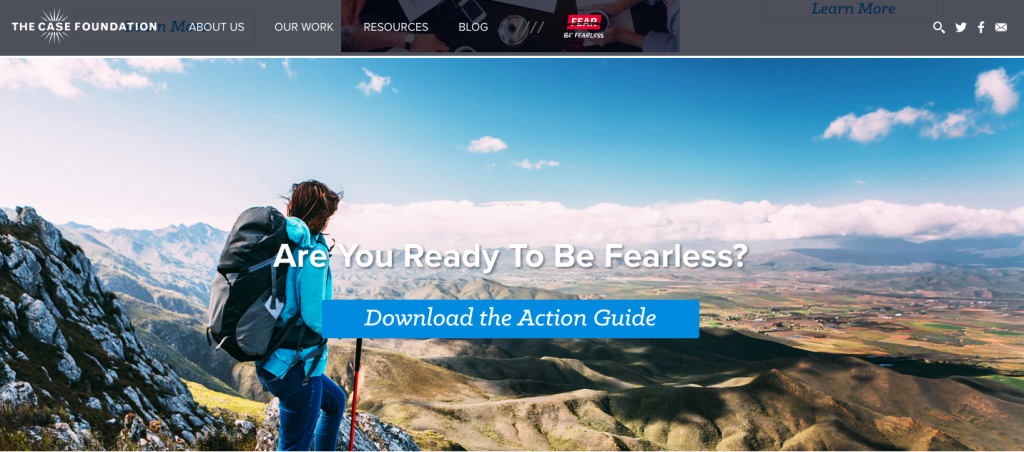 The Case Foundation offers visitors a step-by-step leadership guide with tools and ideas on how to make a greater impact.
When visitors click the "Download the NEW Action Guide" button, they're taken to a landing page where they need to answer a few questions and add their email address to get access to the guide.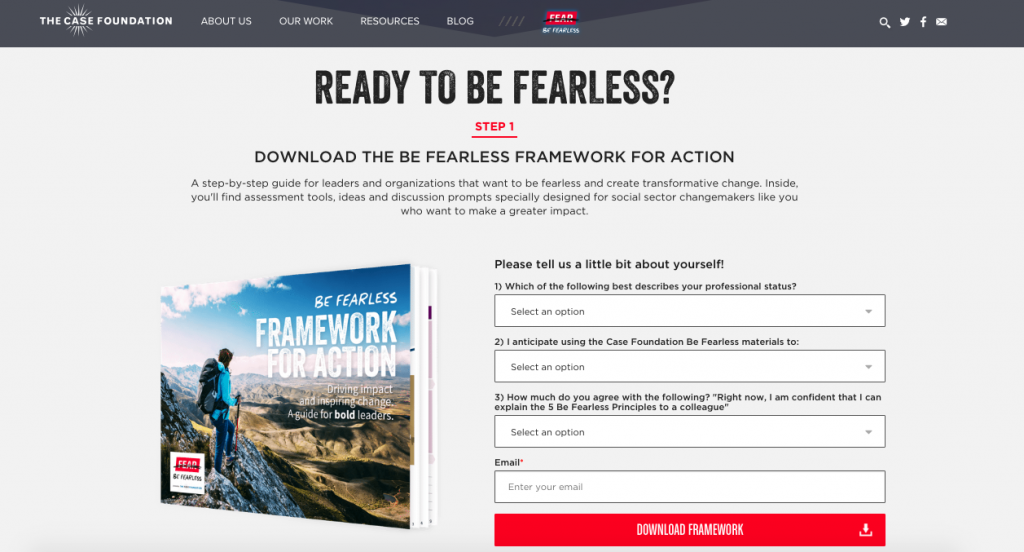 Very important! While you can use that email address to send them the resource they requested access to, make sure you also get their consent to email them further to ensure compliance with the General Data Protection Regulation. This means that they'll need to also actively opt in to your mailing list and agree to receive further emails from you.
Another good example comes from World Wide Fund for Nature. The organisation has created a nice collection of free ecards that users can send to friends and loved ones.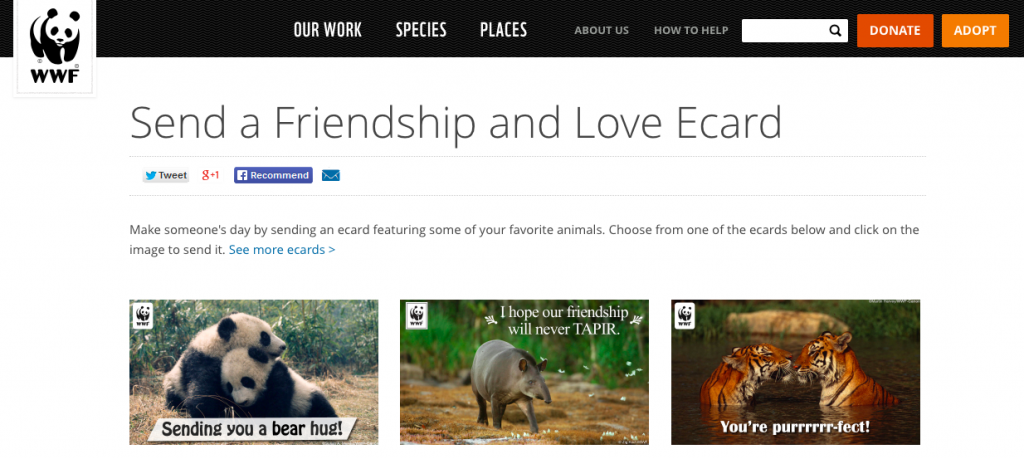 To send a card, a user needs to enter their name and email address. There's also a box they can check to agree to receive further communication from WWF.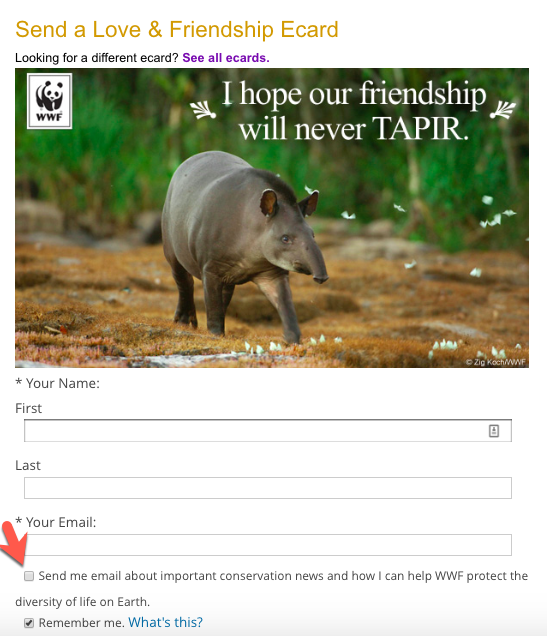 4. Use social media
If you're active on social media, make sure your fans and followers know they can keep in touch with you via email as well.
If your budget allows it, invest in a few ad campaigns on social channels like Facebook and Twitter and entice people to join your mailing list.
Here's an example from NASA Climate Change: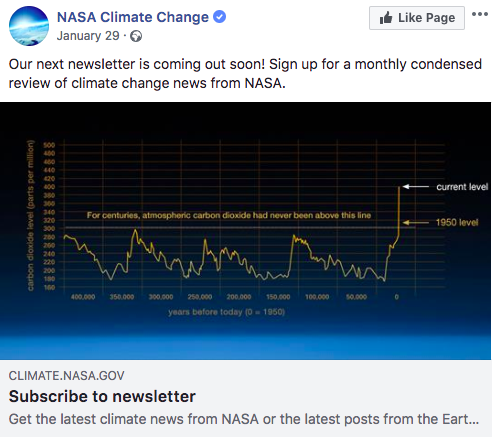 Want to learn how to set up your very first ad campaign on Facebook or Twitter? Our free course on social media advertising walks you through all the steps you need to follow to set up a successful campaign.
5. Collect email addresses offline
One of the easiest ways to build a quality email list, especially if you've been doing offline work, is to import emails with permission from different sources.
You can do this through:
Direct mail. Simply add a field where donors can opt-in to your mailing list when sending in donations.
Fundraising events. If people are interested in your non-profit to come to one of your events, then you shouldn't hesitate to ask for their email address and information. You can include an opt-in form on their pledge card if/when they donate.
Volunteer trainings. Place an email signup sheet at your volunteer gatherings and other events.
Remember, just because events happen "offline", that doesn't mean that you can't use them to create more opportunities for donors and supporters to connect with you online.
Wrapping up
Building and growing an engaged email list for your non-profit is not easy and it can take time. However, by following these five techniques you can boost excitement around your organisation and then use email to inform, educate and delight donors, volunteers, and more.
If you want to learn more about email marketing, make sure to try out free training course.