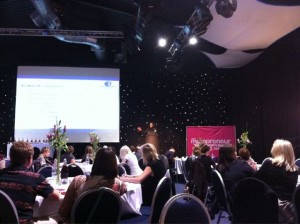 If ever the politicians needed an example of how British resolve will pull the country clear of these sad ecomomic times, they needn't look much further than the working mum (or dad). It sounds clichéd but most parents would do anything for their kids and whereas once that used to be taking on a couple of extra part-time jobs, many are now turning to starting up their own business, especially via the internet.
123-reg were lucky enough to be a sponsor at yesterday's MumpreneurUK Annual Conference and Awards event  and the creativity, positivity and passion in a room of 150 entrepreneurs (mainly mums, but a handful of dads too) was electrifying.
The organisation set up by mums Laura Rigney and Amanda Farren in 2009 celebrates and supports mumpreneurs who they define as "a mum who juggles running a business with family life" and lets would be mumpreneurs know that starting a business is achievable, whatever your background.
There were book publishers, book sellers, toy sellers, theatre groups, support organisations, PR gurus, keepsake producers and many, many more; all assembled to network, learn off inspirational speakers and seminar hosts but more importantly, they were there to celebrate each others success and support each other – there was a lot of love in the room.
There was also a lot of positivity about how the internet has changed their lives and helped businesses compete and flourish. So many of those assembled were tweeting and connecting to the web that the in-house WiFi consistently crashing became a talking point of the day. There wasn't one person there who didn't already have a web presence and it was nice to meet with so many 123-reg customers with lots of positive stories of their dealings with us, but also to help solve some niggling issues about the next steps online for their business. It was a day of sharing knowledge and ideas all round.
If you missed the event, have a look at the Twitter hashtag #mumpreneur11 to see what went on and we'll be posting up our exclusive interview with MumpreneurUK founder Laura Rigney soon to, so watch this space. UPDATE 27/09/11: View the interview here.
Finally, big congratulaions to Suzanne Dibble of Lawyers4mumpreneurs who won the Best Supporting Business Award sponsored by 123-reg and seemed a very popular winner.