Get inspired this summer as 123 Reg hits the road with StartUp Britain
Are you ready for a summer of inspiration? In June and July the StartUp Britain Bus Tour will hit 30 towns and cities across the UK to offer encouragement and advice to new and growing businesses. And you're all invited.
StartUp Britain is a national campaign by entrepreneurs for entrepreneurs, harnessing the expertise and passion of Britain's leading business-people to unleash entrepreneurship across the UK. The campaign is run by the Centre for Entrepreneurs think tank and supported 123 Reg.
From June 13th to July 29th the bus will tour Britain to park in 30 town squares and high streets.
So what can you expect from the tour? Well, because it's organised by StartUp Britain and supported by some of the top business minds around you'll have access to experts covering a range of topics.
At each stop you can expect:
As many as five local entrepreneurs to inspire and advise
A digital marketing expert from 123 Reg
A business banker from sponsor NatWest
A professional business advisor from a local agency
A lawyer and accountant from local firms
Staff from the British Library Business & IP Centre Network and the Intellectual Property Office
All of these experts will be packed on to a vintage 1966 Routemaster bus between 10am and 4:30pm.
To make things even better we'll be offering visitors to the bus a free website and email service, along with a .UK domain name.
You'll also be able to get an assessment of your digital skills and be one of the first to try our new online training platform.
Check the map below to discover your nearest event. (There are further details about where to find the bus in each town and city at the end of the post.)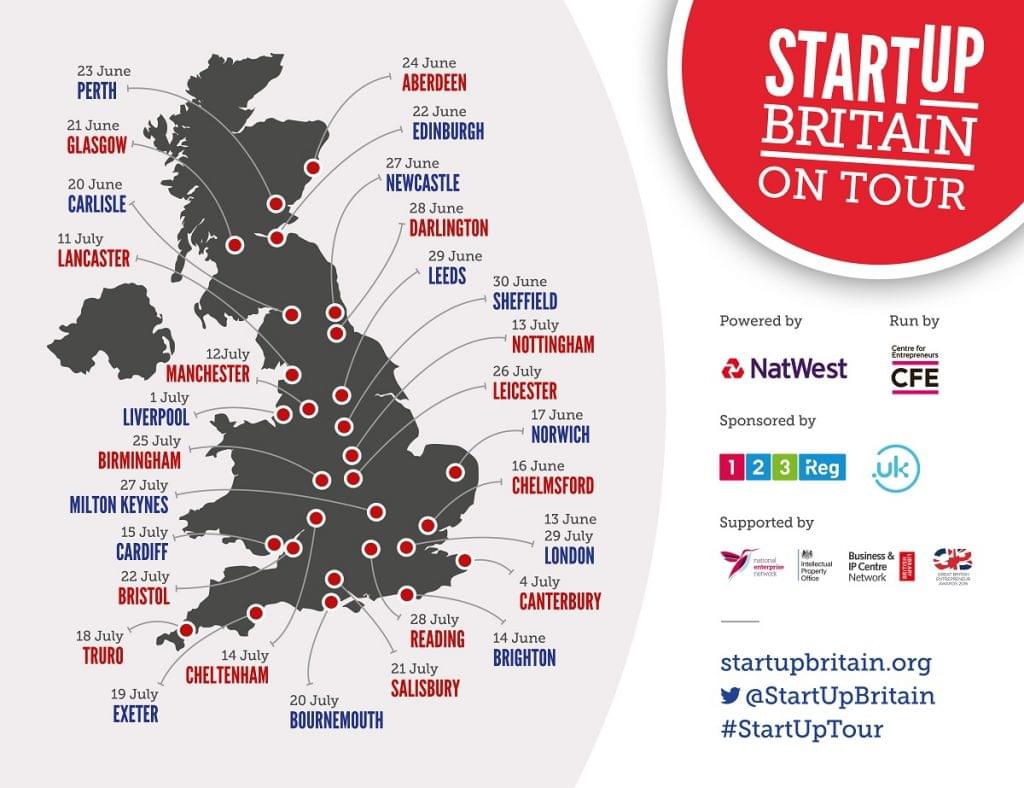 If you can make it, all you have to do is turn up. They'll be plenty happening throughout the day and if you want to you'll be able to book a slot to chat with one of the experts.
Can't make it? Don't worry, you'll still be able to get involved. Tweet your small business questions to @123reg using the hashtag #123bizbus and we'll get back to you.
We hope to see as many of you as possible over the course of the tour.
Full tour dates
● 13th June Old Spitalfields Market London
● 14th June Ship Street Brighton
● 15th June To be announced Official launch
● 16th June High Street Chelmsford
● 17th June The Forum Norwich
● 20th June Market Square Carlisle
● 21st June Buchanan Street Glasgow
● 22nd June To be announced Edinburgh
● 23rd June King Edward Street Perth
● 24th June St Nicholas Street Aberdeen
● 27th June Monument Newcastle
● 28th June High Row Darlington
● 29th June Briggate Leeds
● 30th June Barker's Pool Sheffield
● 1st July Liverpool ONE Liverpool
● 4th July Rose Lane Canterbury
● 11th July Market Square Lancaster
● 12th July Piccadilly Gardens Manchester
● 13th July King Street Nottingham
● 14th July High Street Cheltenham
● 15th July Queen Street Cardiff
● 18th July Lemon Quay Truro
● 19th July Princesshay Exeter
● 20th July The Square Bournemouth
● 21st July Market Square Salisbury
● 22nd July Engine Shed Bristol
● 25th July Victoria Square Birmingham
● 26th July Jubilee Square Leicester
● 27th July Central Shopping Centre Milton Keynes
● 28th July Broad Street Reading
● 29th July King's Cross Square by Euston Road London – Grand Finale