Small Business Saturday – Support those like you
Today – Saturday 6th December – is Small Business Saturday designed to "support, inspire and promote small businesses". After the hype and potential averice of Black Friday and Cyber Monday comes a retail event / promotion based on old-fashioned values and working together.
What's it all about?
Established as a grassroots, non-political, non-commercial campaign, Small Business Saturday is about highlighting small business success and spreading the message to consumers of the benefits to those who 'shop local' and support small businesses within their communities. Held the first shopping Saturday in December it is aimed at sowing the seed of shopping local for lasting impact and a change in people's routines.
This year Small Business Saturday UK will take place on Saturday December 6th and hopes to be as successful as last year's event which led to great success on social media with more than 1.5 million Facebook views and #SmallBizSatUK trending in the top 3 for the whole day. The increased awareness led to an estimated £460 million being spent in small businesses on the day.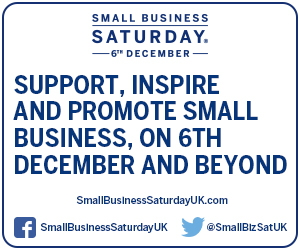 It was such a success that is running again this year in the run up to Christmas. So how can you get involved?
Get out onto your own High Street and get supporting your own local small businesses and give them some sales.
Use any ways you can to celebrate & champion the UK's 5 million small businesses that are essential to our economy.
Remember Small Business Saturday is just the start. Encourage people to use their local small businesses and start  building your own network with local businesses to help structure the support system in your local area.
Want to see other businesses who have got involved. There are some great case studies on the official YouTube channel
Remember, supporting small businesses is not just for Christmas, they are the lifeblood of the UK economy.