Meet the 123-reg Customer Service Hero for October
We love providing great customer service at 123-reg. And we love the people who help us deliver excellence to our customers. That's why we choose a Customer Service Hero each month – someone who has gone that extra mile to deliver great service. This month that hero is Vladut Anchidin.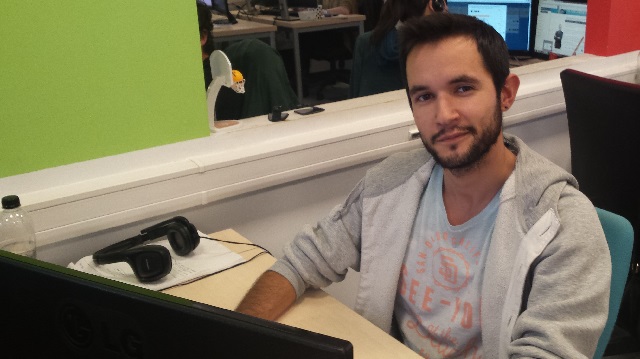 Vladut has been with 123-reg for just over a year and has recently joined the second line support team after working for the first line support team. His background is in customer service, and it's clear it's something Vladut loves.
"Customer support is a big reason why people choose to use the companies they do. If they don't get good support, then they may change their mind and go to a different company," he said.
"At 123-reg we're always as transparent as possible with customers and always try to offer the exact support they need when they need it. We always go the extra mile for them."
Vladut also makes sure that everyone customer he deals with gets the same high level of service, regardless of the issue they're facing.
"It's great to be able to help customers who have a domain with us and an email service with a third party, I will try and check the details of the third party company and try to configure the DNS setup from our end, so the customer will be able have their email up and running without any problems or having to contact their email provider," Vladut said.
"It's about offering excellent service to all our customers, no matter how many or what kind of product they've got with us. It's about sorting that issue out as fast as possible."
Vladut also praised the training he's received while at 123-reg, and the culture in which he works.
He said: "I enjoy working at 123-reg because of my colleagues and the whole team. It's nice to spend quality time with them. There's also the fact that I was able to lend a hand to our customers and help them with their queries and issues. The thing I enjoy most is being able to help customers with their problems, and also my colleagues if they need any assistance from me.
"I also want to thank my team leader who engaged me in new tasks that gave me the ability to handle more difficult situations and finding the perfect solution for our customers."
Commenting on Vladut's status as this month's Customer Service Hero, Daniel Bromley, head of 123-reg customer support, said: "Vladut has made an excellent contribution to the support team since joining and his desire to help 123-reg customers get the most out of our products shines through. His recognition as this month's 123-reg Customer Service Hero is richly deserved."
And although we can only have one Customer Service Hero a month, all of our support agents are constantly striving to deliver the best service the can.
Richard Winslow, director of 123-reg, said: "At 123-reg, we are committed to continually improving our customer service delivery. Our team is passionate about going above what our customers expect from us. We love giving great service, because when we do so we're helping people's businesses succeed.
"We have launched a number of customer initiatives this year that have seen us significantly increase customer satisfaction levels. We will continue to develop our delivery to make each customer experience better."
And if you have received great service from one of our agents, please do let us know. Your praise could help determine our next Customer Service Hero.