Our favourite small business resources and tools of 2017
Whether you're fine-tuning your social presence, optimising your website or digging through data, relying on the right tools means saving time and maintaining your sanity at the same time. The problem is there are always new online marketing tools, trends and resources that pop up so how do you know which ones to use?
In this post we'll share with you some of our favourite small business tools and resources. Some are new and some are established, but they're all very useful. We divided the list into three sections – social media, search engine optimisation (SEO) and general online marketing – so you can get a better sense of which tools and resources you can use for different tasks.
Let's get started!
Social media marketing
Social media continues to be a powerful tool for reaching and connecting with your audience, whether by providing great content, by offering advice and support or by simply engaging with them in conversation. Here are some great resources and tools that can help you do just that.
If you're using Instagram to reach your audience, you probably know just how important it is to use the right hashtags and how much of a difference they can make in how many users find your posts. If you're struggling to come up with the best, most relevant hashtags for your Instagram photos, make sure you try Display Purposes.
This tool was created by photographer and developer Fay Montage, and it's extremely simple to use. All you need to do is enter one or two hashtags that are relevant to your photo and the site will return a list of 30 similar hashtags that are often used on Instagram alongside the ones you entered.
Here are some results we got when we entered #london and #burger: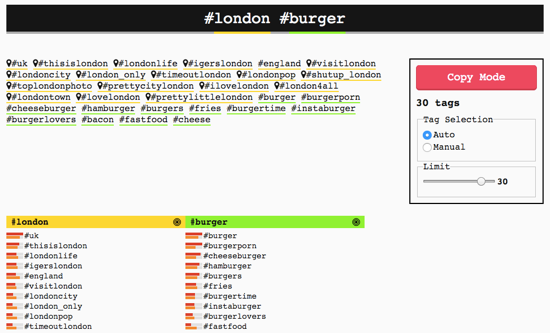 If you're not using hashtags already, this guide explains all you need to know about hashtags and how to use them for your business on popular social networks like Instagram, Twitter and Pinterest.
Curating content that's relevant to your audience is probably amongst the most time-consuming social media tasks. Quuu makes this job easier by suggesting content that's hand-picked specifically for your social audience.
The tool gathers selections from hundreds of categories specifically geared toward your audience.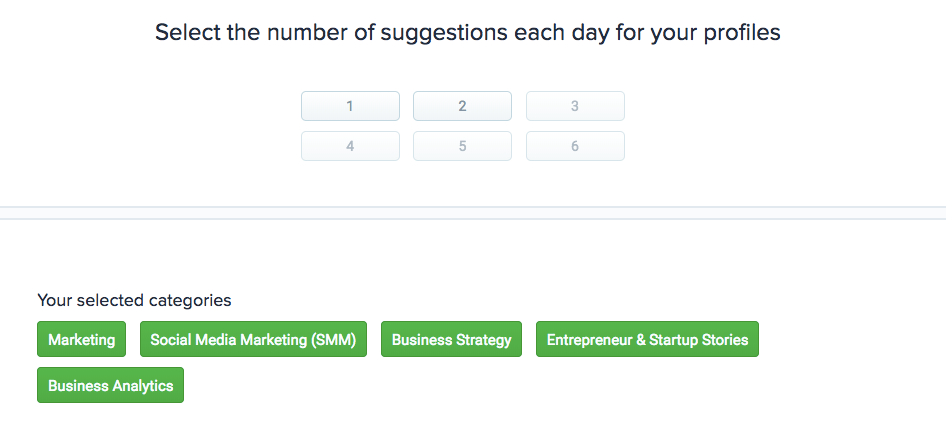 To get started, you'll need to select the categories that matter to you and based on them, the tool will return with content suggestions your audience might enjoy. You can approve and schedule the ones you like on your preferred social channels using Buffer or Hubspot, or you can let the team at Quuu handle everything for you.
If you want to try it out, with the free forever plan you can choose up to five interest categories and get two content suggestions per day.
If you have an active presence on social platforms like Twitter, Facebook, Instagram or others, you know how time-consuming it can be to deal with everything from posting content to engaging with your audience and tracking results.
That's what makes Hootsuite one of our favourite time-saving tools of 2017. You probably already know that it's one of the most popular platforms for scheduling social media content in advance, but did you also know that with Hootsuite's improved Bulk Composer feature you can schedule up to 350 posts at once?
If that seems like a lot and don't know how you could go about creating so much content, this super-useful guide explains how to create a social media calendar and organise a year of posts the easy way.
And if you're looking to save even more hours of work, here are seven social media templates you can use for everything from planning and message scheduling, to publishing and tracking results. Here's an example of a social media content calendar template you can use:

Facebook Live is huge, drawing engagement and comments over ten times the rate of non-live videos. So, if you've been wanting to give live video a try, with the new Facebook Creator app you have no excuse not to.
Facebook launched the Facebook Creator app in November 2017 and we think it's worth checking out. The app includes lots of great tools for streaming video, updating Stories and message people across Facebook's platforms.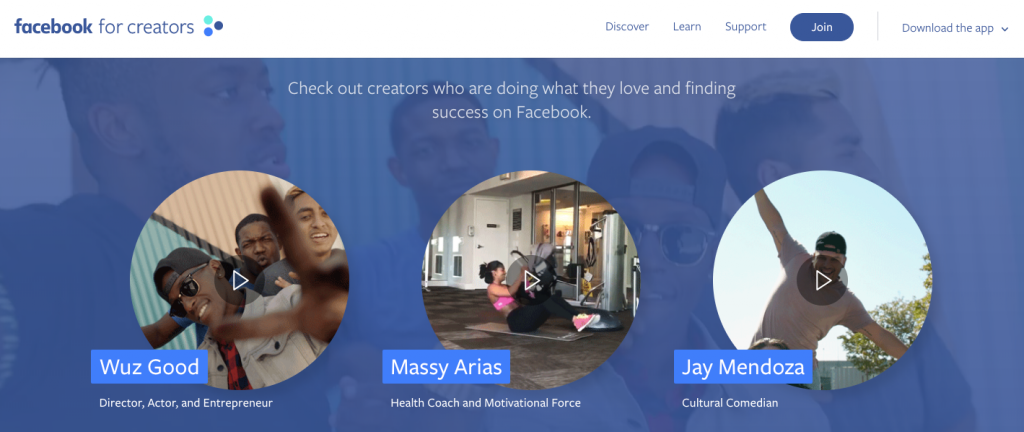 The main draw are the features for Facebook Live that allow you to create custom intros and outros for live broadcasts, as well as add interactive stickers and a custom video frame.
So if your business has an active presence on Facebook and want to give live video a try, install the Facebook Creator app and see how you like it. On the Facebook for Creators website you'll find some useful resources and tips on how to create videos using the app.
Search engine optimisation
New search engines
While Google is the most popular search engine that almost every business focuses on, there are lots of other noteworthy search engines out there. Some focus on more niche areas, like academia, while others distinguish themselves in other ways that's attracting users.
For example, Semantic Scholar is an academic research search engine where you can find lots of reliable resources: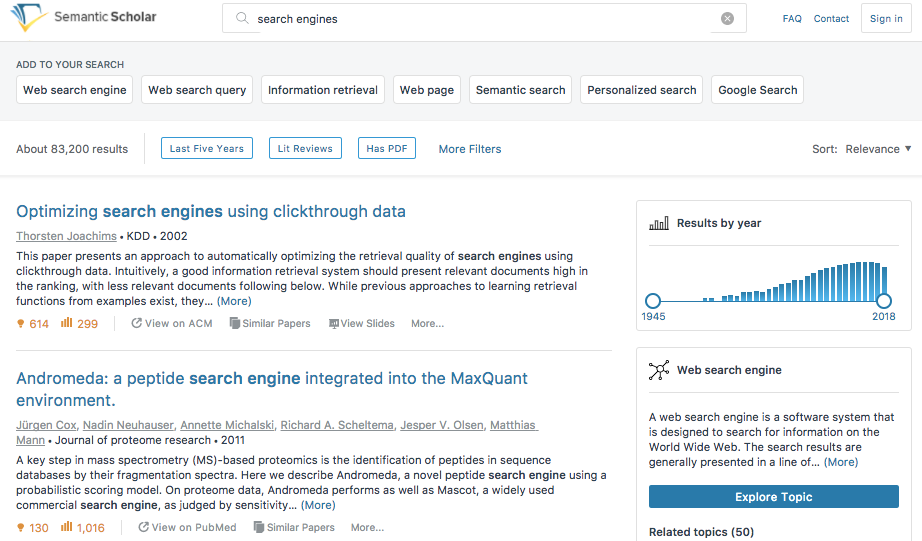 So, just like you experiment with different SEO tools or marketing tactics to see which ones work best for your business, we encourage you to also test other search engines and see how they can help to increase your brand's visibility.
Here is a break-down of six new search engines you should be keeping your eye on and why.
General online marketing
While there are lots of strategies and tactics you can try, which can sometimes feel overwhelming, with the right tools and resources you can start to make progress faster. Here are some interesting ones you can experiment with.
We've mentioned BuzzSumo lots of times on the 123 Reg blog. That's because it's a fantastic tool for discovering the most popular content on social media and on the web. It can also tell you who are the most influential users within a particular topic area, so it's effective at helping you to identify relevant and valuable influencers you should connect with.
A few months ago BuzzSumo added a new feature within its platform called Question Analyzer. The tool is designed to help content marketer search for questions being asked about topics related to their business.

This is extremely useful because the best content you can possibly create is the one where you address the questions and pain points that prospects have.
The Question Analyzer crawls about 100,000 forums, such as Reddit, Quora and Amazon and other Q&A sites, and groups all the questions being asked pertaining to a topic or product.
So, if you're doing customer research to find out more about your prospects' pain points, questions and concerns, or if you're looking for new content ideas that your audience is interested in, you'll want to give this tool a try.
Micro-influencers
You've probably gone through a plethora of resources about influencers and how much they can influence people's buying decisions. Up until not too long ago, the top advice was to reach out to influencers with millions of fans and followers. But as a small business, you probably can't afford those types of influencers.
The great news is you don't have to. In fact, influencers with a smaller but more loyal following (also known as micro-influencers) can help you to reach your target audience and get better results than influencers with a huge following.
So, one of our favourite resources of 2017 is this article about promoting a brand using micro-influencers and how the best type of influencers are those who are already fans of your brand.
Wrapping up
There you have it – some of our favourite small business tools and resources of 2017. We'd love to hear from you in a tweet @123Reg about which of these you've used or any new ones that might be worth checking out.