Seven Valentine's Day marketing ideas to win your audience's hearts
These days, customers have mixed feelings when it comes to Valentine's Day. Depending on their current romantic situations, some might adore February 14th while others might abhor it. That can make it tricky to come up with marketing ideas that can get your customers to fall in love (again) with your business.
On the other hand, this can give you the fantastic opportunity to think outside the box and come up with ideas that can help build a stronger relationship with your prospects and customers.
So, no matter what business you're in, here are seven marketing ideas you can use to show appreciation, delight, and entertain your audience, and win their hearts this Valentine's Day.
1. Shine the spotlight on your audience's love stories
We all love human, authentic, beautiful stories. And your audience likely has some amazing stories to tell. So why not give them the platform and opportunity to share their love stories while finding a way to tie them in with your brand and type of business?
For example, say you have a small boutique where you sell vintage clothes. If you are active on social media, ask your audience to share a picture of their parents, grandparents, great-grandparents, or any inspiring couple from the past, along with their beautiful love story.
To make sure you don't alienate members of your audience, you can make it clear that their stories don't necessarily have to be romantic love stories. They can also be friendship, familial, etc.
Here's a great example from MeUndies. The brand launched an Instagram campaign where they asked couples to share photos of themselves wearing their matching underwear sets with the branded hashtag #MatchMeUndies.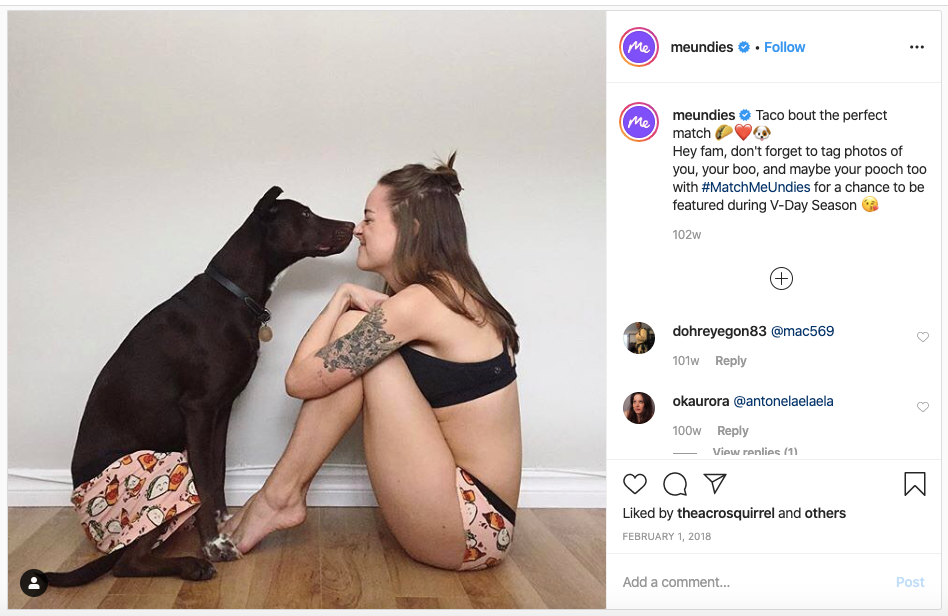 You can use this idea no matter what business you're in. Just make sure to find a creative way to tie it to whatever it is you're selling. For example, if you're selling a cookbook, you can ask them to share pictures with the recipe they've chosen to cook on Valentine's Day for their loved ones, and so on.
Don't forget to include a unique hashtag that fans and followers can use to tag their photos. This will make it easier for you to keep track of all stories and comments, and also to gain more visibility and attention for your post and business. Check out this beginner's guide to hashtags to learn some great tips and advice on how to create your own.
Finally, share and feature your favourites on your page and maybe even consider offering discounts or free gifts to the most appreciated ones.
2. Engage with Valentine's day promotions and discounts
Valentine's Day gives you the perfect opportunity to offer "two for one" deals that your audience can take advantage of. No matter what you're selling, try to think of ways to create special deals and promotions that play on the idea of being coupled up.
Make sure that the deals are not only relevant to Valentine's Day and couples but also appealing to your core demographic.
Here's a simple example from Ticketmaster where they offered two-for-one concert tickets on select tickets for select shows.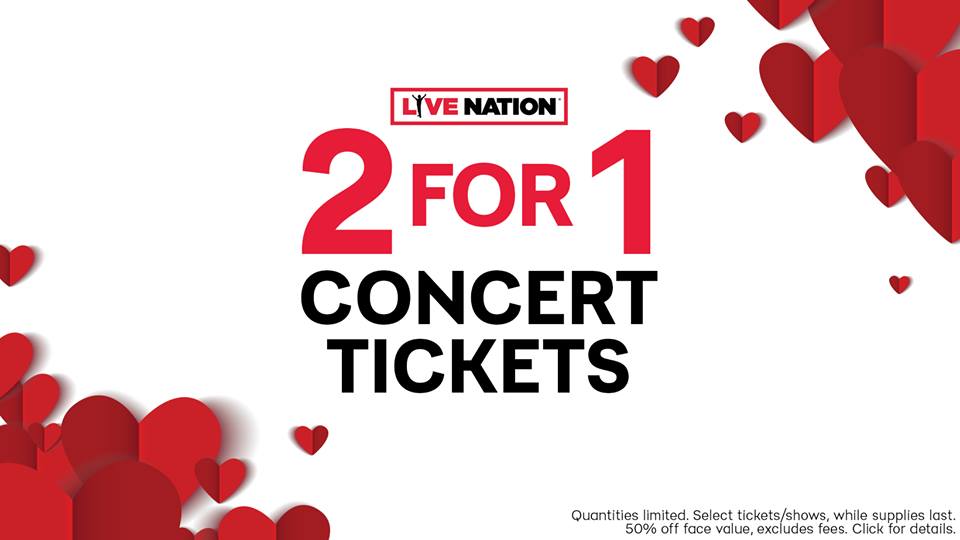 For optimal impact, promote your deals on social media and into their inbox with email marketing campaigns.
3. Delight shoppers with last-minute gifts
There are lots of people who wait until the last minute to buy gifts. Play to their needs by offering last-minute Valentine's Day gift ideas that include your products and/ or services.
You can also consider partnering with another small business that complements yours. For example, if you sell organic cosmetics you can partner with a flower shop and offer a Valentine's discount for the joint gift.
This can be mutually beneficial for both your businesses. You not only double your reach and potentially pick up new customers from a business that isn't a direct competitor, but also boost sales.
Again, use social media such as Instagram and Facebook stories and posts, as well as email marketing to promote your last-minute gift ideas.
4. Encourage random acts of kindness
Valentine's Day can get a bad reputation for being all about consumerism and spending too much money on jewellery, flowers, and fancy dinners at pricey restaurants.
As a small business, you can take this opportunity to show off your personality by urging your audience to commit random acts of love and care that'll cost them little to no money.
For example, if you own a small coffee shop or bakery, you can urge fans and followers to buy a coffee for a stranger or someone in need. This is also known as
"suspended coffee" and it means paying for two, drinking one and leaving the other one for a stranger.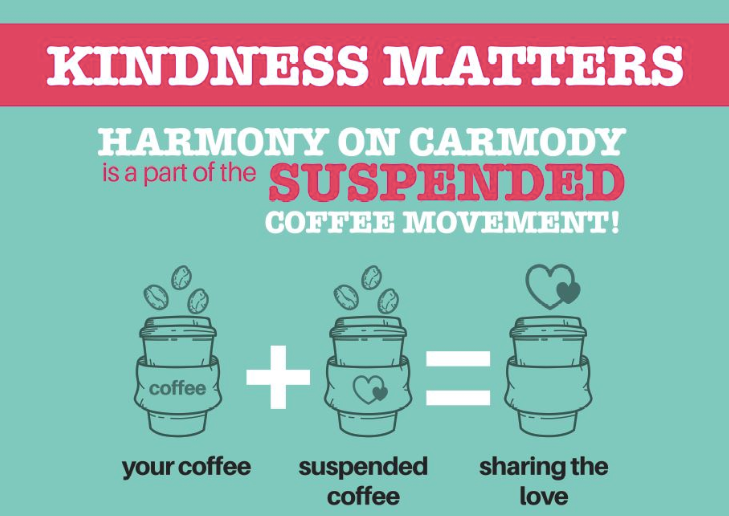 Whether it's buying a stranger coffee or lunch, baking cookies for a neighbour, or offering to carry someone's groceries, ask fans and followers to share these random acts of love and kindness using a dedicated hashtag, and then repost your favourite ones to your page.
5. Show some love to a local charity
Giving to charities is not only good for your community but also reflects positively on your brand's image. A holiday that celebrates love is a great time to give back, and to encourage your audience to do the same.
Here are a few things you can do as a small business:
No matter what products you sell, ask customers to donate a small amount at checkout and match their donations up to certain percentage.
If you sell products that local schools and charities could use, make some donations.
If you have a cleaning business, volunteer to clean up in your community.
6. Entertain them with fun content
Polls are a fun way to entertain and drive engagement with your audience on social networks like Instagram, Facebook and Twitter.  Plus, they require little effort to set up.
All you need is a few polls that you can run a week or two leading up to Valentine's Day. That means a few questions, each with no more than two to three answers, and maybe an image or two.
For example, if you sell craft beer, you could ask your audience whether they're more likely to drink a glass of wine or a craft beer on Valentine's Day.
Make sure to keep the tone fun and thematic, and take full advantage of the visual aspect of polls.
7. Dress up your website and social media
Help your audience get into the spirit of love by adding some Valentine's Day-themed elements to your site and social media.
You don't need to completely change your designs. Just a few small tweaks to your site and social networks starting February 1st and up to February 14th will do.
For example, you could update your social media covers and website headers to include things like falling hearts, Valentine's Day promotions and discounts, and more.
If you're using the Website Builder from 123 Reg, you can quickly and easily make these changes yourself.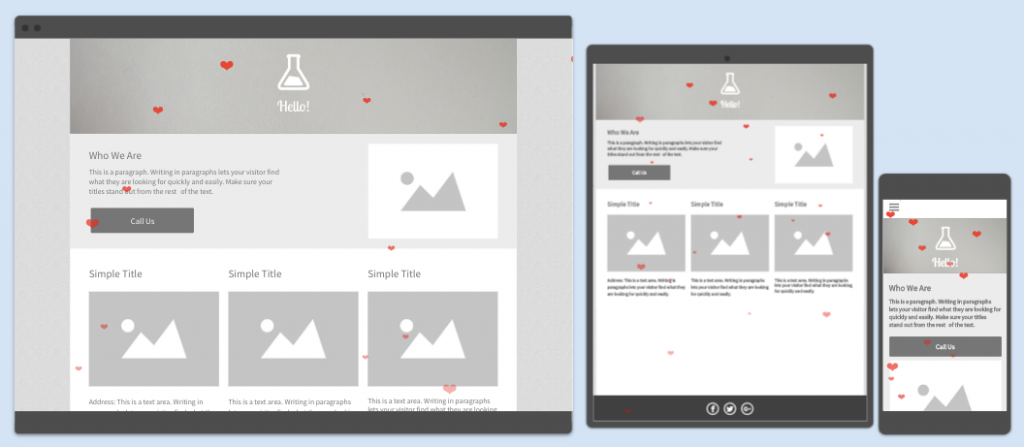 One thing we'd recommend is to keep the design and messaging consistent on your site, social networks and wherever else you're promoting your offers.
In conclusion
Anyone can take advantage of Valentine's Day to offer great deals and make their audience feel special and appreciated. So, don't delay.
Implement whichever marketing ideas make sense for your business and target demographic, and make sure you don't miss out on the potential revenue that this day can bring to your small business.