Show your customers how much you love them this Valentine's Day
No one likes to be forgotten, especially not on Valentine's Day. So don't ignore your customers in the run up to Feb 14th. Just the smallest of tweaks to your website can show existing and potential customers that you work hard to keep things up to date – something that will give you an advantage over those businesses who haven't updated their sites in months or even years. In fact, research shows business which update their websites with personalised content increase their sales by an average of 19%.
If you're using Website Builder from 123-reg, you can quickly and easily add the personal touch with inSites. And there are several special Valentine's inSites that you can add to your site to make it look fresh to anyone who visits. Here's what you can do.
Show falling hearts to visitors
This is the easiest Valentine's Day inSite to set up and it's a great way to see how the tool works before moving on to add other inSites. With just a few clicks, you can add a touch of romance to your site by having falling hearts greet anyone who visits it. And who couldn't do with a little extra romance in their life? First, here's an idea of what it'll look like when you're done. (You can click any image in this post to get a closer look at things).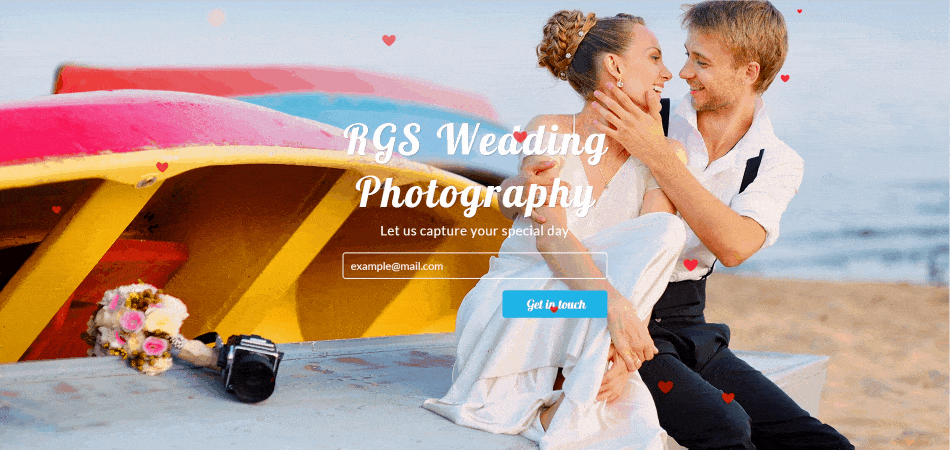 You can also follow this link to see a preview of it on a mock-up site. Of course, the only way to know what it'll really look on your site is to give it a try yourself. To do that, log into your 123-reg account, go into the control panel, find the Website Builder section and click manage.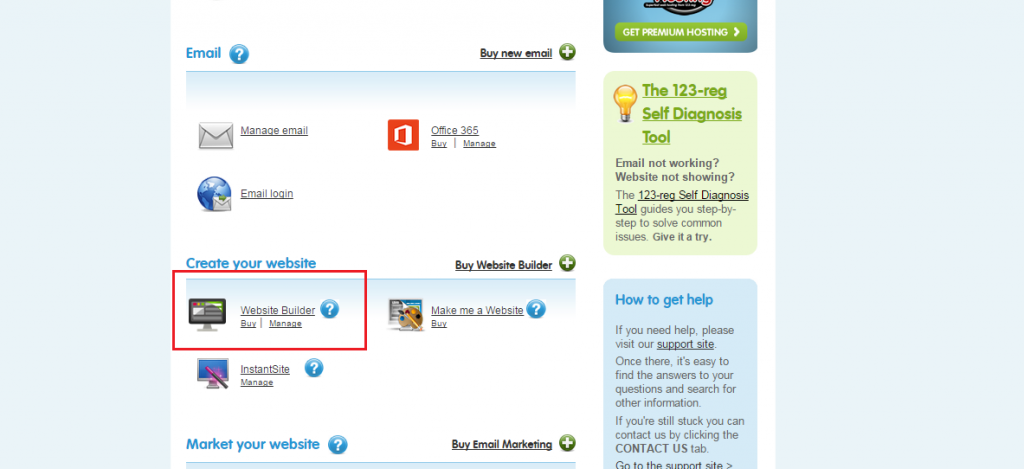 Then, click "login" next to the site you want to change.
Adding a romantic inSite couldn't be easier – click the "inSite" button and the menu will expand.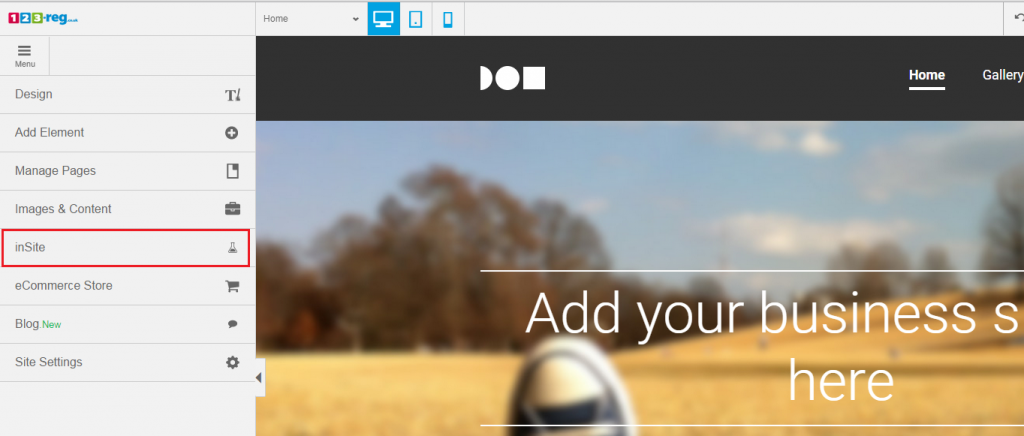 The Valentine's Day inSite should be right near the top, so click "Select inSite". You'll notice you have more than one option, but for now let's concentrate on the Falling Hearts. You can either click "preview inSite" to see what it will look like on your site, or "Edit inSite" to start the process of adding it to your site.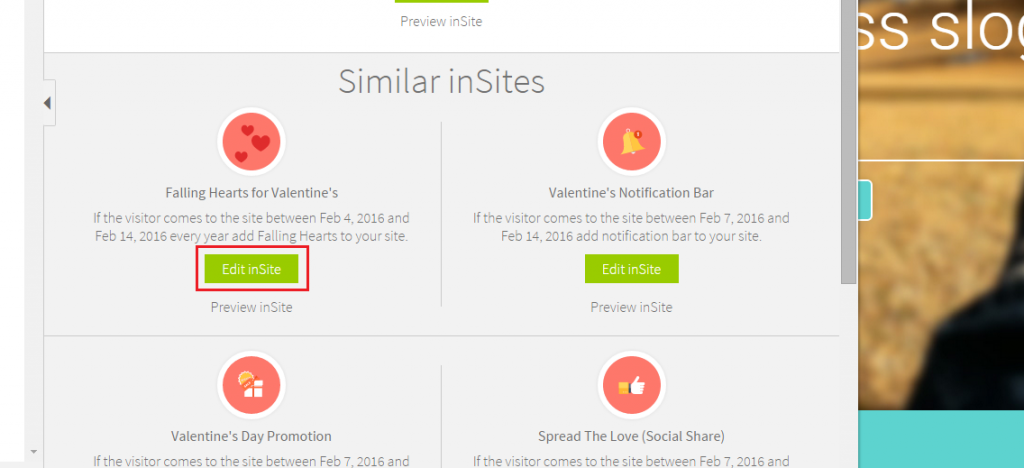 Once you're in the Edit inSite, you don't need to worry too much about changing anything – the hearts will appear from the time you add the inSite and stop appearing when Valentine's Day is over. So just keep clicking "next" and then "Save inSite". Once you've done that, save and publish your site by clicking the green button in the top right hand corner of the screen and you'll be ready to give a little extra love to anyone who visits your website.
So that's how you get the hearts on your site, but what about those other Valentine's inSites? How can they help you show your customers that you're responsive to their needs? Here are the other romantic inSites and what they do.
Valentine's Notification Bar


Maybe your visitors need a little reminder that the most romantic day of the year is approaching. If so, you need the notification bar on your site. This inSite lets you show a custom message to anyone who visits the site in the run up to Feb 14th, so you can even use it to encourage them to buy their loved one a romantic gift from your site. Want to see it in action on a mock-up site? Click this link.
Valentine's Day Promotion


Want to show people a little love by offering them a discount? Then you need the Valentine's Day Promotion inSite. You can change the offer to whatever you want. It's a great way to encourage website visitors to pop into your shop or cafe in the run up to Valentine's Day. Want to see it in action on a mock-up site? Click this link.
Spread the Love


Want to turn a brief fling with customers into a long term relationship? The Spread the Love inSite can help you do that. Use it to add a social sharing button to you site. That way, you'll be able to offer one-off visitors a way to stay in touch with your business, increasing the chances they'll become a repeat customer. Want to see it in action on a mock-up site? Click this link.
Valentine's Table Reservation


Are you a restaurant owner who wants love birds to flock to your tables? Then the Valentine's Table Reservation inSite is what you need. It does exactly what you expect. Once this inSite is activated, anyone visiting your restaurant's website won't be able to miss the fact they can book a table for Valentine's Day. Want to see it in action on a mock-up site? Click this link.
Valentine's Day Special Menu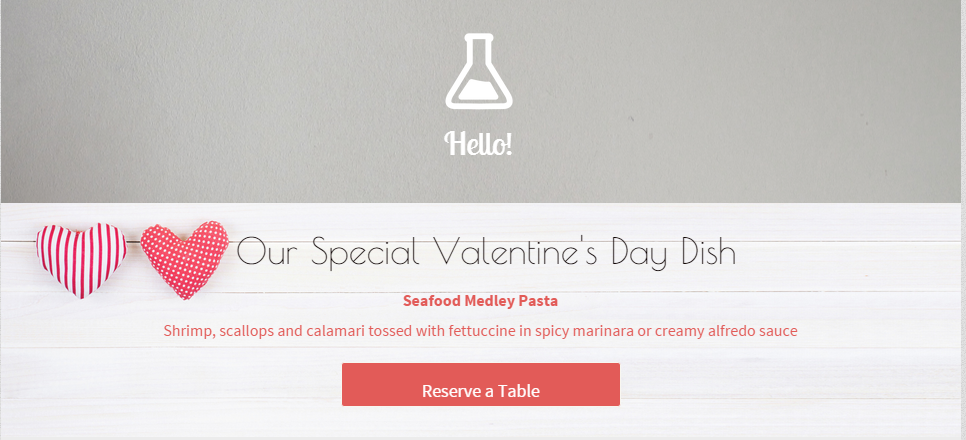 And if your restaurant is really pushing the boat out to attract Valentine's Day diners, then you'll need the Valentine's Day Special Menu inSite. Use it to let people know that you've laid on an extra romantic dish to help make their evening as romantic as possible. Want to see it in action on a mock-up site? Click this link.
The basics of adding any of the above inSites are the same as for the Falling Hearts inSite. But remember, you'll need to customise them so they reflect the offers and deals you have on. If you need any more help with inSites, check out this support article.