The eight key elements of a great portfolio website
Sadly, many professionals neglect their own portfolio websites. It's understandable, considering they'd rather spend time working on client projects than on their own business.
The problem with that is that they're likely losing business, and potentially losing out on some of the best clients they might be able to get.
Here's the thing: whether you're a blogger, a musician or an accountant, you can't be without a portfolio website. Why? Because it's usually the first thing a lot of your potential clients are going to see.
Furthermore, if you're competing in a crowded market, having a great online portfolio can help potential clients get a sense of who you are and what you're capable of even before working with you.
It also gives you the opportunity to control your online identity and what clients see when they search for you online, as well as what companies and clients you want to work with.
If you don't know where to start with your portfolio website, or if your profile needs some TLC, this post is for you. So, without further ado, here are the eight elements that your portfolio site can't be without.
Must-have elements of a great portfolio website
Portfolio sites range from the simple to very elaborate. Unless you're a pro designer or developer, you should stick to the basics and create a simple website that does the job.
Following are the essential elements that your site must have to impress and win over clients.
A professional domain name
The first step to creating your portfolio website is to get a professional domain name. Many freelancers prefer to go with their own name like "johnsmith" and a relevant domain extension, but you can always choose to go with a business name like jsdesigns.[domainextension].
In addition to the domain name, you have a multitude of domain extensions to choose from, from .co.uk and .com to generic top level domains like .legal and .design.
Now, if it's your first portfolio website, you might be tempted to use a free platform like Blogger or the free version of WordPress. The problem with that is that you won't get your own custom domain name, and you'll also have many limitations.
Another big problem is that you might come across as another average or inexperienced freelancer. And that's what a website address like johnsmith.blogspot.com says about you. It doesn't inspire too much trust or professionalism, does it?
You don't want to be average. You want to be amazing and run a business like a pro. The best way to get started with that? Get a hosted website, with a custom domain and turn it into a professional website that attracts and wins over clients.
It's not only affordable but you also have your own domain name and complete control over your site. Here's a bit more information about why a hosted website wins out over free alternatives.
If you need help choosing a domain name and extension for your portfolio site, here are two resources that you might find useful:
Logo
Your logo is usually where users' eyes go when they first visit your website. Not only that, but you'll probably also going to use it everywhere – in your emails, client proposals, business cards and other professional communication.
That said, you don't need to go overboard or pay a designer hundreds of pounds to get a logo done. Did you know that famous brands like Google and Coca-Cola didn't spend any money when they first created their logos? They simply drew them by hand or using free graphics apps. Nike famously gave just $35 to a design student to have their logo designed.
If you have the skills, you can do it yourself. But if you don't, just go to Fiverr.com or 99designs.com and you'll find lots of logo designers who will create one for you for as little as $5.
The idea is that while your logo needs to be professional, it doesn't need to be fancy or complicated. It's perfectly fine to simply use your name in a decorative style.
Here's an example: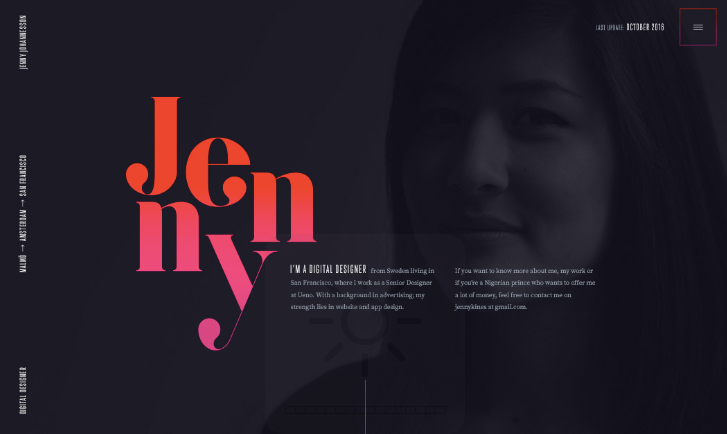 Tagline
Your tagline is the ideal place to tell clients exactly what you do and to position yourself as an expert.
Keep your tagline short but specific and catchy.
So, if you're a designer, say that you're a designer but be specific when it comes to why you are better than your peers, what niche you're in or what type of businesses or clients you'd like to work with.
Stay away from confusing words or descriptions. This is the place to be as clear as possible when it comes to what you do and how you can help your potential clients to achieve their goals.
Also, avoid using cliché taglines like "Hi there!" or "Welcome to my portfolio". They don't bring any value or explain why a client should hire you. They just fill up space.
Here's a good example:

Services
You can't just say that you're a photographer or an accountant and expect users to know about all the services you might be providing.
It's not uncommon for a prospect to land on a site and leave because they're not sure about what that professional can do. Most users won't go to the trouble of giving you a call or filling out a contact form to find out if you provide a specific service. They'll just leave.
So you need to be specific when it comes to the services you provide. Add a "Services" tab in your top menu, and on your dedicated page make sure to include a list or bullet points to outline all your services.
Here's an example: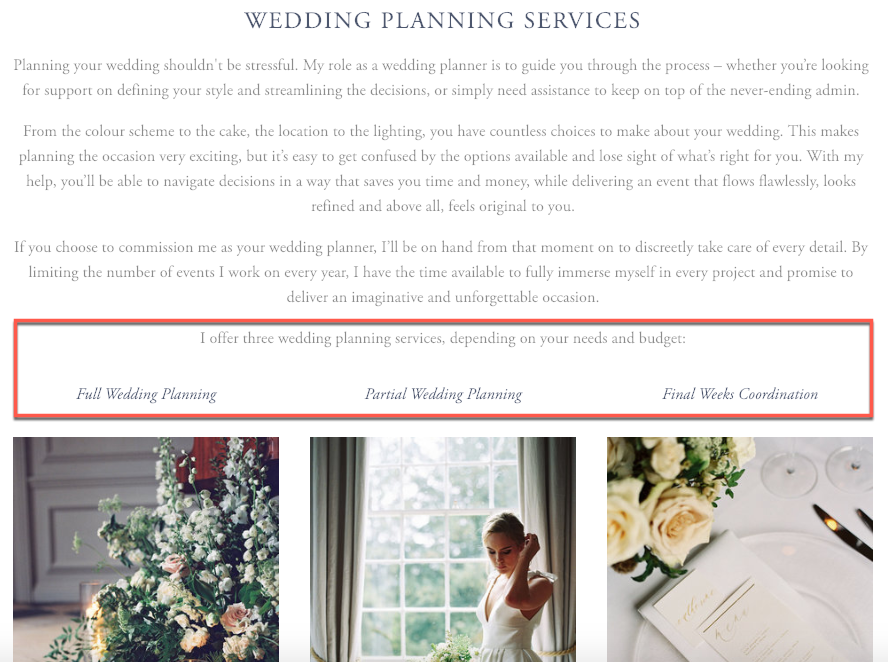 About page
The About page is where you can brag about yourself, your skills, your expertise, your achievements. However, don't make it all about you. Instead, try to describe yourself in the context of how you can serve your potential clients.
For example, if you're a baby photographer, rather than outlining your skills, you can tell a story about how you've learnt to be a psychologist when photographing little children, how you have the patience, confidence and skills to deal with kids of any ages.
Now, if you really want to stand out from the crowd, let your personality shine by adding other things that aren't work-related.
It can be a funny story about your family or friends, a passion or a hobby that you enjoy doing. In fact, it can be anything that can help prospects get to know you a little more and imagine how great it would be to work with you.
Finally, don't forget to include a photo of yourself. Photos are so important because they allow potential clients to put a face to the name, and this makes them more inclined to trust you. If you're comfortable in front of the camera, don't hesitate to add a video introduction on your About page.
Here's a fantastic example of an About page that starts with a testimonial a client: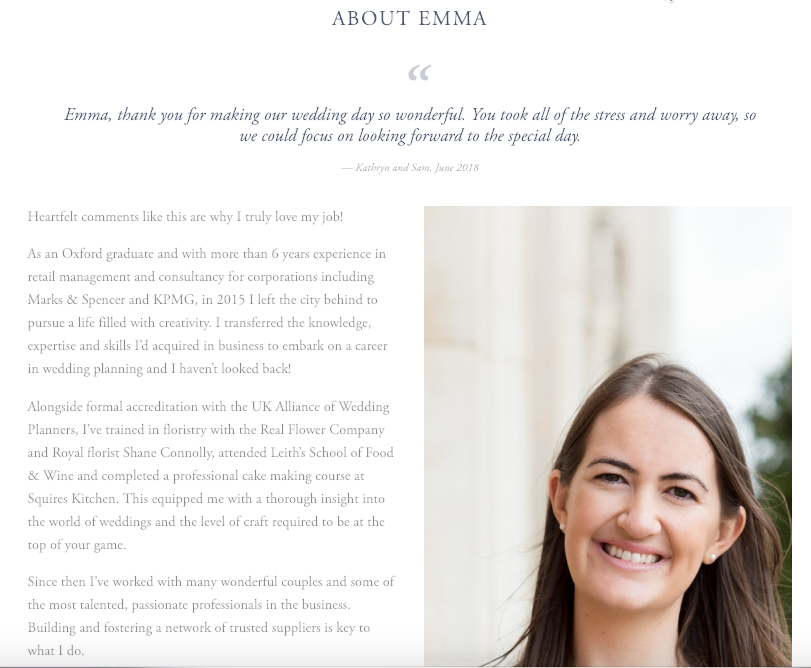 Examples of your work
Potential clients want to see what you've done for other clients so they get a feel of the quality of work they can expect from you. So make sure to include samples of your work on your homepage as well as on a dedicated page on your site.
Now, if you have lots of samples, don't add them all to your site. Your portfolio should display your best work. This means that you should only include the best of the best. If a potential client wants to see more, then you can show them more samples privately.
If you have case studies or customer success stories, add those in as well. Potential clients like to see not only what you can do but also how you do it, and what kind of results you've helped other clients achieve.
If you've never created a case study before, our guide on how to write a customer success story is a must-read to help you get it right.
Now, if you're just getting started and don't have any examples of previous work, that's fine too. In this case, you can add personal projects or even create a project that isn't for a client but just to show off your skills.
Testimonials
This is a big one. That's because it's one of the first things that your potential clients will want to read to get an understanding of how good you are at what you do, and how well you work with other clients.
So make sure to include references and testimonials on your homepage as well as on a dedicated "Testimonials" page.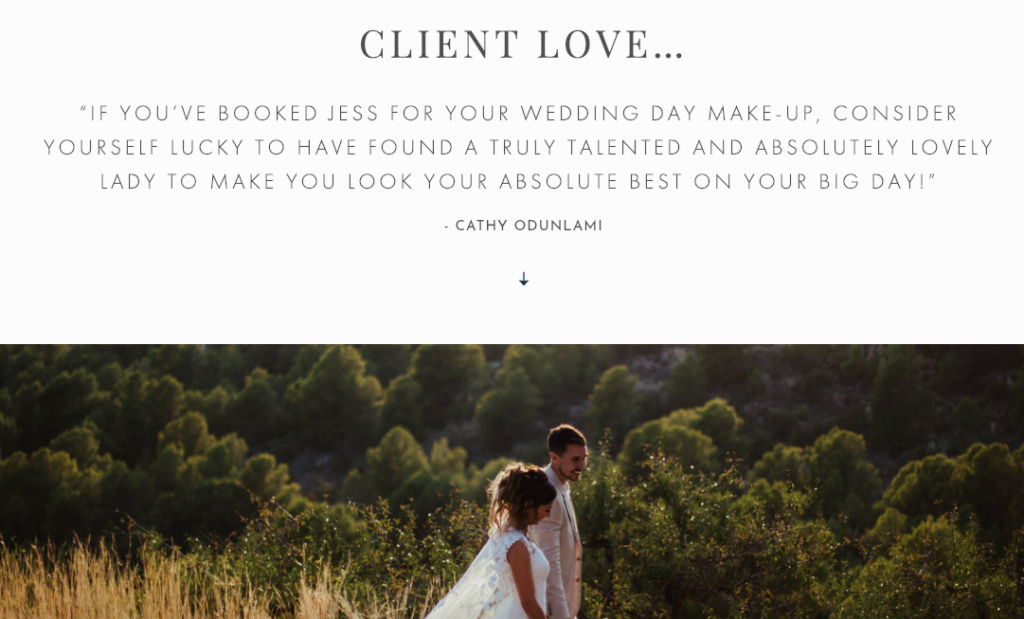 As you can see, short testimonials work best. This means that two-three sentences are plenty. Also, for increased trust, try to include a name and a picture next to each testimonial.
Now, if you have clients who are happy to go in front of the camera and record a video testimonial for you, that's even better.
This guide on how to collect customer testimonials might come in handy if you're just getting started.
Calls to action and contact form
Ultimately, you want potential clients to get in touch with you and find out more about your services and how you can work together. So, provide as many avenues for getting in touch as possible (i.e. contact form, email, social media, phone number, physical address).
This is a simple example that works: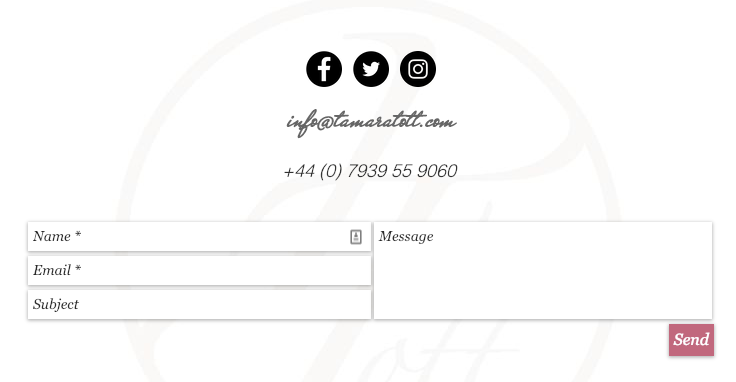 More importantly, make sure that your contact information is prominent and visible on every page of your site.
At the same time, work on your calls to action so potential clients feel like they're missing out if they don't contact you immediately.
The following resources are filled with great tips and advice on how to write powerful calls to action and how to optimise your contact forms to entice more users to get in touch with you: 
 Wrapping up
There you have it – eight elements that your site can't be without. Hopefully we've inspired you to get your first portfolio website up and running, or to tweak your existing one so it can help you to turn more visitors into clients.