Can I marry Harry?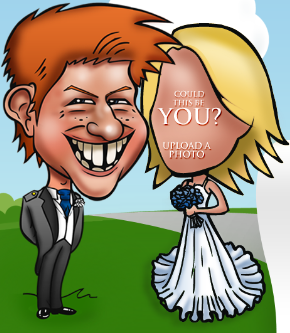 As the nation gets set to celebrate the Royal nuptials and that all-important day off work, we want to mark this special event in history!  So, today we launch our Royal compatibility survey www.canimarryharry.com/.
The 11 questions in the quiz are all about Prince Harry.  You will be tested on how you would behave in certain situations, what you would describe to be your personal style and whether, when it comes to the affairs of the Royals, you can keep quiet or run screaming to the tabloids!
In keeping with most of the news about the wedding of the century, this is just a bit of fun, and we'd love you to try the quiz for yourself and tell us what you think.
There's a chance to upload a photo of yourself and once you learn your percentage match with Harry, go ahead and share your results on Twitter and Facebook!  Why not also challenge your friends to find out who is better matched?  This April 29th, as you watch Kate and Wills beaming on their happy day, just think, next year that could be you and Harry?
Oh and just to finish and so we're clear – even if you score 100%, you unfortunately won't receive Harry in the post! Sorry!
Visit www.canimarryharry.com/ to view and take the quiz.