For many small businesses, Google AdWords is the biggest single source of website visitors. Although it's a simple platform, Google relentless improves the features, making it quite a challenge to keep up to date!
In case you missed them, here are the main highlights for 2012
January was fairly quite one compared to what came later. Dynamic Search Ads (DSA) rolled out, a lazy AdWords option if ever I saw one! Enable DSA and Google will crawl your website adding dynamic headlines to your ads based on the products it finds, matching those ads with search queries. Perfect for those sites with a large number of products.
March saw a big improvement to the targeting options on the Google Display Network. From this point advertisers could bid up or down on individual keywords, bringing the control of search to display
In April, AdWords for Video launched, bringing YouTube advertising to the small business owner. All of a sudden a video campaign that reached millions was within the grasp of all. And thanks to Google's TrueView format, advertisers only get charged if users actually watch the video. The better your ad, the more people want to watch it, and the better it all works.
Here's one of our TrueView ads:

Got a mobile app? Want more people to download it? From March, advertisers could promote their app in the Search Engine Results Pages (SERPs) thanks to Mobile App extensions. These are a simple one-line extension beneath your ad which link to your app in the Appstore. A bit like this: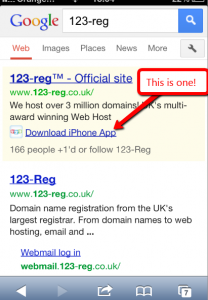 Do you run display campaigns using AdWords? These usually take lots of effort, and require you to trawl through thousands of URLs, including or excluding them from your campaigns, based on performance. Thanks to the launch of the Display Campaign Optimizer (DCO) in April, these tasks disappeared, since the DCO takes over the job of monitoring your campaign and focusing it on those placements that are actually working.
May saw a major shakeup of keyword matching options. For years 'exact match' meant just that – your ad would only show if users searched using your EXACT keywords. But with 'close variant' matching Google interprets the matching options more flexibly, meaning advertisers with exact and phrase match keywords are eligible to appear against thousands of new queries with slight variations. A great opportunity for advertisers? Or a great opportunity for Google increase its bottom line? I will leave it up to you to decide…
The other exciting update was the addition of the 'Auction Insights' report. This lets you know about the other advertisers appearing on the same keyword as you, and how you performed against those advertisers. This is perfect for helping to find out if people have been using your brand name as a keyword in their campaign. Here's how to find the Auction Insights: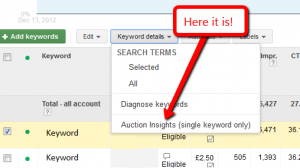 June was a busy! For the first time it became possible to use AdWords to advertise within mobile apps, bringing a whole new medium for those businesses looking to promote their own mobile app or site.
Google also improved the options for local businesses trying to reach people near to them, with the launch of search ads in Google maps for mobile.
For the advanced and technical user Google launched campaign programming with AdWords scripts. These allow you to make changes to an AdWords account by writing simple JavaScript programs. One of the benefits is for those advertisers who have lots of product inventory and some lines that go out of stock. With AdWords scripts it's possible to use an external inventory counter to pause your keywords – so you're not promoting a product that you don't have in stock.
We all know that it often takes a TV advert, a conversation with a friend, a bit of online research and perhaps an email before we buy something big. 'Attribution' gives marketers insight about all those pre-sales experiences. Thanks to the launch of 'Search Funnels' in June, Advertisers can see all the ads and keywords that preceded a sale, even if the customer only saw the ad and didn't even click on it. Find these in your account under the 'conversions' menu: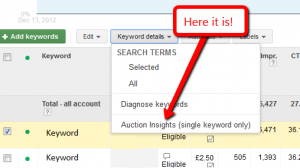 I guess Google spent the summer on the beach, because the next exciting update came in September with the global roll out of enhanced sitelinks. These turn the one-line sitelinks that run beneath your ad into a whole ad on their own – a real boost for CTR and quality score. Here are ours!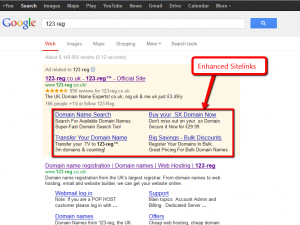 Do you ever return to your AdWords account after a few days elsewhere to find that one of your campaigns is 'limited by budget' whilst others use just a small fraction? This means that you're not appearing 100% of the time, missing out on potential customers. Thanks to the launch of 'shared campaign budgets' this problem goes away, as budget is moved flexibly between campaigns ensuring they're kept online all the time.
If you use Google Analytics (GA) to find out how people use your site, from October it became possible to import GA engagement data right into your AdWords account. This is most useful when measuring display campaigns, which less frequently lead to conversions than their search counterparts. Previously you had to constantly flick between the two platforms, seeing which display placements were bouncing and which were leading to a long onsite time. With all this data sitting right in your AdWords account it's very easy to pause all of those URLs which are sending you poor traffic.
October also saw Google taking its first steps to becoming a bank, with the launch of the AdWords credit. With the continuing difficulty of getting even a small loan from the bank, and cash flow crippling many a small business, this extra flexibility was welcomed by thousands. Advertising has always been about speculating before you accumulate: with AdWords credit you can at least get the cash register ringing before the bailiff is knocking at the door!
Having trouble getting your ad to appear? Can't work out why a keyword performs so poorly? In November Google improved their campaign diagnostics tool making it easy to troubleshoot performance issues on Google.
So what does Google have in store for the next 12 months? Well luckily enough here at 123-reg we get to test out new Betas on behalf of Google. Having had a play with some of next year's AdWords toys I can assure you that 2013 is going to be as action packed as 2012 was.
Want to get better results? Read more about our Google AdWords campaign management solution and see how we can be of service.