What ads coming to Google's local pack mean for your local business
Google's local three-pack of organic listings may soon also include ads. More specifically, one of three local results in the local pack will be an ad. This was announced at the SMX Advanced Local Workshop last week and the news has left businesses with lots of unanswered questions.
What does this mean for those local businesses that have worked hard to earn a spot in the three-pack? What can they do to stay competitive in local search?
We're here to help answer these questions.
But first, so we're on the same page, we will go over what is the local pack as well as the most notable changes that have occurred in local search since Google's generous local seven-pack.
What is the local pack?
The Google local pack includes organic search results from queries that have local intent. In other words, they're business listings triggered by a local search, and they contain information such as address, phone number, opening hours.
For example, here are the business listings that show up in Google's local pack when searching for "dog walker London":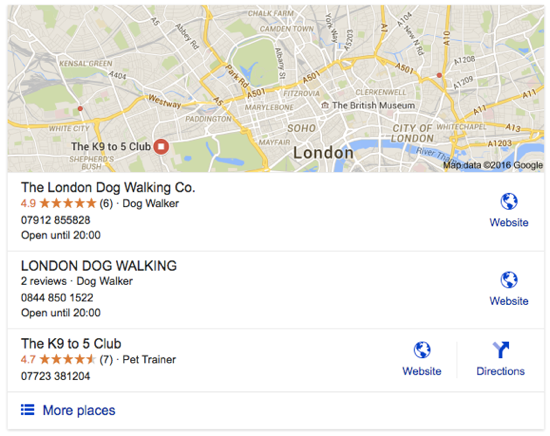 The local pack has gone through many changes. Last year, Google was showing seven businesses in the pack and in the map, and the results looked something like this: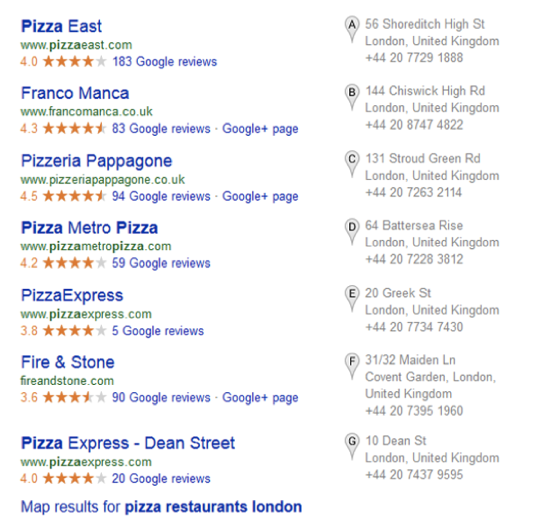 But on August 6th of 2015, Google updated the local search results, switching from the seven-pack local listings to the three-pack listings when searching and adding a "More places" option that showed seven listings when clicked.
Now another major change is under way that would bring the number of organic listings in the three-pack down to just two, with the first of the three being replaced by an ad. Check out this mockup from Search Engine Roundtable of how the ad may show in the local pack: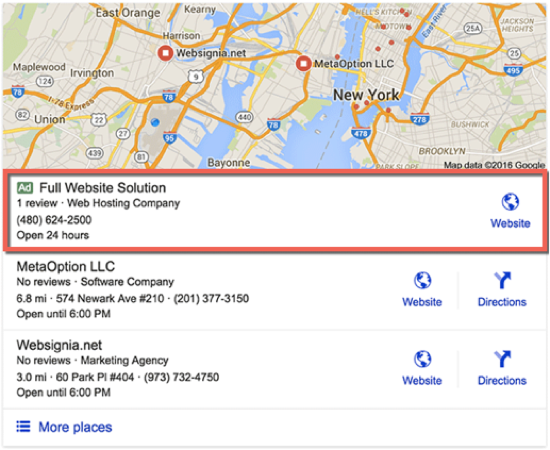 It seems that Google has been testing this change for a few months. However, in their previous experiment the ads were added to the expanded local pack, instead of replacing organic listings. So users would only see those ads after clicking "More places" from a local three-pack in the Google search results.
What does this mean for your local business?
It means that you have one less chance to rank organically in Google's local pack. So what can you do to increase your chances?
As a local business, you have two options:
1. Put even more effort into optimising for the local pack
Here are just a few of the things you can do:
Get a Google My Business page complete with all the important information about your business
Ensure your NAP (name, address and phone number) is present on your site and consistent everywhere else on the web (partner sites, directories, social media networks etc)
Include your business location in your URLs, page titles, headings, image alt text and wherever else you believe is relevant
Encourage people to talk about you in order to build citations or mentions of your business
Read our post that explains all of these and more in detail so you know what else to do to further optimise for the local pack.
2. Pay for your ad spot
Your second option is to pay to have your business listed in the number one ad spot in the local pack. If you're not very familiar with Google AdWords, this guide walks you through all the steps you need to follow to set up your first ad campaign.
But I'm not going to lie – it's not a walk in the park and it can take some time (and money) before you learn the ropes and start creating campaigns that produce great results. But that shouldn't stop you from giving it a shot.
Wrapping up
The new local pack ad unit is not live yet and has yet to be spotted in practice. But that doesn't mean you shouldn't get ready for when it is finally implemented. Use our guides to properly optimise your website for the local pack and stay competitive, no matter what happens next.