Five tips to make your website easier to find for local customers
Customers are going to Google to find products and services near them. Stats show that 46% of all searches on Google are local and almost 29% of customers search for local businesses at least once a week.
If you have a plumbing business, or café, or any other kind of business that serves a local area, does your website show up at the top of the search results when local customers run a search like "best plumber near me" or "best plumber in London"? And are you doing a good job at enticing people to click on your results?
If you're a local business but haven't yet taken steps to optimise your site for local search, you're missing a huge opportunity every time a local customer searches for your products or services online.
Wondering what you can do to get your local business in front of those local searches? Read on as we share five tips to make your website easier to find by local customers.
1. Create a Google business profile
One of the easiest and most effective ways to show up in Google's local search results as well as in Google Maps is to create and optimise your Google listing.
What is a Google listing? It's your business profile on Google My Business where you give the search engine and the people searching for your business information about your business. This includes your type of business and industry, the products and services you sell, where you're located (if you have a physical location), as well as contact information like email and phone.
Here are some examples of businesses with a Google My Business profile that show up in both the local search results and in Google Maps: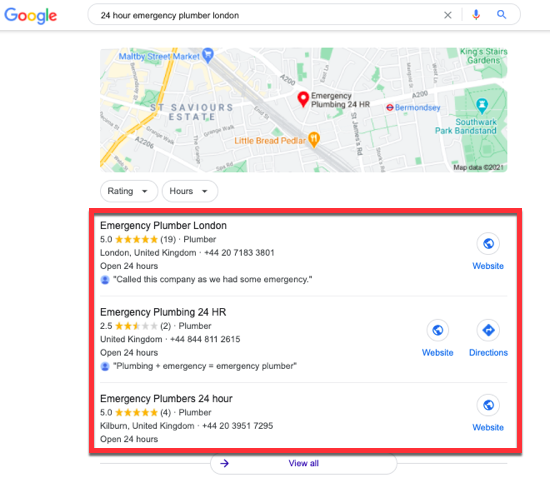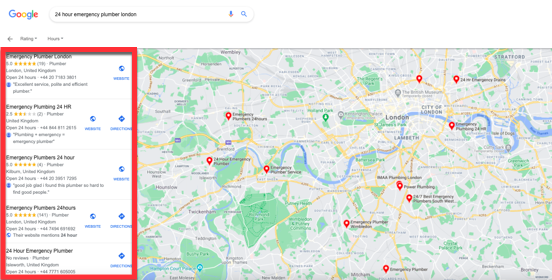 There are lots of reasons to create a business profile on Google, such as:
Increase your chances of showing up at the top of the local search engine results.
Control the information that Google displays about your business and ensure it's accurate and up-to-date.
Reassure local customers that you're a legit business they can trust to buy from.
Provide people with quick information about your website address, phone number, and business hours directly in the search results.
So, make sure to set up your Google My Business, if you haven't already. You can find all the steps in our article in the section about how to set up Google My Business.
Once you've set up your Google business profile, make sure you optimise and keep an eye on it to ensure that:
All the information is accurate and up-to-date. This includes your business name, logo, address, hours of operation, acceptable payment methods.
It includes all the new products and services you've added to your offering.
You read and respond to every new customer review published on your Google page, even if it's just to say "Thank you".
2. Encourage local customers to leave reviews for your business
Encouraging local customers to write reviews about their experience with you doesn't just help with your visibility in the local search results. It also builds trust and compels more prospects to buy from you.
Just look at what shows up in the local search results when searching for a local small business accountant: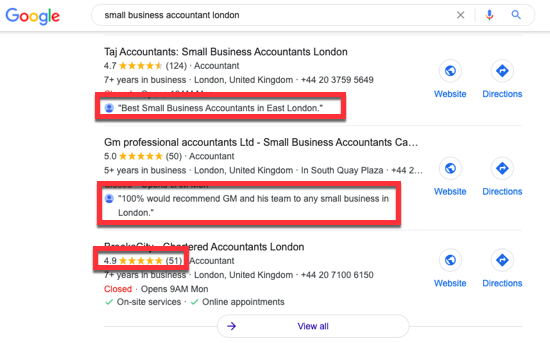 Local searchers are more likely to click, visit and buy from websites with a high number of customer ratings and reviews.
So, if you're a new business or didn't realise how important customer ratings and reviews are, now's the time to prioritise them. But how do you get more reviews of your business? Here are two simple things you can try:
Offer free samples, trial versions, or discounts to get more people to try out your products or services. Then ask for a review.
Send a post-purchase email asking customers to write a review.
For more ideas, read this post on 16 tried and true tactics to get more Google reviews.
3. Optimise your website for local search
If you've been looking into ways to attract more local customers to your site, you've probably read a bit about local search engine optimisation (SEO). This refers to optimising your site so that it shows up at the top of the search results when people search for local businesses near them.
So, how do you optimise your site for local search? There are lots of things you can try, but here are the key things we'd recommend prioritising:
Research local keywords
Start by researching and optimising your website pages using keywords that are relevant to your business and local customers. These keywords help describe to Google what each page on your site is about. Not sure what keywords to use? Find an SEO tool that you like. It'll help massively.
Add keywords to your content
Add your keywords to your website content. Depending on the content and information on each page, add different and relevant keywords to your page title, meta description, headings and subheadings, images alt text (the description of an image). Also, try mentioning your location and the local community you serve. For example, if you're serving London customers, include that alongside your keywords.
Make your location clear
Include your location in your About page and other relevant pages. For example, if you're a florist, your About page is the perfect place to mention you serve London customers.
Read this post to learn more about how to optimise your content with relevant keywords.
4. Publish blog posts that relate to local issues, events, and causes
If you have a blog, make sure you make the most of it to attract local customers. How? Follow local news and events and create content that relates to both local stories and your business. It's an effective way to grab local customers' attention.
For example, if a charity your support is promoting a new cause, write a blog post presenting the cause and why you got involved, and encourage others to do the same. If you sell sports equipment or custom t-shirts and a local marathon is coming up, write about it on your blog. This kind of content can help you rank higher for search results in your area.
If you don't have a blog, now's the time to start one. There are lots of benefits to blogging, including driving more local awareness and traffic to your site. Just make sure you're consistent and include relevant keywords that local customers use to find your business. Learn more about ways to use blogging to boost your small business's sales.
5. Get listed in local business directories
Online business directories are sites like Yelp, Yell, and more. Whether you've been online for a while or are just getting your offline business online, getting listed in local directories can help get your business found by local customers.
So, do some research to find the most popular local business directories, and then submit your business information to each of them. This usually includes your business name, website address, physical address (if you have it), phone number, email address, as well as a detailed description of your business and offering.
Wrapping up
If you want to attract local customers, you need to show up in the local search results when customers are looking for your business. By implementing the tips in this article, you can boost your site's visibility in the local search results and ensure more local customers find you right when they're searching for a business like yours.