How to optimise your website for local search when you have no physical location
The proliferation of mobile internet access via smartphones and the growing number of searches containing "near me" keywords have made local visibility critically important for businesses of all sizes.
But what if your business has no physical address? How can you stand out in the competitive local search results if you don't have a brick-and-mortar location? Is it even possible?
Yes, it is.
In this blog post we'll share a few local search engine optimisation (SEO) tactics that you can use to help your business rank higher for local search terms.
1. Get the level of granularity right
At what level of granularity are your potential customers searching? Meaning is your target audience searching for your business using location keywords like country, city, zip code, street etc.?
Do some keyword research to find out how people are searching by location. This also allows you to determine whether you actually need location pages at all.
If you do discover that your visitors are using local queries, one thing you should avoid doing is stuffing your pages with those keywords in an attempt to get your site to rank higher in local search results.
So how do you go about it? How can you use those local queries to optimise your site for local search?
2. Create local content
Getting location-specific content on your site that helps you tie into the local area you're targeting is a good tactic for providing location proof and authority. You probably already know how important this is to Google when ranking sites against each other.
Here are some ideas to get you started:
News. What's going on in the area you're targeting? Can you find a way to be part of it? If not, can you write about it? This is a great way to create content where you can target specific locations where you sell your products or services. Just make sure that the local content you publish on your site or blog is relevant to your business and your audience.
Local clients or businesses. Say you're a web developer targeting London as a location. If you're working with clients from London, list them alongside their location and link to their sites.
Case studies. This is a fantastic way to create local content, as well as to boost your credibility with local customers.
Answer questions. Find questions to answer in the FAQ section on your site where you can use specific keywords that can help you rank higher in local search.
3. Add user-generated content
While creating content for a target location is a good first step, if you want to take your game to the next level, try adding customer testimonials and reviews to your site.
Not only will these help boost your local reputation and authority, but it's also an effective way to reinforce that your business services multiple areas.
Here are two simple ways to do this:
Ask your customers for testimonials on their experience with you. Then link them to the customer's business website or LinkedIn profile to create real-world connections with the location.
If you have lots of customers leaving you reviews on TripAdvisor, TrustPilot, Facebook, Google Maps, then make sure to get some of those positive reviews up on your website as well.
4. Use structured data to stand out
Structured data helps Google to better determine what your site content is about. You can add it to your website's code to provide search engines with more information about your business, like the products and services you sell, reviews from customers, and so on.
Here's an example of how this looks in the search results: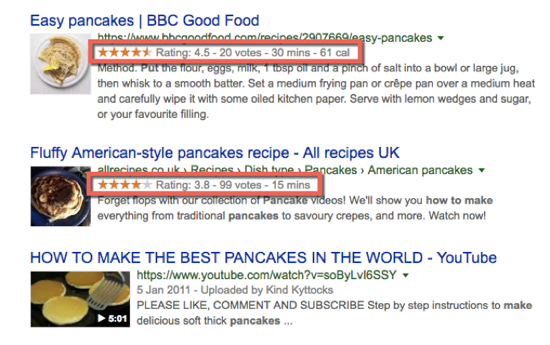 Google even offers a Structured Data Testing Tool that you can use to test your structured data and ensure it is properly implemented.
Can my business still show in Google My Business?
Yes. You can show up in the search results, even for queries that have a location in them but you still have to compete with the local pack that shows above the results. Or do you?
Even if you don't have a physical location, you can still show up in Google My Business and be listed in the local pack.
How? Google allows you to include a "service area" meaning the area where you sell your products or services. While you'll still need to add a physical address (like your home address), you have the option to hide it from the public.
Here's how:
Go to Google My Business and fill out your business details.
You'll notice this last line on the form that says "I deliver goods and services to my customers at their location".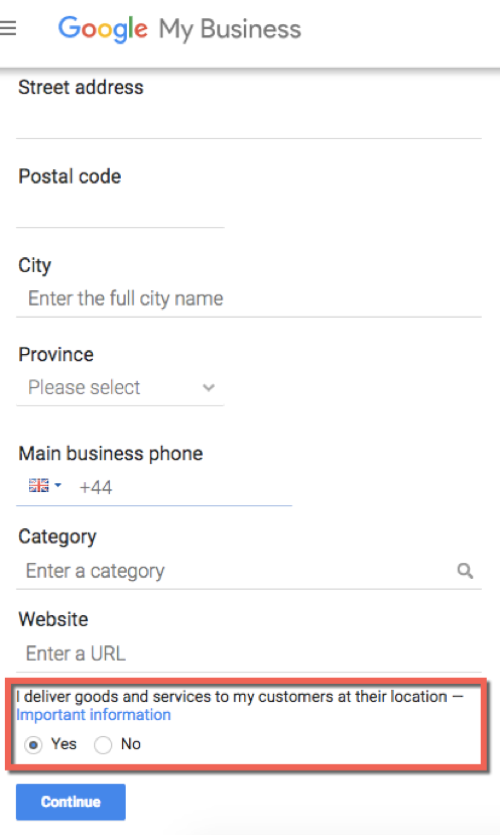 Make sure to check this box to ensure your physical address is kept private.
On the second screen you'll be able to add more information about your "service area", including the region, city, or radius of service.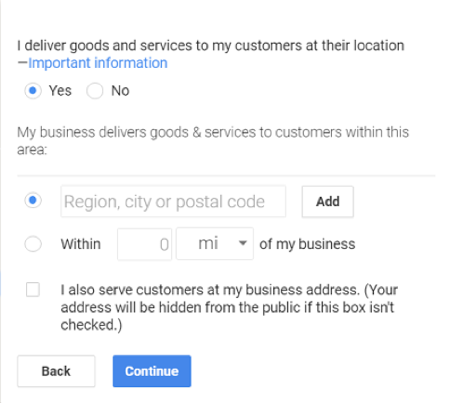 Continue with the next steps to verify your business. Once it's verified, your business should appear on the map as a service area.
Wrapping up
Local SEO is competitive, but if you focus on creating local content and gathering reviews from local customers, this should allow your business to rank higher in the local search results.
Most often, the most effective way to increase local visibility is to consider what information your local prospects need to make an informed decision to use your business, and then to deliver it to them.