15 free social media plugins for WordPress to turn your site into a social butterfly
A good business is a social business. There's no point in having a nicely dressed up website if it's completely antisocial and just sitting in a remote corner of the web. If there's something missing that can limit your site's appeal and effectiveness, that's social media integration.
Social media has revolutionised the way people find, consume and share information online. No matter what business or industry you're in, social media channels like Twitter, Facebook, LinkedIn, YouTube and Pinterest can help your content to reach hundreds or even thousands of people instantly.
It's no surprise that for most sites social media traffic represents the second biggest source of visitors, after search engine traffic. However, to get this traffic you first need to build up your social media presence on the channels where your audience spends time online and make it easy for them to find and share your content online.
So, if you want to turn your website from an awkward wallflower into a social butterfly, adding some user-friendly and feature-rich WordPress social media plugins can do the trick.
Don't know which ones to use? Let's take a look at 15 free and very useful social media plugins for WordPress that can help you to integrate social media into your website and to facilitate engagement with your audience.
Buttons
Adding social media buttons to your site and blog is a great way to encourage visitors to like, up vote or share your content with their friends and followers. Just make sure you choose a solution that not only makes it simple to integrate social sharing buttons in your content but that you can also easily customise so that it complements your current website design.
1. Shareaholic
This nifty WordPress plugin was originally promoted as "sexy bookmarks" but it has since morphed into the equally nifty (and no less sexy) Shareaholic. It's one of the most popular social media sharing solutions out there, with 300,000 sites around the world using it. And we can see why.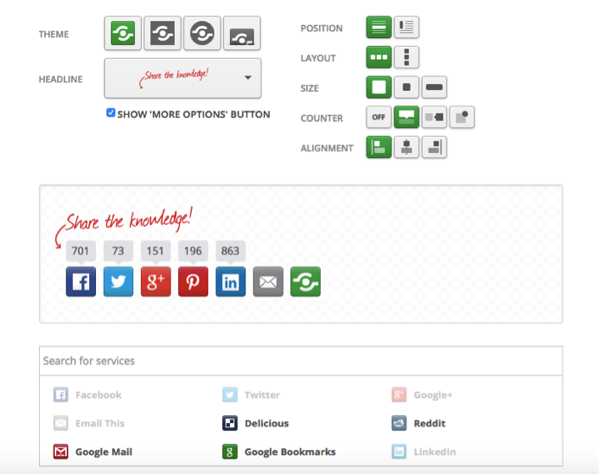 You can easily customise the position and location of the buttons. You can also add counters, which can help build even more engagement especially if you already get a lot of shares on social channels. You can even add a headline like "Share the knowledge" or "Sharing is caring", which calls attention to the share buttons and encourages people to share your content.
The plugin is very easy to install and once it's up and running, your visitors can share articles, comments, purchases and other activities from your website to Facebook, Twitter, LinkedIn and more, with just one click.
Some other cool features you might find useful:
Share buttons for your images
Social analytics to track popular content and see which social channels it is being shared on.
Display related content below your posts to encourage visitors to read more posts
2. ShareThis
Another even more widely used social media plugin for adding buttons to your site is ShareThis. With 2.4 million downloads and support for more than 120 social media channels, this plugin allows you to add and customise buttons with ease.
There are three different button styles available. Also available are a floating bar, a share bar that is displayed at the top of your pages, and a simple ShareThis button that hovers at the side of your pages.
Here's an example:

For sharing methods, you can choose between Multi-Post, which enables visitors to share your content without leaving your site, and Direct-Post, which redirects visitors to a specific social media channel and share your content directly on Facebook, Twitter, etc.
In addition, if a visitor clicks on the "More" link, they are given the option to share your content via a whopping 120 social media channels.
If you create an account, you'll also have access to some of their other services and features such as:
Built-in social analytics to evaluate your social metrics
A CopyNShare feature that allows you to keep track of the shares that occur when a user copies and pastes your site's URL or content. Basically, it adds a hashtag at the end of your URL to keep track of where your content is being share online.
It's no wonder that it's so popular considering it has such a great mix of features and usability.
3. "Pin It" button for image sharing
If you have a photography blog, an infographics website or any blog with lots of visual content, this plugin could be a real boon for attracting more Pinterest shares.
It's easy to install and use, and once you've done that any image on your blog larger than 120×120 will include a "Pin It" button. When a visitor hovers over an image, they'll see a nice-looking "Pin It" button appear on the image, which they can click to share the image directly to Pinterest.
Here's an example: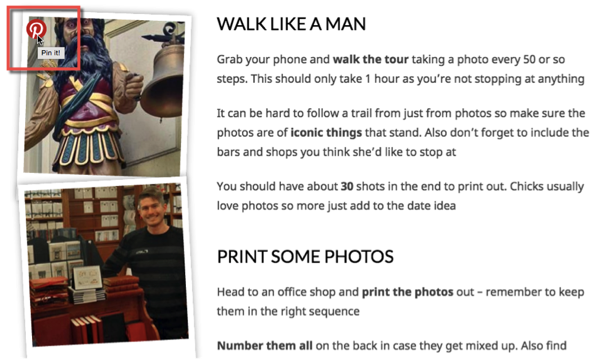 What's great about it that clicking the Pin It button brings up a mini-window so as to not take visitors away from your site.
Comments
Most of us stay logged in to our favourite social media channels at all times. So, instead of asking your visitors to fill out a form with their name, email address and website when they want to leave a comment on your site, why not speed up the process and encourage more comments? Simply add a plugin that allows them to log in through their preferred social media account and leave a comment quickly and easily.
Here are a few free WordPress plugins that can help you with that.
4. Disqus
Disqus is a free commenting system that you can easily install on your WordPress site. It basically replaces the standard WordPress comments feature and allows users to comment on your posts by simply logging into their preferred social media channel.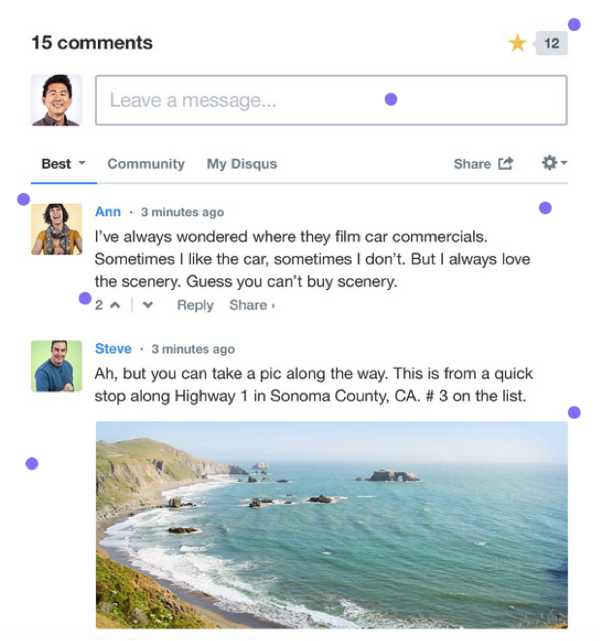 Here are a few other features you might like:
Visitors can login and comment via Facebook, Twitter and Google+
Comments can be voted up or down
Comments can be flagged for review
People can add images and videos to their comments
Activity and email notifications are sent to keep people engaged and pull them back in
It displays a Discovery box that recommends users more stories and discussions
LiveFyre has similar features to Disqus. In addition, it allows people to login and comment via LinkedIn. Users can also tag friends or other members to bring them into the conversation.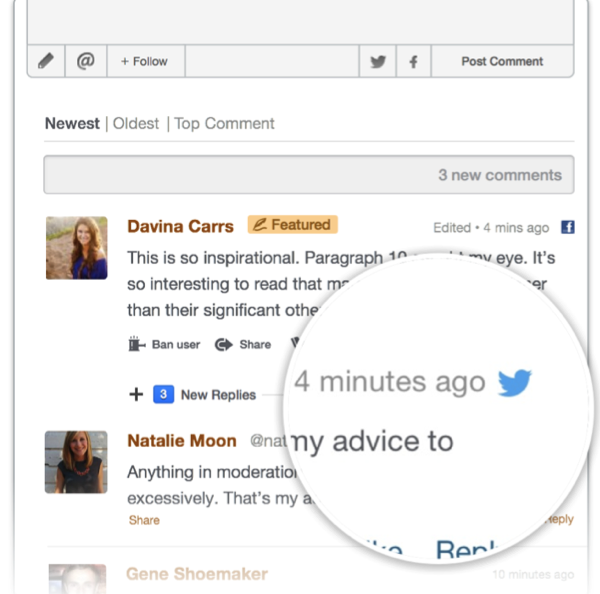 What's also interesting is that users can upload photos directly from their mobile photo library, Google or computer hard drive, social networks and more, directly into their comments.
Sharing content
As a small business owner, you probably hardly have time to write content for your blog. And once you're finished writing an article, you also need to make time to share it on your various social media channels. To save some time, you can add a plugin to your site that allows you to automatically push updates to multiple accounts at once.
Here are a few free WordPress plugins that you can use to save some valuable time:
This plugin allows you to automate promotion of your blog posts across your social media profiles, including Twitter, Facebook, LinkedIn and Google+. The module is integrated directly into your post editor and you can choose which social networks you want to update after you publish a post.
You have the option to automatically push your content out to all the social accounts you've added to the plugin, or you can click Settings to select and deselect accounts. You can even add a custom message to accompany the link you're sharing.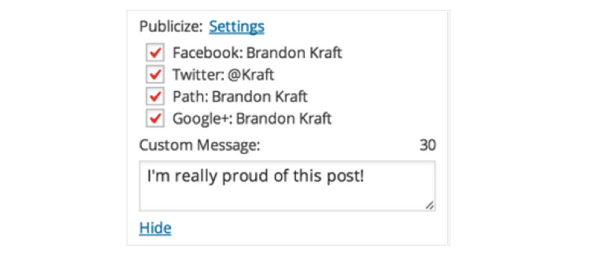 The downside though is that you can't include a different message for each social network.
7. NextScripts
Same as Jetpack Publicize, this free plugin automatically publishes your blog posts to your social networks, including Facebook, Twitter, Delicious, YouTube, Pinterest, Flickr, LinkedIn and about 20 more.
The advantage is that you can customise messages for each individual network so that's a big plus compared to Jetpack.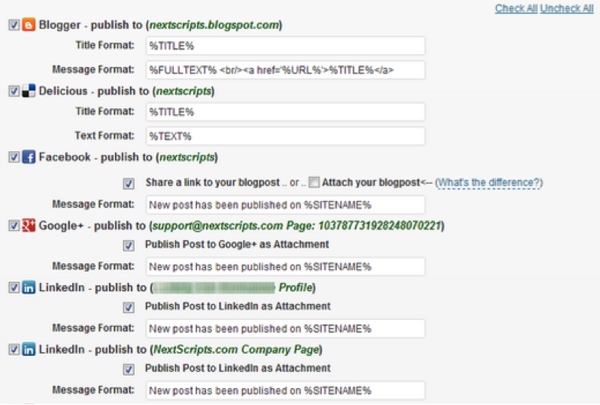 The downside is that the admin interface is not very user-friendly.
8. Ivy
Ok, this is a really cool plugin that encourages visitors to share content on social media in a more elegant way. So instead of sharing the URL to the entire page, it allows visitors to highlight any passage of text from one of your blog posts and share it directly to Twitter, Facebook or email.

Make sure you customise it and add an instruction like "select/ highlight to share" so visitors know what to do, considering not many websites are using this type of plugin… yet.
Click To Tweet makes it really easy for visitors to share your content on Twitter. Compared to Ivy, this plugin allows you to use simple yet elegant quotes and custom messages inside the body of your blog post to highlight specific content and ideas for your readers and make it simple for them to share on Twitter.
Here's how it looks: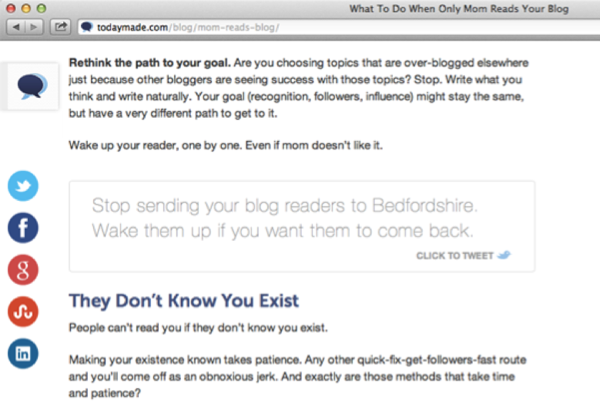 So, if you're looking to get more shares, this is sure to grab their attention and encourage them to share your content. Plus, since few site owners are using it, you're already a step ahead of your competition.
10. Twitter's official plugin for WordPress
As you probably know, there is a plethora of Twitter plugins for WordPress but instead of wasting time searching for the best one, why not try the official Twitter plugin for WordPress? It was recently released and the feedback is pretty good.
The new plugin comes with lots of features: it automatically generates Twitter Cards for your pages, enables Twitter Analytics to track your content's popularity, embeds video and adds a Tweet button to posts via the admin interface.
There's also an option that allows you to customise the look of embedded tweets on your site so it matches your theme.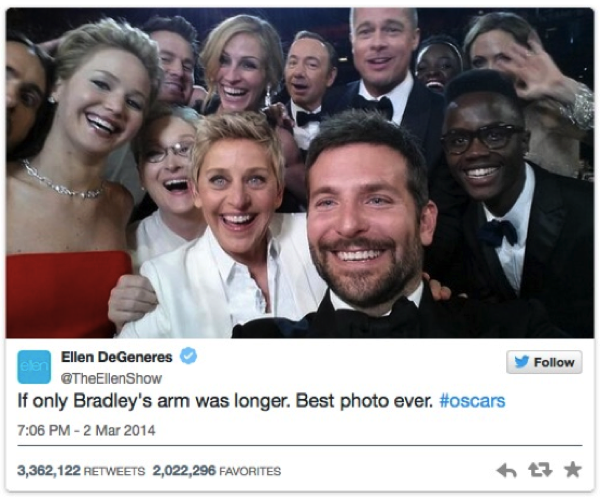 Find out more about Twitter's new plugin features.
Lock content
You may have noticed online newspapers or certain sites that lock specific articles, case studies or tutorials to visitors. To see that content you are usually required to like the page or to share it on a social network like Twitter or Facebook. This can easily be done with a plugin.
It's not an uncommon practice for those who provide premium content but be sure to use it only if you have really valuable content. In addition, use it sparingly because if you lock every page on your site or post on your blog, you will only drive visitors away.
11. Pay with a Tweet
Have you ever come across a site that requires you to tweet in order to get access to an article or an ebook? Well, if you offer file downloads or any kind of awesome freebies that you want to spread the word about, you can use a plugin to unlock users' access with a Tweet.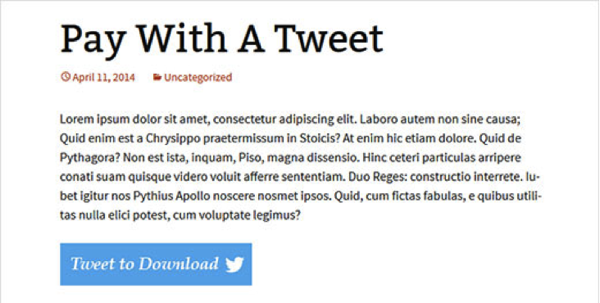 Once you install the plugin, you'll be able to create and customise your Pay With a Tweet Button. You can add your custom title and then the tweet that you want users to send when they click the button.
12. wpLike2Get
This WordPress plugin supports Twitter, Facebook and Google+. To protect the content, you only need to add a shortcode to lock it.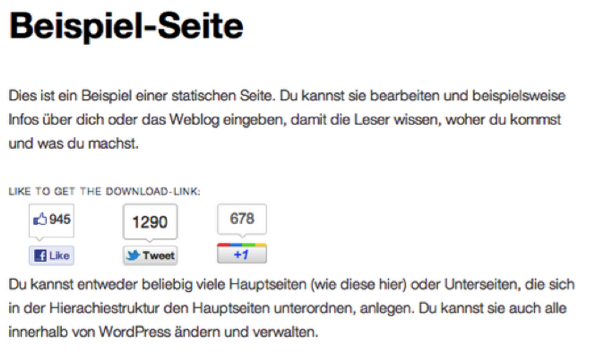 wpLike2Get also integrates with Google Analytics, which lets you track which pages are being unlocked and shared the most.
Social metrics
Tracking the performance of your content on social media channels allows you to see what your audience is most interested in. This kind of information can help you put together a better strategy so that you always post content that is interesting and engaging for your readers.
Following are a few plugins that give you some stats and insights into what's working and what's not on social media.
13. Word Count And Social Shares
Let's start with an interesting one. This cool plugin highlights the number of words in your articles and shows you the corresponding number of shares on social networks.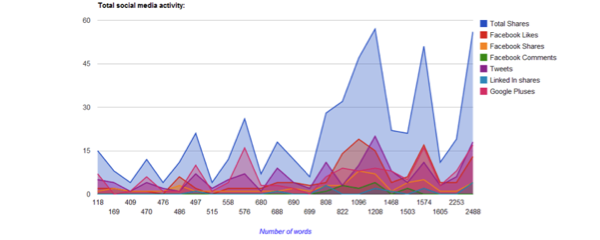 This can help you analyse your articles and determine whether your audience on Twitter enjoys shorter articles while your fans on Facebook engage in conversation more and write more comments when you share longer, more in-depth articles.
14. Social Metrics
Update: As pointed out by Paul Stephenson in the comments Social Metrics hasn't been updated in a while, so may not work with newer versions of WordPress.
As the name says, this WordPress plugin allows you to track the social media performance of your posts and pages. It supports Twitter, Facebook, Google+, LinkedIn, Digg and StumbleUpon. You can filter statistics by category and date.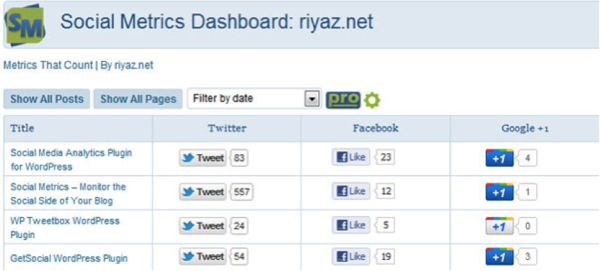 So, if you're looking for a simple plugin to show you how the articles you're sharing are performing on social media, this one's a good choice. Social Metrics also has a paid version, which supports additional social networks as well as the ability to export your data to Excel.
Social Media Tracker is another solution for viewing which of your blog posts are being shared the most on social networks. With this plugin you have the option to see which were the most popular in the last month, three months, six months and since the beginning.
You can also see the number of comments that your posts have received, which is a nice addition as it lets you know which posts have generated the most engagement.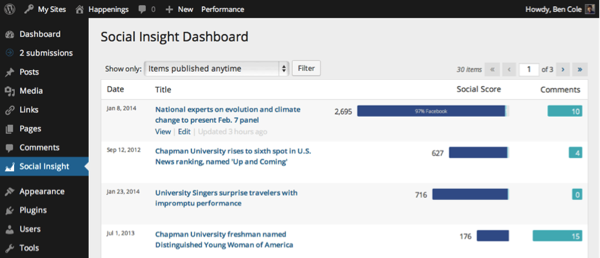 What's even better is that you can export all the data to Excel (at no extra cost) and analyse which posts were most popular on which social media channels.

The plugin also supports many social networks, including Facebook, Twitter, LinkedIn, Digg, Delicious, StumbleUpon, Pinterest and Google+.
Your turn now
This post just scratches the surface of available social media plugins for WordPress. There are many more you can try out. However, our recommendation is to not use too many as it may slow down your website, which can drive visitors away as well as hurt your search engine optimisation. Try out as many as you want but only use the ones you really need and that can actually improve users' experience on your website.
How about you? Are you using any of these plugins? Any favourites? Any you dislike? Any other you'd recommend? Let us know in a comment below.