How to add social media content curation to your marketing strategy (and why you should)
It's no secret – social media is one of the best forms of marketing around for a small business. In fact, 90% of all marketers say their social media efforts have generated additional exposure for their businesses. But how do you find the time and resources to consistently update your social media profiles with things your audience will actually engage with? This is where content curation comes in.
What is content curation?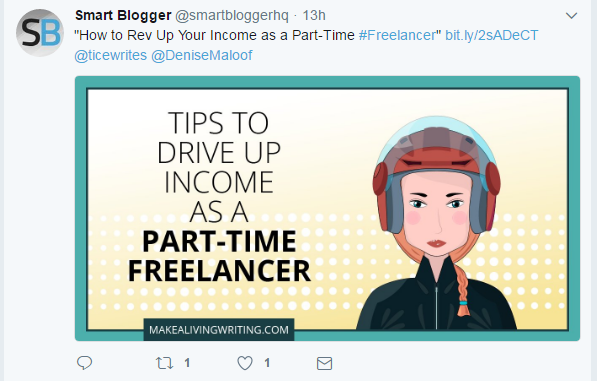 The short answer? It's searching the web for valuable content and sharing the golden nuggets with your readers.
First, you research your target audience. Look out for the things they like, share and comment on the most. Find the content that starts discussions and read the comments they leave – what are the questions that they're asking? Can you search for material online that answers those questions?
Once you have a good idea of the kind of content they engage with the most and the problems you can solve, search through the web until you find the best posts from thought leaders, influencers and other businesses – and then share that with your audience.
It may sound like a lot, but luckily there are free and helpful tools to make the whole process easier, which we'll explore later. First, here's why you should definitely be using content curation in your social media strategy.
You'll build a social media following
Content curation can connect you to other businesses and brands. You're bound to discover people in your industry doing similar things to you as you search for content. In turn, that will connect you their audiences – who could then become your audience as you share content that is relevant to their interests.
All these connections could lead to some very valuable communications. Plus, as you search you'll discover new competitors and learn more about what they're doing, which you can then apply to your own efforts.
2.  You'll be more consistent on social media
Creating original content takes time. Coming up with ideas takes time! And to be successful on social media, your strategy has to be constant. The pressure is always on – but this is where content creation can help you. You can fill gaps and save time with curated posts while you work on ideas for original content for your page.
It's important to note that there must be a healthy balance between curated and original content on your social media. Curated content is effectively promoting other people's work on your page – so it's not directly going to boost your sales.
3. You'll show people that you're well researched in your industry
To keep your audience engaged, your posts need to be varied. If you're constantly promoting your brand or trying to sell to your followers, they'll inevitably get bored. Content curation gives you a great opportunity to break up these kind of posts and show a different perspective to your brand and what you care about.
It shows that you consider other points of view apart from your own. It creates balance on your pages, showing that you've taken the time to research different areas of a topic and adding to your credibility.
4. You'll add value for your audience
Whether they're learning something new or being entertained, you'll be enriching their social media experience with curated content and it won't go unnoticed.  The better content you choose to share, the better your chances are of getting their engagement.
Content curation is a win-win situation. In your search for content, you'll also find yourself learning and discovering new things. All this new knowledge, paired with some consistency, could eventually lead to you being considered as a thought-leader in your industry.
5. You'll show your audience that you have their best interests at heart
When your followers notice that you're consistently posting content that is useful to them, it sends the impression that you've researched the questions and problems they may have and have gone out of your way to show them material that can help them.
Everyone likes to feel valued and this is a good way to show that you value your audience. Plus, you'll likely improve brand loyalty and hopefully turn some followers into customers!
How to find the best content to share
Content curation sounds easy enough until you realise that you can't just share anything. To make an impact, you have to consistently find relevant, popular content from reputable sources that your audience can trust.
Here's where it gets a bit tricky – your social media pages should include a strong mix of curated content, promotional posts for your own products and services and your own original content (as that's what's really going to help you boost traffic). How do you find the time to do this every single day? Luckily for you, the internet is full of content curation resources and marketing automation tools – here's some information on a few free packages I've tested.
Free online curation and automation tools – tried and tested
BuzzSumo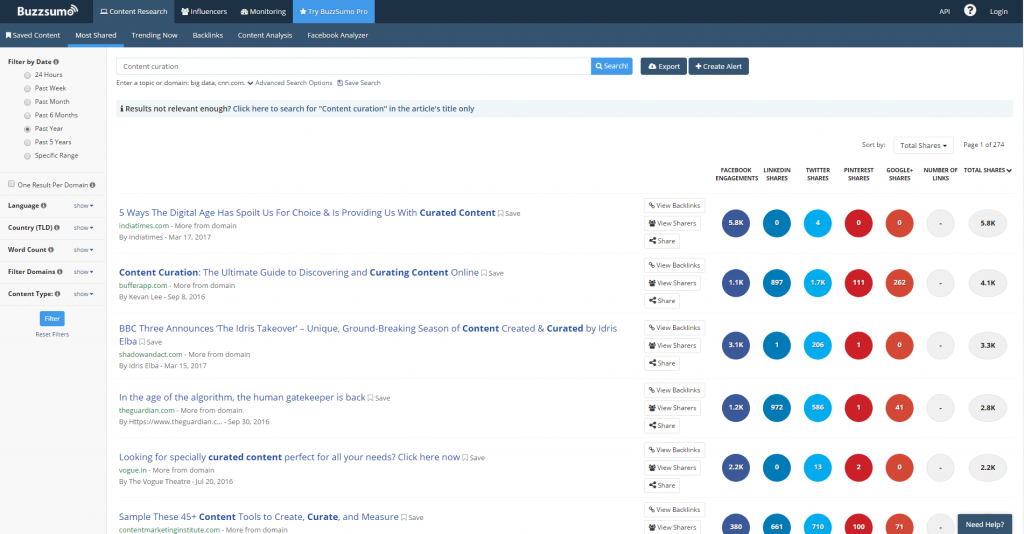 BuzzSumo is great – just search the relevant keywords and in seconds you can have the most popular, trending content at your fingertips.
You'll also see how many times users on each social network have engaged with the content, so you know exactly how popular each post is. With the paid version, you get more than one page of results and you can also see exactly which users have shared the content – helpful for connecting to new audiences and influencers. You can also see the other sites that have linked to that content.
Best for: discovering content and finding out exactly how popular it is before curating.
EpicBeat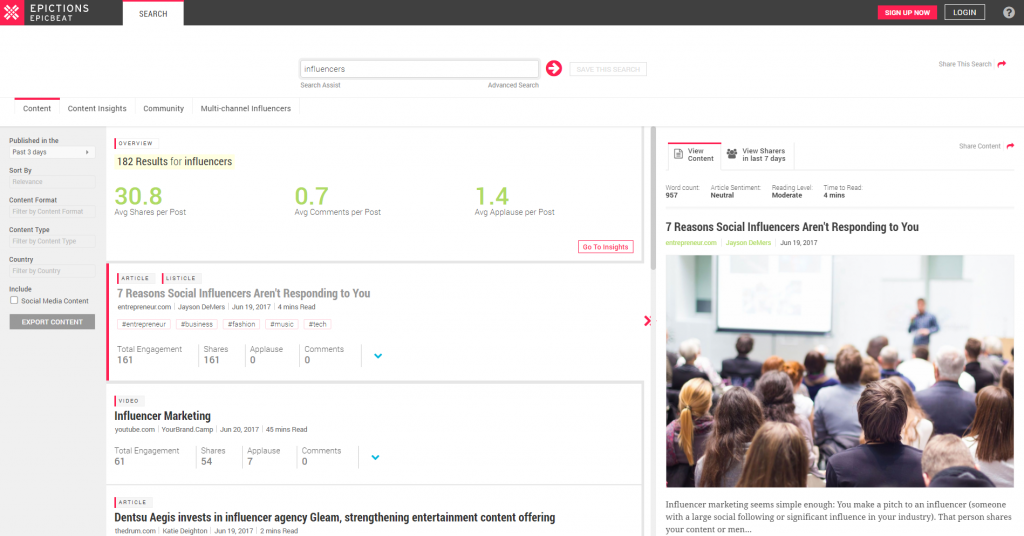 EpicBeat is a similar alternative to BuzzSumo. You have the option to filter the content you want to find by relevance, format, type and country – and the free version allows you to see who has shared the content in the last week. That's handy for finding new people with similar interests to connect with. The paid version gives you access to more content – plus you can save search results and set up alerts.
Best for: discovering popular content and following the people who are sharing it.
RightRelevance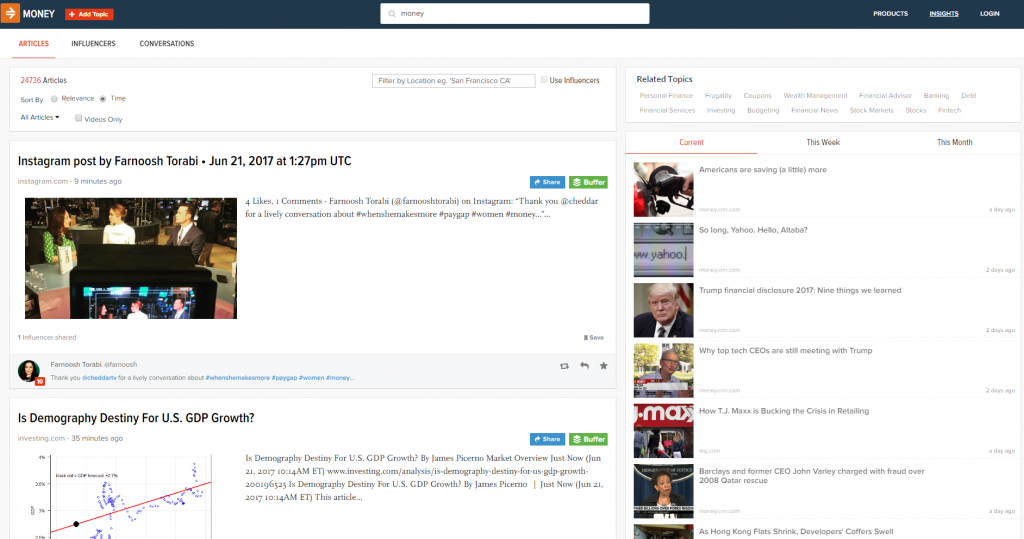 RightRelevance is a good online tool you can use to discover content for free. It includes Instagram content – plus it generates a list of influencers in each field and displays the Twitter users currently mentioning a keyword. What's missing is how many times the posts have been shared and on what platform – but this is a pretty good tool for discovering popular content without the stats.
Best for: finding out what's going on, and who's talking about what, in real time.
Feedly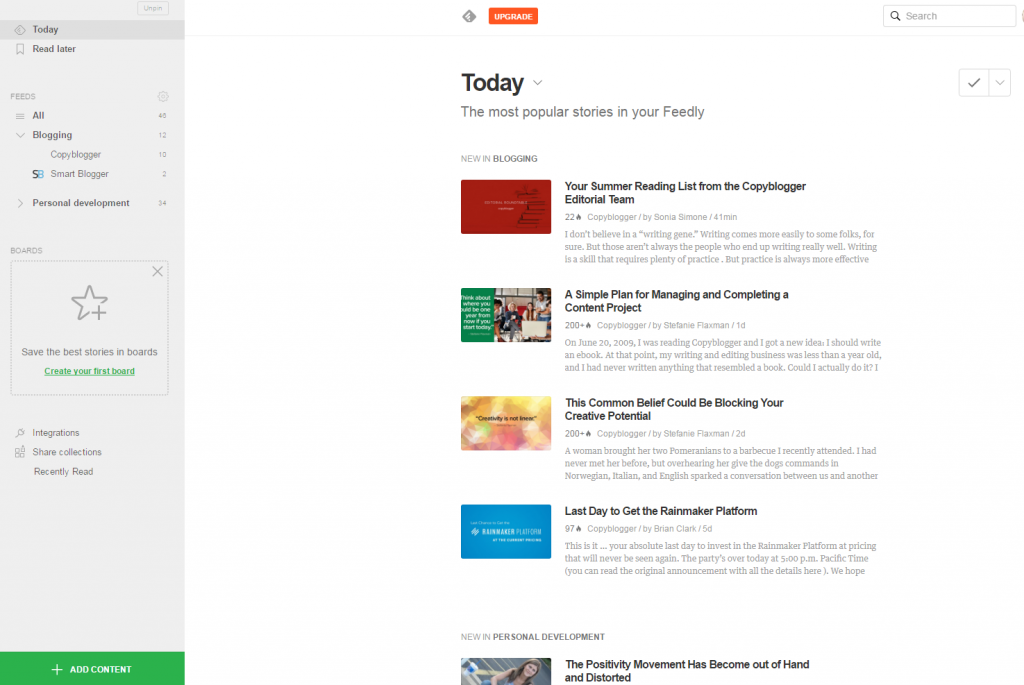 Feedly is slightly different to the other tools above – but it's another great way to discover fresh and relevant content to share with your audience. You create your own feeds by searching the tool for specific topics such as 'social media' or a specific website like 'BuzzFeed'. You'll then have all relevant posts in one convenient place for you to scroll through when looking for new content. You can organise these feeds into categories – and the free version allows you up to 100 feeds. The paid versions are quite cost effective, and allow you to integrate marketing automation tools among other handy bonuses.
Best for: Niche content discovery in one convenient place.
Twitter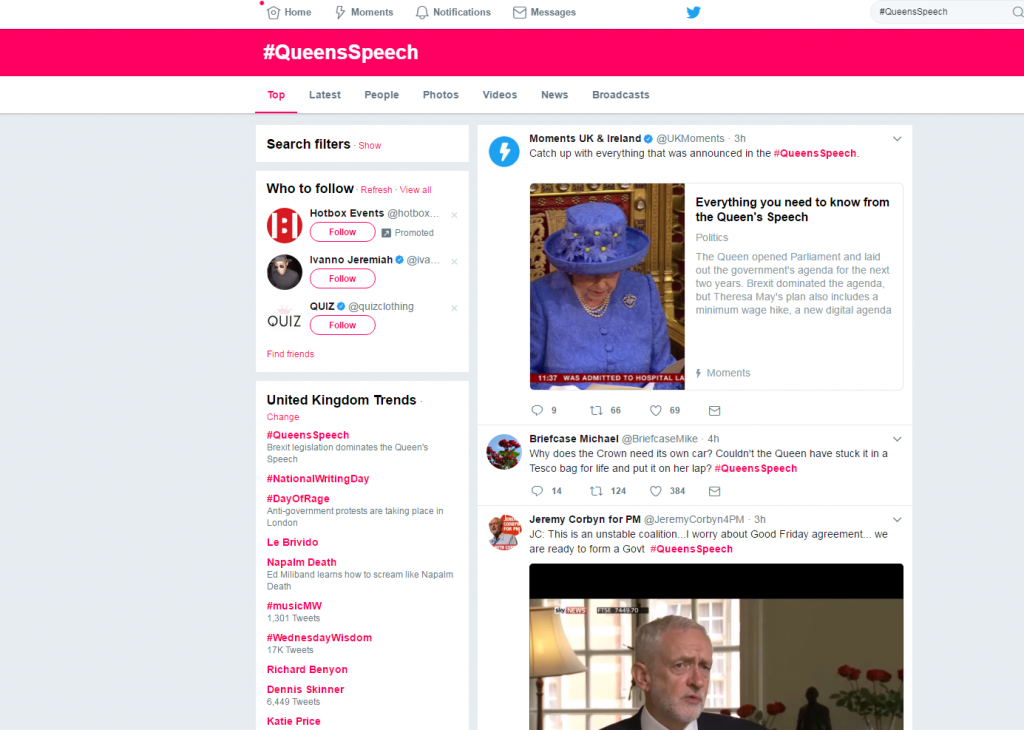 Twitter – it's possibly one of the most convenient, best known content discovery tools out there. More than just a social media platform, a simple search of a hashtag can bring up a wealth of information about who is engaging with a topic and how popular it is.
Best for: finding out exactly what people are saying about a topic, discovering new content and reaching out to your audiences and influencers.
Pinterest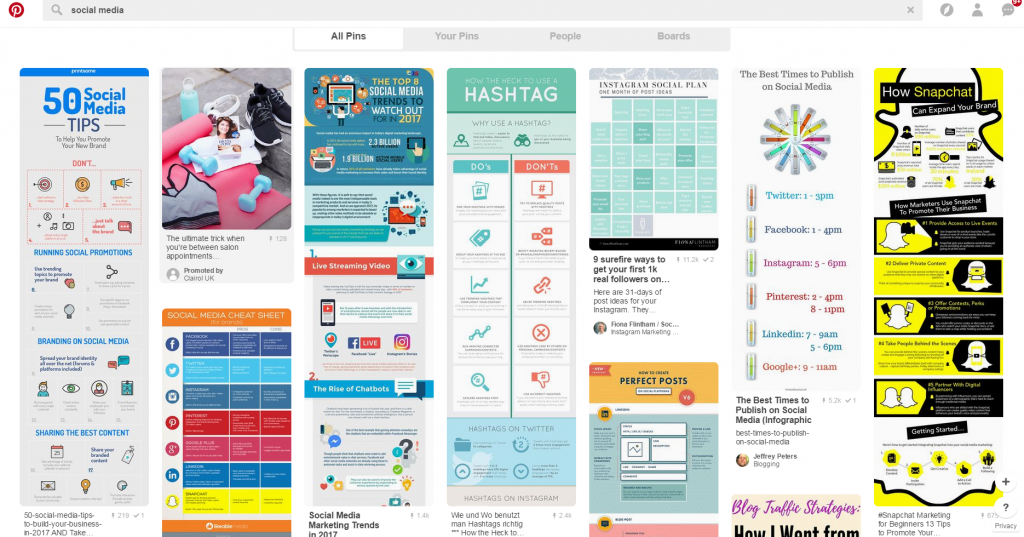 That's right – if you're not using Pinterest for content discovery, you're losing out! A search of a topic leads you straight to 'pins' – images that you can click on that lead back to the original source. Think of it almost like a visual version of Twitter – you can discover the most popular content via trending pins and re-pin others' content to your page.
Best for: discovering popular visual content and trending topics.
Automation
Buffer

Buffer is a popular automation tool that allows you to schedule your posts.  The free version allows you to schedule posts for 1 account per platform and you can queue up to 10 posts for each platform at a time. The paid version allows you to create posting calendars (handy to plan out your posts for the month) and view social analytics.
Best for: saving time by planning and scheduling your social media posts.
Here's a list of some more content discovery tools – not all of these are free but they help you to discover trending content in real-time so you can get first dibs on interesting posts to share with your followers.
Reddit is another free tool that deserves a mention – but explaining how to discover content on there is a completely different article. Here's a comprehensive guide to using Reddit that you can have a read through if you'd like to try it.
Wrapping Up
So now you know exactly what content curation is and how it can benefit your brand. You also have a whole list of free resources you can use to discover amazing content – so now it's time to get started! Choose only the best content to share and take every opportunity to connect with new people in your industry and you'll see it work for you in no time.