The beginner's guide to Snapchat for small businesses
Even if you've invested lots of time and resources into building a reputation on Facebook, Twitter, or Instagram, you may be missing out on one of the fastest growing platforms available. If you're not familiar with Snapchat, perhaps it's time to get acquainted.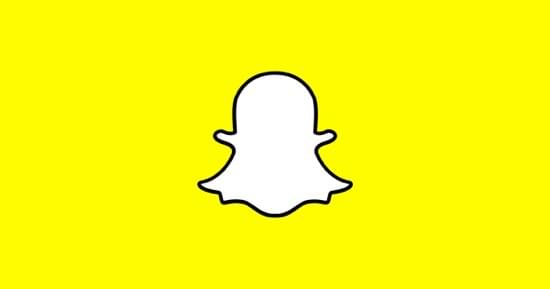 A few years ago, Snapchat was simply a way to share short-lived content and to send the occasional questionable selfie which would "self-destruct" after a few seconds. But things have changed and four years later, Snapchat has got more than just a train a hype and buzz to back it up.
Over 150 million people now use Snapchat to watch 10 billion videos every day. That's 10 billion daily opportunities to get your small business in front of your target audience. It's no wonder so many brands are now scrambling to join the cool crowd, considering this social channel is now more popular than Twitter by daily active users.
But how can you make videos and photos that disappear within ten seconds to 24 hours a worthwhile investment? And how can you leverage this platform to create a lasting impression of your brand?
In this guide we'll walk you through everything you need to know about Snapchat, whether or not it's right for you, and how you can use it to market your business, whatever your budget.
What is Snapchat?
Snapchat is a mobile app that allows users to send pictures and videos – called "Snaps" – to other users. The media can only be viewed for ten seconds or less, and then it disappears forever.
Users can also add a Snap (or series of Snaps) to create their own "story", which can be viewed for up to 24 hours by just their followers or everyone who has a Snapchat account.
To get a better understanding of how this app works, here are some key terms to familiarise yourself with:
Snaps are picture or video messages taken and shared with friends on Snapchat in real-time. Snaps can be viewed for up to ten seconds, depending on the amount of time the user chooses.
Chats are text or video messages taken and shared with friends on Snapchat in real-time.
Stories string Snaps together to create a narrative that can be viewed for up 24 hours. To create a Story, a user chooses to add their Snaps to their Story. Depending on their privacy settings, the photos and videos added to a Story can be viewed by either all Snapchatters, just the user's friends, or a customised group.
Why your business needs to be on Snapchat
The numbers speak for themselves:
Snapchat has more users than Twitter or Pinterest or Linkedin
76% of Snapchat users made a purchase online within the last month.
71% of users are under 35 years old, making it the ideal platform if your small business targets a millennial audience (although the app is becoming popular with older adults as well).
The percentage of marketers who actually take advantage of Snapchat is a tiny 1% (meaning you can be an early adopter and  gain a competitive advantage in your industry).
Still not sure if you should try Snapchat for your small business? Here are a few more reasons why Snapchat could prove to be a valuable marketing tool for your business:
It's easier to stand out early in the evolution of a new social channel.
It humanises your brand. Instead of seeing carefully planned content from your brand, your audience can catch a candid, behind-the-scene look at your business. This allows people to see your business as it truly is, which can help build their trust, create a stronger connection and increase brand loyalty.
It allows you to be real, genuine and entertaining. No one wants to see Snaps of professional product photos or team pictures that look like stock images. What your audience really wants is to be entertained by the unique content you share.
Engagement on Snapchat is really high. The app is made for quick, on-the-fly picture and video updates, with minimal editing tools built in. The result is that users who have wanted to get to know brands and the real people behind them now have a platform built for exactly this type of genuine, airbrush-free content creation. That's what makes engagement so high.
Sounds like a powerful way to market your small business, doesn't it? If you think it matches your business, here's how to get started with it.
Setting up Snapchat
The first step to using Snapchat for your business is to set up your account. To do this, you need to download the app from the iTunes store or Google Play. Once installed, you'll be able to sign up for a new Snapchat account.
When you create your account, make sure your username is the same as on all of your other social profiles.
Now, most businesses take advantage of the Stories feature when sharing content on Snapchat. To ensure your stories are public to all your followers you will need to edit your Settings so that your "View My Story" is set to "Everyone". (Tap the little ghost icon at the top of the screen to go to Settings).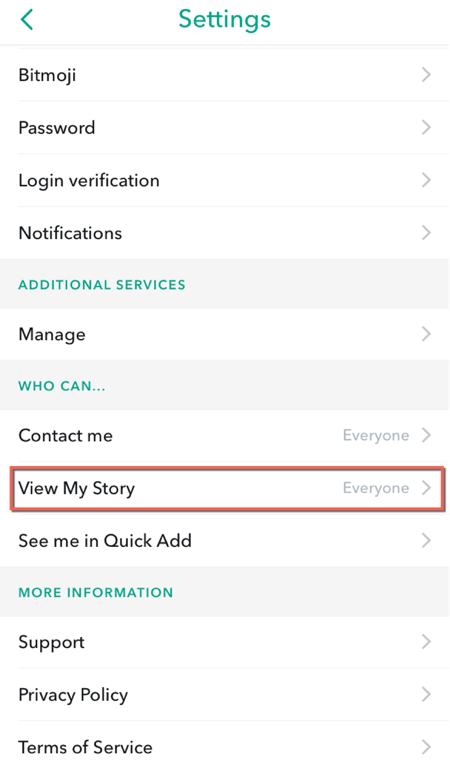 Now that you've set up your account, you should add some friends, otherwise no one will see the content you share.
Same as with Twitter, your audience, bloggers and influencers in your industry won't be able to see your stories unless they also add you as a friend. But you can encourage them to do so by letting them know you're on Snapchat.
Here's how you can do that: tap on the ghost icon at the top of your screen and you'll see various options for adding friends.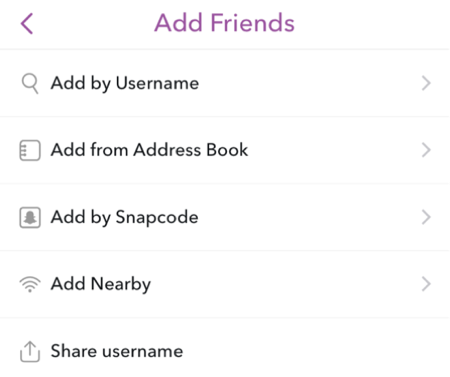 The chances are you don't know people's usernames on Snapchat. A simple way to find users to follow is to run searches on your other social media networks like Facebook and Twitter. So, for example, you can do the following search on Facebook and then tap on the option to see more posts from friends or groups to find people you know on Snapchat.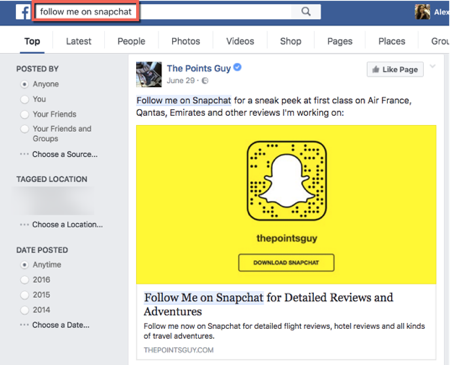 In this case, for example, you can scan the above Snapchat QR code through the app and follow this person on Snapchat.
You can do the same with Twitter. Simply go to Twitter Advanced Search, run a search for "Add me on Snapchat" and fill in search boxes relevant to your target audience. For instance, if you're targeting users in a specific location, fill in the Places section.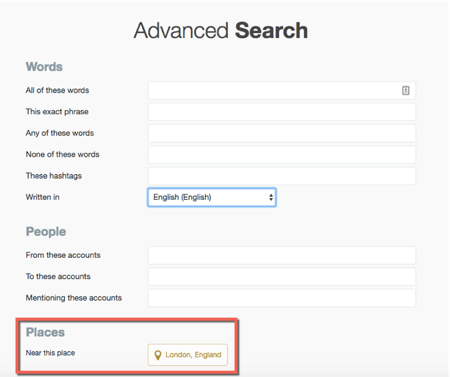 Now add Snapchatters and engage with them.
You also have the option to Add Nearby users. This is particularly useful if you're at a networking event as you can enable this option and add people who are attending the event, who are also on Snapchat.
Now that you've added some friends, and hopefully, they've added you as well, you can start creating content to share with them.
How to create and share content
Let's start with the basics: how to take and edit a snap.
When you open the app, it automatically opens to the camera: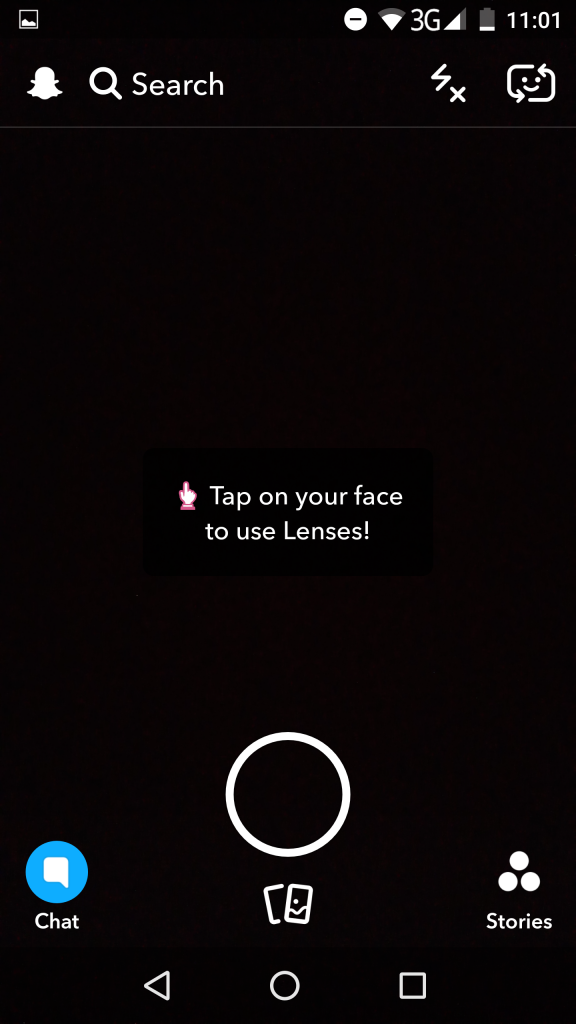 To take a photo Snap, tap once on the capture (circular) button at the bottom of the screen. To record a video Snap, press and hold for as long as you want the video to be. A red marker will appear to indicate that it's recording. Once you've created the snap, you will be sent to this screen: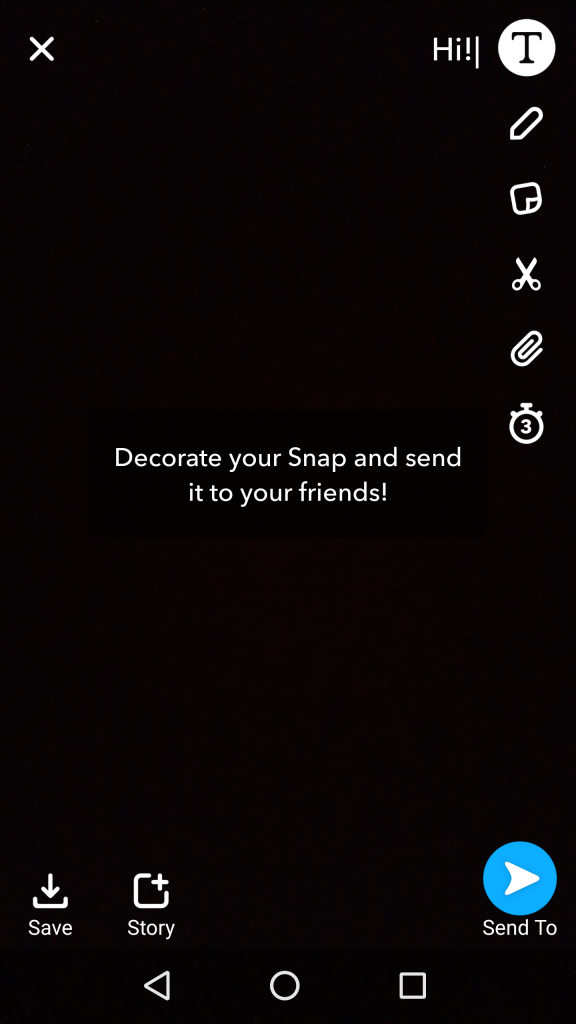 This is where you are able to edit your photo or video Snap. So now you have the following options at the top of your screen:
Stickers (square icon that resembles a sticky note).
Caption ("T" icon) that allows you to write a message using text
Doodle (pencil icon) that you can use to draw anything.
You can also edit the settings of a Snap. At the bottom of your screen you will see:
Timing (clock icon), which allows you to select the amount of time that your Snap can be viewed
Download (downward arrow icon) that lets you save your snap to your phone's camera roll, to Memories, or both.
When you're ready to send your Snap, simply click the blue arrow icon on the bottom of your screen. You can then select which contacts you'd like to send it to by checking the box beside your name. When your message is sent, the app will change to the Feed screen.
Now, if you tap on the dots to the right of your story, you'll see your Story analytics. This is where you'll be able to see who has viewed your story, who has saved them to their phones and more. Use this information to determine what type of content your audience likes most so you know what you should focus on going forward.
Another great feature you should take advantage of is Snapchat Discover: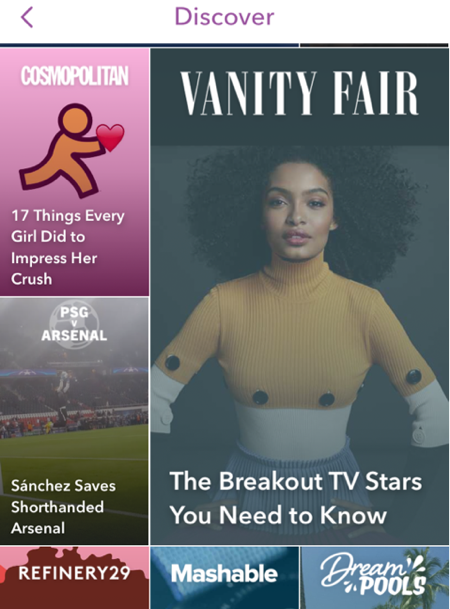 Simply swipe right-to-left from the stories screen to get to the Discover page. This is a fantastic place to curate content and get some inspiration on how to best use Snapchat to promote your content.
Ok, now that you know how Snapchat works and how to use its features to create and share content, let's look at how other brands are using this platform to build awareness and to promote their businesses, and how you can too.
Types of content that work well on Snapchat
Don't know what type of content to share on Snapchat? Here are a few ideas of how other brands are using this platform to build a following and to raise brand awareness:
Share behind the scenes footage
Anything from what's going on in the office, at team buildings or after hours can be turned into content for your audience (that is if it's interesting). People have always loved exclusive insights into the brands they follow so don't be shy. Share a bit of that unique personality behind your brand as that is the key to building stronger relationships with your fans.
Offer discounts
Sharing discounts, special offers and coupons on Snapchat is a great way to build brand loyalty, and also to drive followers onto your website or into your store. Think about it – users have to keep a close eye on your business so they can act quickly when you're offering a deal or a discount.
Now, if your followers enjoy and can't wait to receive deals from you through Snapchat, you can be sure they will check in on a regular basis. This will make it easy for you to share additional insights about your brand and products and further build customer engagement and loyalty.
A simple yet good example for using Snapchat for discounts is the frozen yogurt shop 16 Handles. A few years back they created a campaign for the New Year where they offered discounts to customers who sent a Snap of themselves enjoying their yogurt.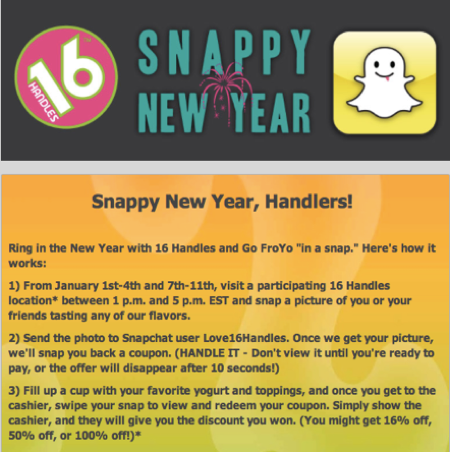 Another example comes from food delivery service Grubhub. They hosted a week-long scavenger hunt contest dubbed "SnapHunt" where every day for a week they posted a new challenge for followers to complete for a shot at $50 in free takeout.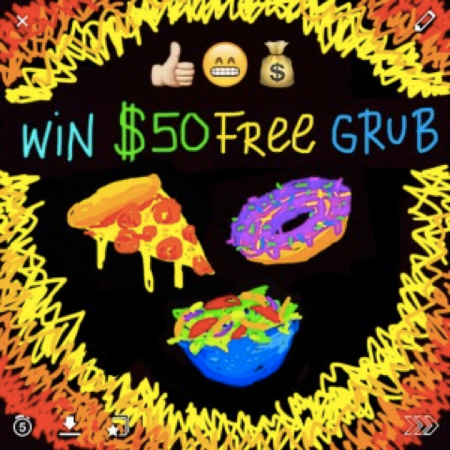 More than 30% of GrubHub's Snapchat followers participated and the brand saw an increase of 20% in followers during the contest. Not bad at all!
Educate your audience
Snapchat has proved to be the perfect platform for short how-to videos and tutorials, Q&As, and any type of informational content that focuses on educating the audience and adding value.
You can this space to teach your following anything from how to fix a dripping shower head, how to use your product to tips to be a morning person or to be motivated to start exercising.
An awesome example of this that you can put into practice as well is from General Electric, the multinational conglomerate corporation. They have been using Snapchat to not only showcase their geeky personality but also to encourage interest in science.
They try to answer users' questions by explaining scientific concepts in a fun and clear way:
Whichever business you're in, your audience will always have questions that you can answer in a fun Spanchat video.
Build anticipation
Since Snapchat is based off of short clips, you can make use of it to build up anticipation for anything from an event, to a product release to a website redesign. So create a series of Snaps to help spread the word about whatever it is that you're trying to promote.
Fashion label Rebecca Minkoff debuted its 2014 Spring collection on Snapchat just before it hit the New York Fashion Week runway in September 2013. This was a great move as fashion fans are always eager to get scoops before anyone else.
Another way you can use this technique is to send out a short ten-second Snap to a few select people. You can either target influencers in your niche, or simply choose random followers and send them a special picture or video Snap with an inside peak. Then hopefully they will spread the word for you.
Some useful tips when using Snapchat
If you've decided you're ready to start Snapping for business, here are a few things to help you put together a strategy:
Consistency is key. Considering that content disappears from your story every 24 hours, this means you need to constantly give your friends and followers something to look at. Aim to share between five to ten snaps per day, combining photo and video Snaps to keep your audience engaged and interested.
Don't overthink it. What makes Snapchat so appealing and popular is that it encourages brands to tell the raw, unedited story. So think about the stuff that would make your customers smile or more interested in your business and the products/ services you sell. Take a Snap of those things and share them with your audience.
Take advantage of drawing tools to spice up content and make it more fun and interesting.
Use your existing channels to build a following. Promote your Snapchat username and snapcode on your website (About Us and/ or Contact pages), on social channels like Facebook and Twitter, in the footers of your infographics or other visual content that you share on your blog, or on other platforms like SlideShare.
Get creative! You don't have to use Snapchat the same way other brands are using it. Think outside the box and do something different. For example, why not find a way to offer support via Snapchat by asking questions and creating Snaps where you answer those questions? Or you could ask customers to send you Snaps with the problems they're having and you could then provide a solution in a video Snap.
Have fun with it, and your audience will too. It's such a great platform where you can experiment with all sorts of tools to make your content more engaging. So don't be afraid to show some of your brand's unique personality.
And a final piece of advice: don't join Snapchat unless it benefits your business. Don't just jump in because it's a new, exciting platform. If your audience isn't on Snapchat, you'll just be wasting precious time and resources  that you could very well be investing on a different channel where your potential customers are actually spending time online.
Wrapping up
Getting started with another social network and learning how to use it to your advantage can be a daunting, time-consuming task. But once you get the hang of it, Snapchat can be a lot of fun, and not just for you, but for your audience too. So use this guide to get started, experiment with different types of content to see what works best for your followers and you'll be a pro before you know it.
Are you using Snapchat? Have any good tips on how to make the most of it? Share them with us in a tweet @123reg.