Eight social media hashtag mistakes and how to avoid them
Hashtags were initially introduced to Twitter to make it easy for users to find the content they were interested in. But they quickly become so popular that now they're being used on every social network, including Facebook, Instagram, Pinterest and LinkedIn.
While hashtags are fairly widespread as they're a great way to create conversions around a brand and gain social reach, unfortunately, lots of marketers are using them the wrong way. So it's no surprise that many of them find their business in the middle of public relations nightmare.
To avoid making hashtag mistakes, let's look at how some businesses use them wrong so you can learn from them and don't end up in hot water.
1. Using only generic or "popular" hashtags
One of the most common mistakes businesses make is to only use popular hashtags. Sure, it may make sense to add generic, widely-used hashtags like #love or #positive to gain more exposure. But, in reality, the competition for those popular hashtags is so fierce that your post can easily get lost in the feed.
If some people do see and engage with your post, you might later find that they're not actually your target audience, which means they're not interested in your business or offering. So those generic hashtags are useless for your business.
For example, if you run a search on Instagram for the hashtag "consultant", you'll find there are 527,247 posts using it.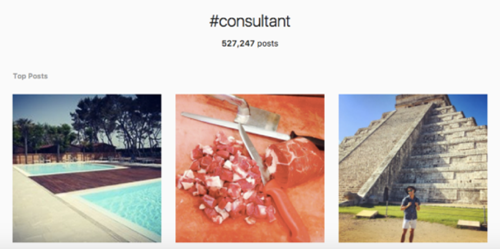 But those consultants can be anything from nutrition and clothing consultants to businesses selling recruitment services.
So if you post a message like the one below, and then add a "consultant" hashtag to it, lots of people might see it and engage with it but it will most likely be because of the inspirational message, and not because they're interested in HR services.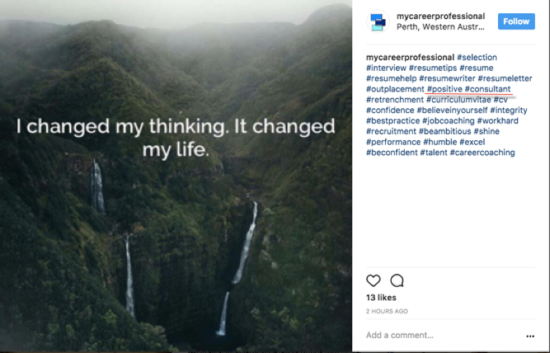 What to do instead
If you use Facebook, Twitter or LinkedIn, where you can't add 30 hashtags like on Instagram for example, then make sure to use hashtags that are specific to your target consumer and relevant to the context of each post. The more specific you can get with your hashtags, the more targeted your audience will be, and targeted audience means better engagement and better results.
So, for example, if your business sells travel backpacks, instead of using #backpacks, opt for #travelbackpacks. This way the hashtag is specific to travellers – your target customers.
Now, if you use Instagram, and want to do add a generic hashtag to a post, make sure to also add other hashtags that are more specific.
2. Not tailoring hashtags to the social network you're using
Always consider the social network you're using when deciding which hashtags and how many to use.
For example, hashtags on photo and video sharing platforms like Instagram and Pinterest are more focused on describing the content. However, on platforms like Twitter and LinkedIn, hashtags are more focused on the topic of conversation, an event or the group of people that you'd like to engage.
What to do instead
Before using hashtags, take the time to learn more about the proper ways to use them for each platform you're on.
Here are a few guides to get you started:
3. Going too long
At 140 characters per post (soon to be 280), Twitter is all about keeping it short and to the point. But when you use a long hashtag, that limits the space you have to write about the actual post you're sharing. And it further limits the space for people who want to use your hashtag and add their own comments.
But it's not just about Twitter. No matter the social platform, long hashtags are confusing and difficult to read, especially if you put all the words in lowercase.
See for yourself: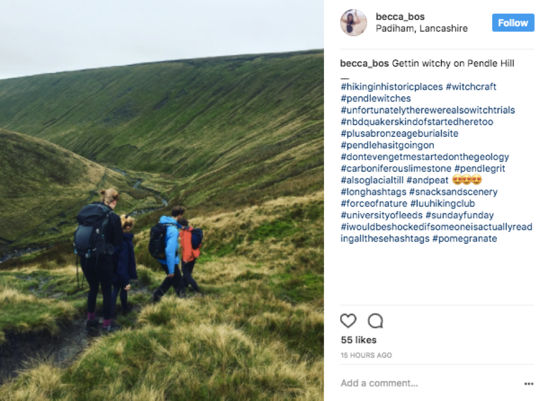 Even though a long hashtag might target a very specific audience, people can miss the point of your message, and even misspell it when they try to use it themselves.
What to do instead
You want people to naturally search for your hashtag, and to make it easier for them to find and engage with it. Which is why the most effective hashtags are short and sweet and encapsulate the topic succinctly. They are easy to read and powerful enough to help generate buzz.
Here is an example of short and to the point hashtags used by a stylist and colour evangelist in London:
4. Not doing your research
Another big mistake is not doing proper research on the hashtags you're planning to use. A little research can save you from an embarrassing mistake.
Entenmann's learned this the hard way. The maker of delicious cakes and donuts tweeted: "Who's #notguilty about eating all the tasty treats they want?!" just as the hashtag #notguilty was trending due to a murder trial.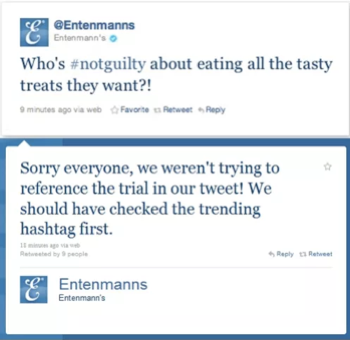 And here's another example from Lululemon, an athletic clothing retailer, that decided to run an Instagram contest in 2012 using #WTFSept.
To them, the hashtag stood for "What the Focus September", which was the name of their campaign. However, at that time the hashtag was already being used in relation to September 11. Since they didn't do their research, the company ended up adding lots of yoga pictures and content to 9/11 memorial posts.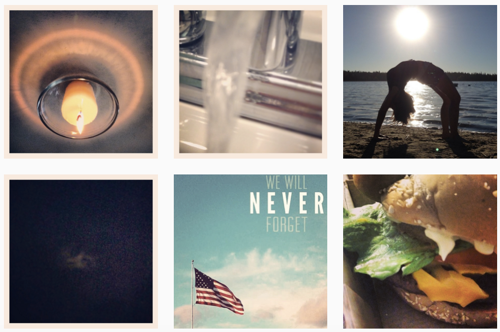 What to do instead
Don't overlook this important step. So before you use a new hashtag, take a few minutes to pop it into that platforms' search bar, whether it's Twitter, Instagram or LinkedIn. You can also use hashtag research tools like Hashtags.org, Ritetag and Tagboard.
Look at things like: is the hashtag already in use? If it is, what kind of conversations are people having with this hashtag? Does it relate to the message you want to share?
If the conversation is relevant to your content and brand, you can use it. Just make sure to also consider its popularity. A very popular hashtag means an influx of tweets. So when you're using that hashtag, you also need to consider whether the conversation surrounding it can become diluted due to the huge number of tweets or people joining the conversation.
5. Jumping on popular yet sensitive hashtags
Even though Celeb Boutique did their research and knew about the horrific mass shooting in Aurora, they decided to piggyback on the trending topic to promote a dress they were selling called Aurora.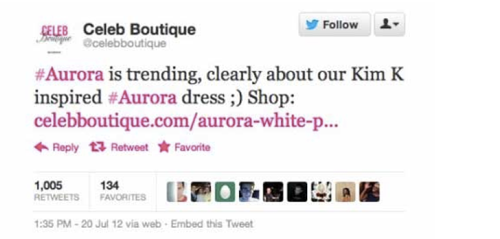 Unsurprisingly, the tweet garnered lots of negative reactions.
What to do instead
Avoid using popular and sensitive events and hashtags to promote your business. It doesn't end well. The extra exposure will not be worth the outrage and negative reputation that you'll garner. Bottom line: never use a negative story's hashtag to get noticed.
6. Never using local hashtags
If you're a local business with a brick-and-mortar location or want to target customers in a specific area, you're missing out if you don't add the location to your hashtags. Not only can this help you gain exposure to the community you're trying to reach, but it can also help you to increase local traffic.
What to do instead
Try adding hashtags that are related to your business location or the areas you want to target. These can be anything from #London2017 to #LondonLive or #exploreLondon.
Here's an example from foodtruckvanlife's Instagram: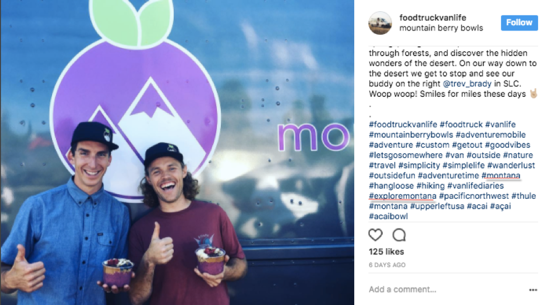 If you're running or supporting a local event, make sure to use the event hashtag to join the conversation and build a relationship with everyone involved.
7. Using the same hashtags time and again
This is one of the most common mistakes brands make, and not just on Instagram. Using the same hashtags repeatedly is not only annoying to those following you, but it also limits your reach. Because when you get too comfortable with the same hashtags, and don't bother to explore new ones, why would your audience bother to engage with you?
What to do instead
Explore other popular hashtags and change it up. Hashtags are meant to be fresh, relevant, interesting and entertaining. So try to discover and use hashtags that describe the images, videos and content you're posting. This can help you to reach a larger audience.
8. Not creating your own hashtags
If you're only using existing hashtags to join conversations that are already happening, you're doing it wrong. You can gain some exposure, but your content can also get easily lost in the feed, especially when you're using popular hashtags.
What to do instead
The most successful businesses out there start conversations. They create their own hashtags, start a conversation around their brand and get people excited about it.
Now, when creating your hashtag you don't necessarily need it to include your business name. The idea is to have it represent your brand and what you stand for.
Take Lay's #DoUsAFlavor campaign, where they encouraged people to pitch their best flavour ideas.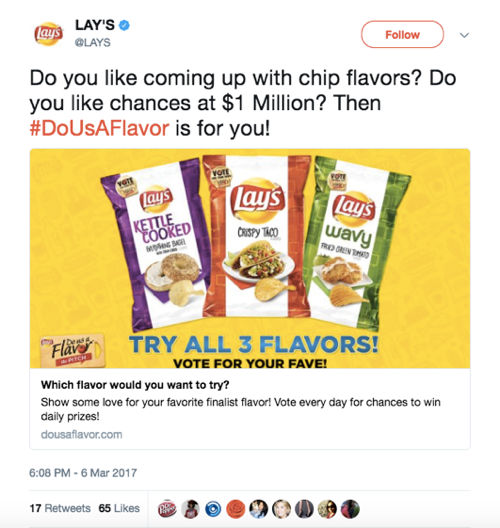 Their clever campaign drove lots of participation and engagement, and thanks to the unique hashtag they could see all the tagged ideas and posts on a single hashtag page.
Wrapping up
Hopefully, you now know which mistakes to avoid making, and how to use hashtags the right way to gain targeted exposure and engagement, and build your brand on social media.
What other hashtag mistakes should businesses avoid making? Share your examples and tips with us @123Reg.