Seven social listening tools to keep an eye on your online reputation
How do you know if people are talking about your brand on social media?
If they tagged your brand in their posts, you can simply check your notifications to see what they're writing about you.
But what if they didn't?
As a small business owner, you probably don't have time to run a daily search on every social network out there for mentions of your brand. It's tedious and a waste of precious time.
A better, faster, more effective way? Social media listening tools.
With the right tools, you'll immediately know when someone says something positive or negative about your brand, even if they don't tag you or include your social media name.
Ready to stop guessing and start listening? Here are six tools that can help you monitor your online reputation, irrespective of your niche.
But first…
Getting started with social listening
Before you choose a social media listening tool, you need to determine what exactly you should listen for.
While your main keywords and topics can change over time as your business grows or as your customers start to use a different language to talk about your business, here are the most important keywords and topics you should monitor from the start:
Your brand name and handles
Your product names
Industry buzzwords
Your slogan
Names of key people in your company
Campaign names, keywords or hashtags
Your branded hashtags
Unbranded hashtags related to your niche
Here are the best tools for social listening
Social Mention is a free social media search engine that monitors more than 80 sites, including Facebook, Twitter and YouTube, as well as other sites and blogs.
You don't need to sign up for an account to use it. Simply input your brand name or a specific hashtag that's associated with your brand and click "search".
Here's what it looks like: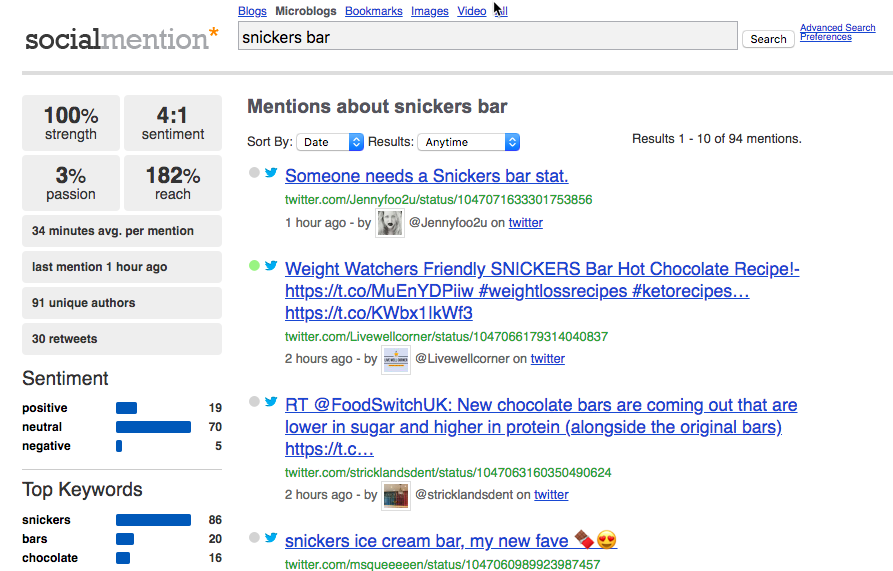 One the left side, you'll also notice some percentages that are meant to give you a better idea of how well your brand is performing on social media and on the web.
Strength refers to the likelihood that your brand is being discussed on social media.
Sentiment is the ratio of positive mentions to negative mentions.
Passion refers to the likelihood that people talking about your brand will do so repeatedly.
Reach refers to the number of unique authors who write about or mention your brand.
You've probably heard about HootSuite by now. While it's best known as a social media scheduling and analytics tool, you can also use it to monitor your brand's reputation online.
You can set up various streams of social media content based on your mentions, selected keywords, hashtags and locations.
The video below explains how to set up monitoring streams in Hootsuite so you can keep an eye on what's being said about your brand, products and services:
https://www.youtube.com/watch?time_continue=10&v=sIjUfy6ysK8
HootSuite supports lots of social networks and sites, including Twitter, Facebook, Instagram, LinkedIn, Google+, forums, blogs and more.
TweetDeck offers a free and simple dashboard for anyone looking to schedule posts and monitor their presence on Twitter.
You can create various columns to monitor conversations about your brand, a campaign hashtag or keywords related to your brand.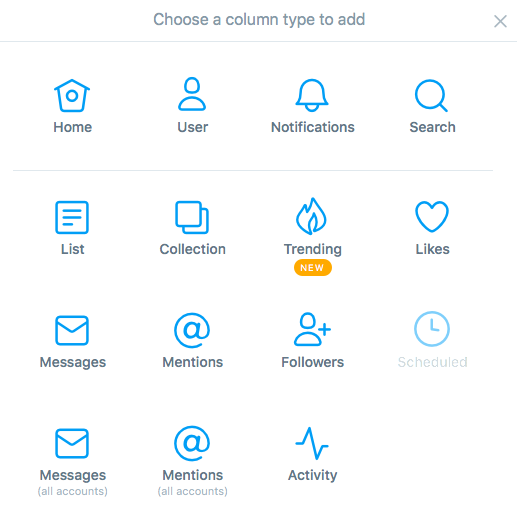 It's ideal for anyone interested in an easy-to-use, free social media monitoring tool.
Sprout Social is an effective tool that you can use to discover social conversations and engage with people using your brand or campaign keywords, phrases and hashtags.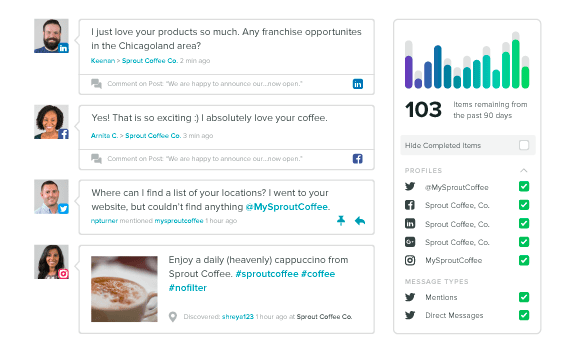 It is pricier than other tools on this list but it does have some great social media engagement and monitoring tools.
In the Smart Inbox you will receive all your social media mentions and messages. When you use the discovery features, you can search for specific keywords on Twitter and Instagram. This is useful for finding mentions of your brand when people talk about you but don't tag your social media profile.
Sprout Social supports many social networks including Twitter, Facebook, LinkedIn, Google+ and Instagram.
With SentiOne you can review what people are saying about your brand on social media as well as blogs, forums, portals and more.
You can monitor anything from mentions of your brand to keywords and keyword phrases related to your brand.
Here's how it looks: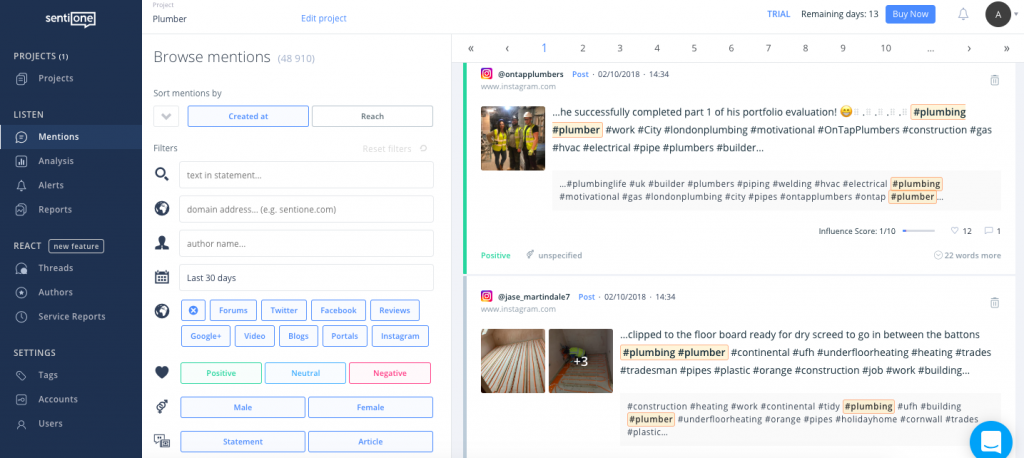 When you set it up, you'll not only be able to get access to real-time data but historical data too, meaning what people may have said about your brand in the past, before you began using SentiOne.
You can try it out for free for 14 days, after which time you'll need to upgrade to a paid plan.
If you're in the hospitality, healthcare, fitness or real estate niches, you might find Reputology useful. The platform is all about monitoring and protecting a brand's reputation. And since reviews are a big part of that, so is the ability to track down those customer reviews, no matter which social network or site they're published on.
Reputology aggregates reviews and comments on your business in real-time so you can quickly engage with your customers. This is critical to keeping your reputation intact because the faster you track down and respond to a negative comment or review, the lower the chances of it turning into a lost customer or worse, a PR nightmare.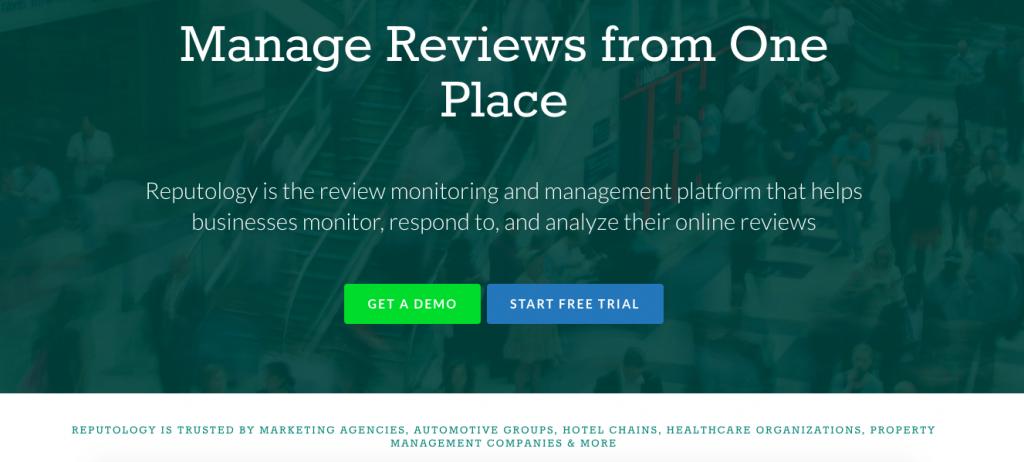 A cool thing about this platform is that whenever a negative review pops up, Reputology converts it into a customer service ticket. This is to ensure that you handle it as quickly as possible.
Created for four niche industries – restaurants and bars, hotels and travel, plumbers and home contractors, and automotive sales and services, Reputation Ranger monitors Facebook and other industry-related sites so you can see what's being said about your business.
The real-time reports include reviews, comments and photos posted by your customers, as well as tips on how best to respond to reviewers.
Wrapping up
Keeping track of mentions of your brand, comments and reviews doesn't have to be daunting when you have the right tools on deck. So try them out and choose the social media listening tool that works best for you.