How to use Facebook's fundraising tools to raise more money for your non-profit
A whopping 29% of the Earth's entire population is on Facebook. This means that your supporters and potential donors are probably there too. So it makes sense to use this powerful social network to not only build awareness and steward your community of supporters, but also to collect donations for your non-profit.
Thanks to Facebook's addition of fundraising tools and donation options, users can now donate to charities in three taps or less, without having to leave the platform.
Here's an example of how it looks in action: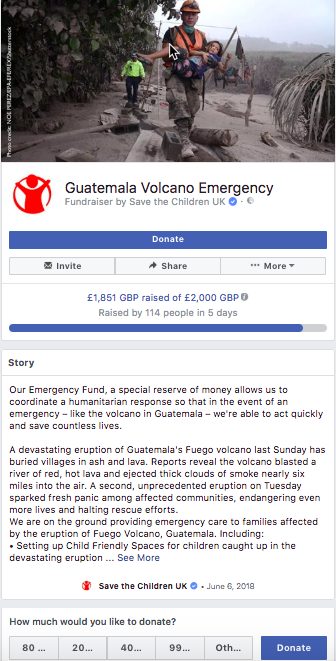 This suite of game-changing tools is available to non-profit organisations in the US, UK and 15 other European countries, many of which have seen an increase in digital giving as a result of using these tools. For example, Save the Children Spain increased its donations by 26% in just three weeks of trialling the tools.
If this isn't convincing enough, consider the following stats from the 2017 Global Trends in Giving report:
75% of donors agree that social media is a primary news source for staying current on the work of their favourite organisations
25% say that social media inspires them most often to give
Of those 25%, 62% say Facebook is the most inspiring social media platform
Facebook's fundraising tools are free to use and there is no fee to the non-profit.
If you'd like to try them out, read on to learn more about the tools and how you can use them to boost donations for your non-profit and the causes you support.
Getting started with Facebook's fundraising tools
Before you start using Facebook's fundraising tools, you first need to think about how you'd like people to donate.
Do you want people to click your Donate button on Facebook and make a donation inside the platform with just two taps? Or do you want to send them to the donation form on your website and have them fill out the form with their information and credit card details?
Don't know which option to choose?
Think about it this way.
While with the second option users get to visit your website, they might get curious or distracted and go to other pages to learn more about your organisation and the causes you support. And then they might even forget why they came to your site in the first place.
Aside from that, the donation process it also more time-consuming. Once they click the Donate button, they're sent to your site where they need to fill out a donation form (most likely from their smartphone), then find a credit card to enter, then enter the credit card details. That's a lot of steps that take time and attention, which also means that it's more likely they'll abandon so you might be losing valuable donations.
On the other hand, with the first option, people can donate quickly in just two taps, without having to leave the platform.
Bottom line: if your goal is to raise more donations via Facebook, you'll surely get better results if you allow people to donate inside the platform rather than on your website donation page.
But if your goal is to also entice donors to subscribe to your mailing list, then we'd recommend sending them to your website donation page.
Now let's look at the most effective ways to use Facebook's fundraising tools to collect donations for your non-profit.
But before we start, you first need to make sure that your page category is set to Nonprofit Organization (visit the About section of your page to see which category you're in and edit it if necessary). Your page needs to be categorised as a non-profit so you can start accepting donations.
Collect donations when people visit your page
The most popular and simple way to raise funds is by adding a donate button to your page header.

Follow these steps to add a donate button to your page:
Go to your page
Hover over your current call-to-action button and click Edit Button
Then select Shop with you or make a donation -> Donate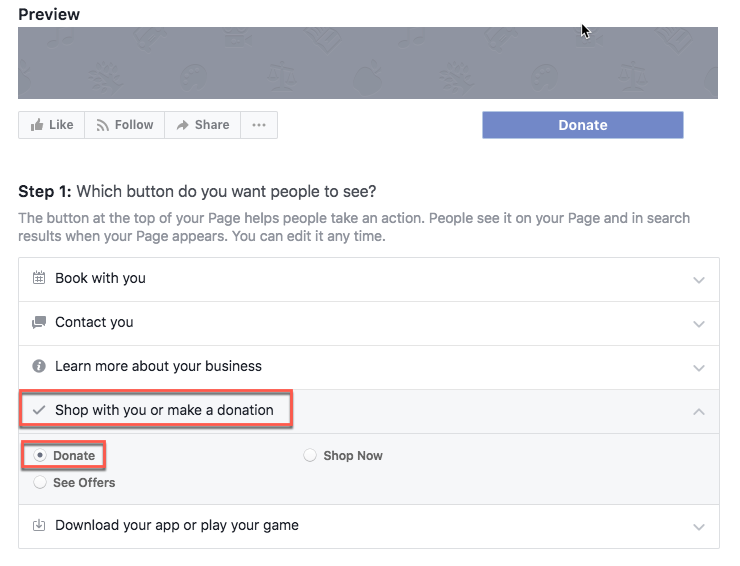 Next you'll need to choose how you'd like people to donate. You will see an option to add a website link, which allows you to send people to the donate page on your website.
The second option lets people donate directly through Facebook. If you want to use this option, you'll first need to sign up for Facebook Payments to allow people to donate directly through Facebook.
Collect donations from your Facebook posts
You can also add a donate button to any of the posts you share on your Facebook page. Make sure you write a compelling description to inspire more people to give.
Here's a good example from Save the Children UK: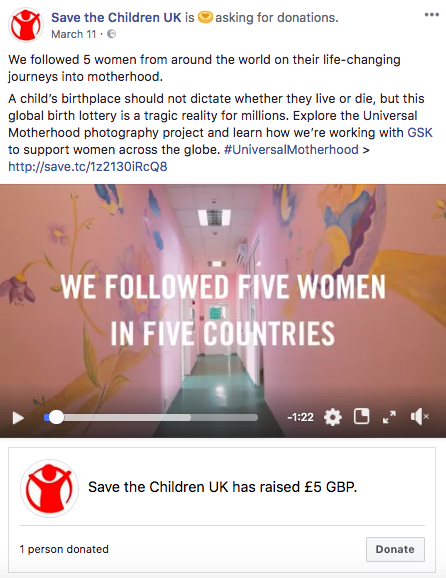 Raise money with live videos
Live videos are always a good idea, especially when you have a story to tell and want to inspire and motivate more potential donors to give.
So why not take advantage and add a donate call-to-action button when you go live on Facebook?
It's so easy to do: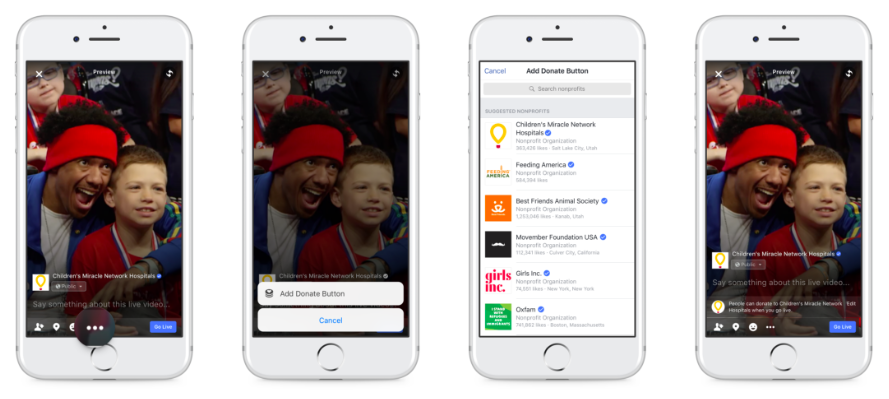 In this article you'll find the steps to add a donate button to a live video. You should also check out this short guide with best practices and tips on how to use live videos on Facebook to collect donations.
If you haven't yet tried Facebook Live, read our post to learn how to broadcast live video to Facebook straight from your smartphone, and what things to cover in your videos. While this post was written with businesses in mind, you'll find lots of great ideas to take inspiration from.
Collect donations from your Facebook ads
If you want to reach more potential donors, you can run a Facebook Ads campaign and add a donate button to your ads to entice people to take action.
Here's how an ad looks: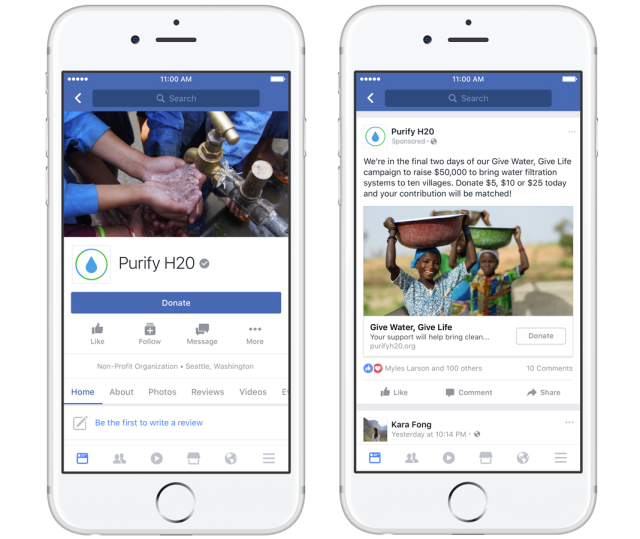 If you're not familiar with Facebook Ads, our free course on Social Media Advertising walks you through every step you need to follow to set up your very first Facebook Ads campaign.
Enable anyone to fundraise for your organisation
Fundraisers allow any registered Facebook user to raise money for your non-profit. So anyone who wants to support your organisation or causes can set up a dedicated page to raise money from their peers for your cause right on Facebook.
The resulting campaign looks just like a peer-to-peer or crowdfunding page, but is completely hosted on Facebook.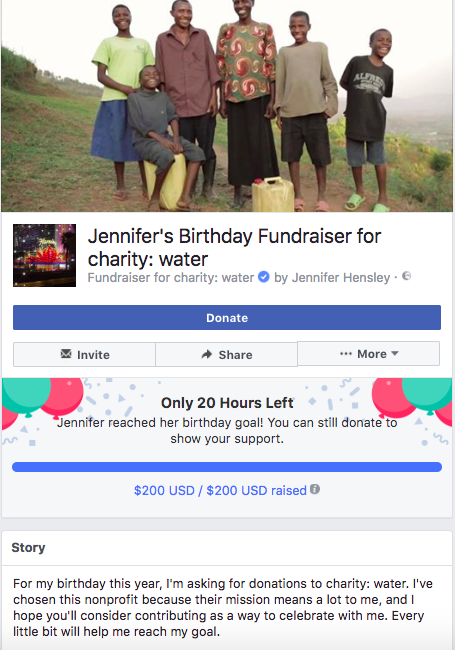 Check the fundraiser tab on your Facebook Page to see what fundraisers have been created by your supporters.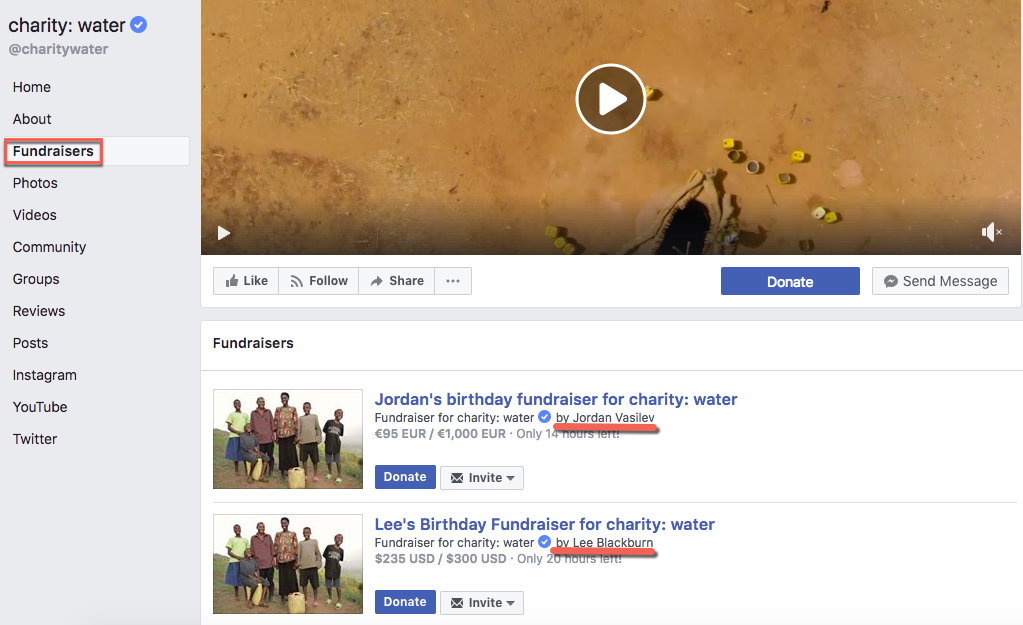 Wrapping up
If your non-profit hasn't yet used Facebook to raise money, this suite of tools can and should be part of your overall fundraising strategy.
Just don't expect immediate results. For example, if your organisation is a Facebook newbie and you haven't yet built up an engaged, active community of fans, you might find it difficult to get people to connect to your cause and take action.
But don't give up. It takes determination and great content like photos, videos, and good stories to be successful on Facebook.