Back in November in our entrepreneur interview we posted an interview with Matt Mansell of our sister company MeshDigital.
In the interview he described his own story of building up his domain profile to match his brands and how important that was to the business and its success.  As Matt points out from his own experience, the fact that your first choice domain is not immediately available need not be a barrier to choosing that branding.
Lots of domain names are purchased on a speculative basis and if a project fails to come off people very regularly fail to renew their domains at the end of their registration period. Others may not be organised enough to ensure that their domains are renewed upon expiry meaning every day 1,000s of domains come back into availability.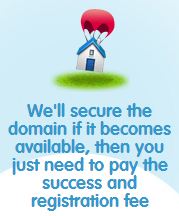 That's where our domain backorder service comes into it's own and could see you onto the road of building up a domain portfolio envied across the world – well at least amongst your friends. Place your domain back order via our system and we'll keep that domain monitored using our systems and as soon as it expires we will snap it up for you. That takes the legwork out of it for you and keeps the costs down too. We don't even charge you to place a domain back order. You only have to pay a small backorder success fee  and the domain fee registration to pay, no other administration, auction or expensive fees to ambush you. Other companies will charge you upfront to place a backorder but with 123-reg you can use the service knowing it is based on results not speculation. We even limit the number of backorders allowed for a domain. Once a customer places a domain backorder on our system for a particular domain we won't allow anybody else to request the same domain within our systems. What's more there is no limit to the number of backorders you can place. So get searching and backordering now.
Have you used our backordering service yet? Let us know your experiences.