Five simple tips to choose the perfect blog template
So you've decided to start a blog. Whether it's a hobby blog that you'd like to turn into a profitable business later on, or an educational business blog that you can use to give prospects and customers valuable advice and a reason to trust to buy from you, starting a blog is always a good idea.
But now you've got to make lots of other tough decisions. One of the most important ones is deciding on the perfect template for your blog.
Sure, there are thousands of fantastic-looking blog templates out there but that doesn't mean you can pick one at random and call it a day. No. It needs to be the right one for your industry and your blog's theme and audience.
Choosing the perfect template isn't easy and can also be time-consuming, so make sure you don't rush the process. Otherwise, in a month's time, you might end up realising that the one you chose just isn't working for you. And then you'll need to go through this selection process all over again.
If you want to prevent that from happening and get it right the first time, read on as we share five simple tips to select a blog template that's not only a great match but also a keeper for years to come.
1. Decide on the purpose of your blog
The first thing to consider when selecting a template is what you want to achieve with your blog.
Take a look at this homepage from Pinch of Yum, a cooking blog: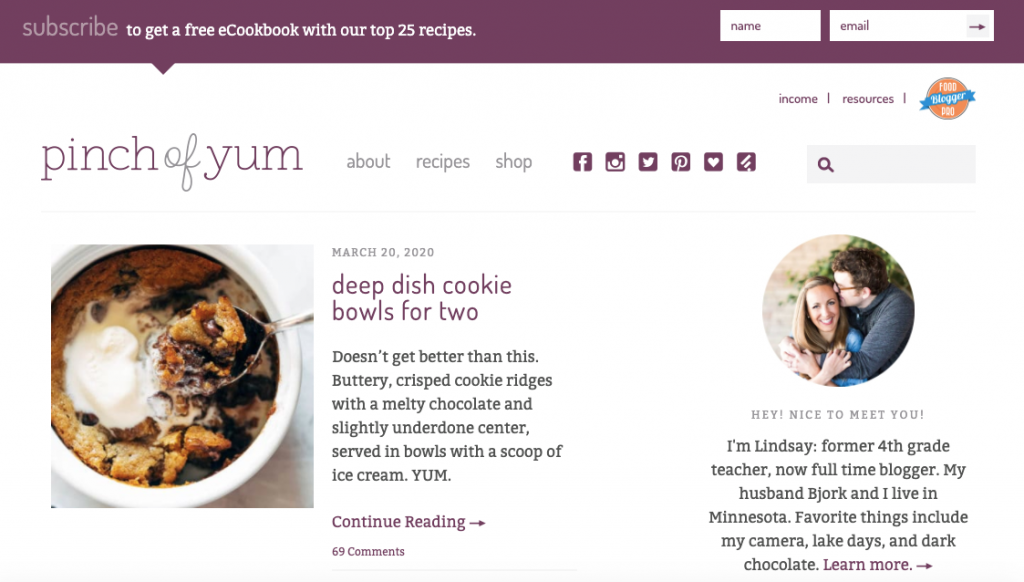 Which element stands out? It's the subscribe box in the header, isn't it?
This means that the blog's main goal is to attract as many email subscribers as possible. Considering this goal, a theme with the email opt-in form located in the footer or someplace else where it could easily be missed wouldn't be the right choice. That's because it would prevent the blog from achieving its goal, which is to attract subscribers.
Here's another example from the blog of Alice Stapleton, a career coach: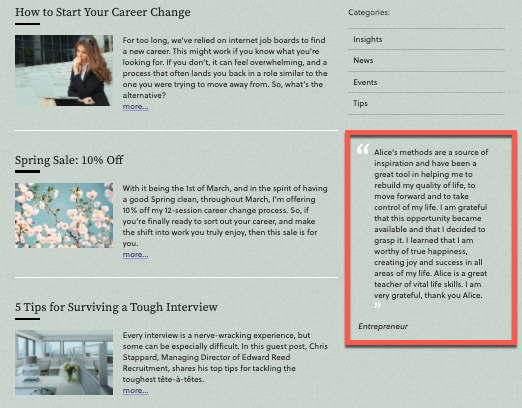 There is one important element on this page that supports her goal, which is to build credibility and entice people to trust to buy her services, and that's the testimonial from an authority like the Entrepreneur.
Bottom line: when choosing your theme, make sure it supports your blog's main goal, whether that's to build an email list, grow your social media following or build credibility so people are motivated to visit your main website and buy your products and services.
2. Make a list with the elements your blog can't be without
There are lots of people who start searching for a theme even if they don't know what they're looking for exactly. They think they'll know it's the right one the moment they see it. You know what that leads to? Hours or even days of valuable lost time.
The best way to avoid this and save time while browsing through hundreds of themes is to define the exact needs and functionality you want in your theme, and then search for one that fulfils your criteria.
For example, you might decide you want a bigger header to place your email opt-in form or a prominent sidebar for your social icons because you want to build a social media following.
So, start by making a list with the elements and functionality that are essential for your blog to help you achieve your goals.
Now, we know this is a big task so don't feel you need to consider everything at this stage. Think about your goals to figure out the functionality your blog needs to be successful.
For example, here are some things you may want your theme to include depending on your goal:
A navigation menu in the header that also includes links to your main website, About and Contact pages.
A header at the top with an email opt-in form.
A header at the top with your contact information such as phone number, email address, or a call to action button like "Contact us" or "Book an appointment".
A sidebar with social media icons, blog post categories, featured post and/ or testimonials.
A comments section if you want to engage with your readers directly on your blog.
Remember, you don't need to know or include all your future functions at this stage (and how could you?). But it's important that you write down the essential ones that your blog needs to work properly and succeed.
3. Make sure the theme is easily customisable
There are many great professional themes out there that lots of other bloggers are already using. In fact, it's not uncommon these days to stumble upon a few blogs that look almost identical, apart from different text and photos.
If you want your blog to succeed, branding is a big part of it. In simple words, you need to make sure your theme is unique and instantly recognisable.
Wondering how you can do that when you're dealing with a theme that's likely being used by tens or hundreds of other blogs? Simple. You customise it to match your brand.
For example, with the 123 Reg Website Builder you can customise not only the colour palette and fonts but also the layout, meaning how your theme is structured. Thanks to the drag & drop feature, you can select and change how your blog looks, even if you have no coding or technical skills.
You can move blocks of text however you like, change the location of the contact form or add a pop-up on your blog.
What this means is that you can purchase a Website Builder package, select a theme that you like the basic look of and that matches your industry, brand and goals, and then use the editor to move elements around the page and customise it as you see fit to make it your own.
Here is an example of one of the many free themes you can find in the Website Builder collection: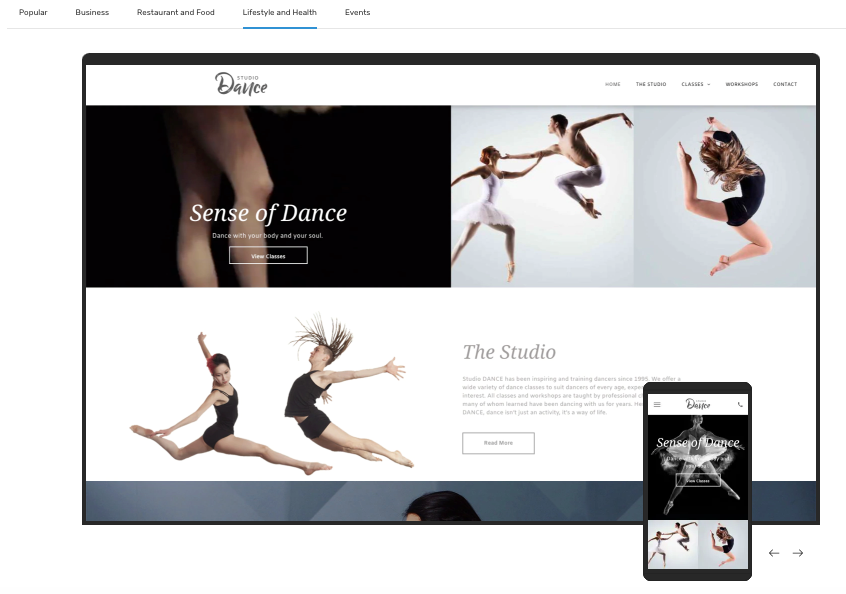 4. Check that it's mobile-friendly
Considering a significant percentage of people now browse the web on their phones, it goes without saying that your blog theme needs to be responsive.
If you're not familiar with this term, "responsive" means that the theme can adjust its layout so it looks and functions well no matter the device and screen users view it on.
Now, while almost all website and blog themes developed in the last few years are responsive, the problem is some developers might state in the description that their themes are responsive yet a quick test will reveal that they provide a poor user experience on smaller screens.
So when you choose yours, make sure you're able to test it to make sure it works properly on all devices and screens.
5. Make sure it doesn't slow down your blog
Just because a template looks great doesn't mean it's a great template. A theme that looks amazing could slow down your blog or even make it vulnerable to hackers due to the way it's coded. Others might be using image heavy designs to the point that it'll drive visitors away because of how long it takes your blog to load.
That's why it's important to take a close look at all the comments, reviews and ratings to make sure the theme actually works as described and is well coded so you don't have to worry about speed issues.
What's next?
Found a theme you love that's just perfect your blog? Great. Now it's time to get to work writing amazing content and promoting it to attract readers.
Check out these resources for useful tips and advice on how to make that happen:
10 amazing ways to promote your blog and get more readers
How to use blogging to boost your small business's sales
Four ways to turn your hobby blog into a business