Six tips to help you choose the perfect website template for your business
So you've finally found that great business idea and decided it's time to get it online, start attracting customers and generating revenue.
After you've bought your domain name and web hosting, the next step is to decide how you want your website to look and feel.
The good news? Now it's easier than ever to create a good-looking website even if you don't have coding or design skills, or the budget to hire professionals to create it for you from scratch. There are lots of places where you can buy a ready-made website template and customise it to fit your business.
The not-so-good news? Picking the right theme for a business site can require a great deal of time and effort.
It's a stressful process, especially when you don't have a clear idea of how you want your website to look, feel and function. So of course it's easy for confusion to set it when each template appears to look better than the previous.
Hopefully, we can help make the process less daunting and time-consuming with these six tips on what to look for to ensure you choose the right template for your business site.
(If you're still in the early stages of things, you can check this guide to learn how much it costs to build a website.)
1. Have a clear idea of what you want to put forth visually
There are so many amazing templates out there that it's easy to be tempted to choose one for its visually appealing design instead of one that's appropriate for your specific business idea and industry.
Every business website, including yours, has its own specificity and features, depending on the niche and industry it's in, as well the products and services that are being sold on the site.
For example, a template created with photographers in mind will not be suitable for an accounting business and vice versa. In other words, a theme that features a gallery of images on the homepage wouldn't make sense for an accounting firm, no matter how stunning the design is.
So the most important thing to consider when selecting your template is your site's purpose and what you want to put forth visually to support your goals.
When you have a clear idea of what your website is about, who your customers are and how they're going to move through your site to find more information or buy from you, it'll become much easier to shortlist templates.
So instead of taking the "I'll know it's right for my business when I see it" approach and hope you get lucky after going through 20 templates, make sure you're clear on how you want your site to look, feel and function. In other words, create a list of all the pages or sections that your site needs to have as well as all the features or functionality you require.
For example, if your business sells cleaning services to customers, then your template should include these pages, at a minimum:
Services
About us
Contact
In addition, your homepage should include your key message and a big call-to-action in the first half of the page, then a description of your services and testimonials in the second half of the page.
Here's a good example from Miss Maid: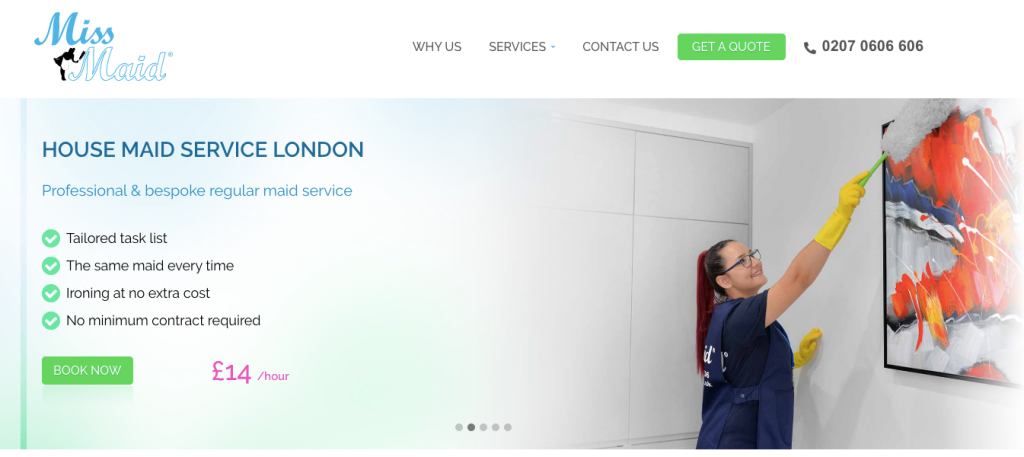 If you want to save time, the templates available with our Website Builder are already organised by type of business and industry. In other words, our experts have carefully considered the appropriate layout and necessary features that each business would need in order to provide a great user experience and turn more visitors into customers.
Here's an example of a ready-made template available with our Website Builder that's designed with a cleaning services business in mind: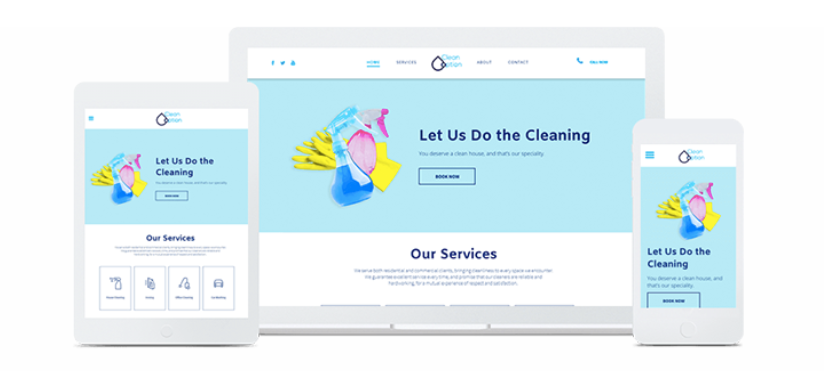 Check out our collection of professionally-designed templates, test them out for free and see how they fit with your new business website.
(Our templates are divided into categories, making it even easier to find one that suits your business.)
2. Look for a simple theme
You'll no doubt stumble upon templates in your search that look stunning and have all sorts of fancy features, menus, image and video galleries.
The problem with this kind of themes is that they're so busy with visual elements that it distracts the visitor from the call-to-action, or the action you want them to take. In addition to that, they're usually a headache to navigate since it's not easy to figure out where to go or what you're supposed to do next.
You don't want your potential customers landing on your website and asking themselves: "now what?". Because if they can't find their way around or can't figure out what to do next, they'll simply hit the return button and go to your competitors instead.
They won't stick around just because your site looks cool. That's not what they came to your site to do, and that's not the purpose of your site either.
People come to your site to quickly find the information they need and to buy a product or a service. Your website's design needs to help them accomplish these tasks with ease. This, in turn, helps you to accomplish yours, which is to generate revenue.
3. Make sure it's responsive
Almost all website themes developed in the last few years are responsive, meaning they adjust their layout so they look and function well no matter the device and screen users view them on.
The problem is with themes where developers say they're responsive yet they provide a poor user experience on smaller screens.
So when you choose yours, make sure you're able to test it to make sure it works properly on all devices and screens.
There are lots of developers and marketplaces that provide working demos for you to play with before purchasing. So make sure to preview your favourite themes and test them out to ensure they work as they should.
4. Go with a template that offers the level of customisation you need
Your chosen theme is just a starting point. Just like you can paint your walls a different colour or rearrange the furniture in your home anytime you like, you should be able to do the same with your website.
So make sure that the theme you select offers the level of customisation you need. For example, you should be able to easily change the colours, fonts and images so they fit with your business and brand.
You should also be able to remove, edit or move around design elements like your logo or a contact form. Make sure that the template you pick allows you to accomplish these simple tasks without requiring coding or design skills, or hiring outside help.
For example, with the 123 Reg Website Builder, you can make all these changes and more with a just a few clicks. Take a look at how easy it is to build a website with our Website Builder, even if you have no technical skills:
5. Check to ensure it supports any extra features you'll need
It's unlikely to find a template and not need to add extra features to it to enhance its functionality.
For example, you may want to add a map on your site to make it easier for visitors to locate your business. Or you may want to add a search engine optimisation plugin to help you to properly optimise your site and content and increase the chances of prospects finding your business at the top of the search engine results pages.
There are lots of other plugins and extensions that you may want to add to provide users with a better experience on your site. That's why it's important to check and ensure that the theme you select supports popular plugins that you're planning to add to your site, now or whenever you need to.
123 Reg's Website Builder offers you the ability to add things like Google Maps and a "click to call" feature to your site with ease.
6. Only buy themes from reliable sources
Whether it's being sold by a freelancer or a marketplace, make sure the template you select comes from a trusted, reliable source.
Think about it: at some point, you'll need to update the template to ensure it's the latest version. If updates aren't made available or the developer is not responsive, that's a problem.
At the same time, you don't want to buy a template and then discover it's completely different from the demo version or has problems that you have no idea how to fix.
So if there's one thing you absolutely need to do, that's to ensure you're buying the theme from a trusted source.
Run a search on Google and read reviews and testimonials from previous customers to see what their experience was like. Also, check to make sure there is a phone number, an email address and active social media accounts where you can ask for assistance or support.
Of course, if you use 123 Reg's Website Builder and one of our free templates, you'll know you're getting a template from a trustworthy company.
Wrapping up
Choosing the right theme takes time and effort. Want to make it easier? Before you start your search, make sure you're clear on how you want your website to look, feel and function. Then simply use the tips in this post to narrow down your search and select the perfect website template for your business.
Once you get your site up and running, read this post to learn how to market your new business to attract visitors and turn them into customers.