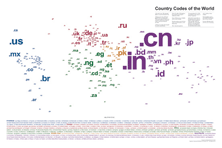 Whilst surfing the typography forums in a bid to find the perfect logo typeface, I stumbled across a very interesting example of map making.
A stroke of design genius, the Country Codes of the World map has all domain extensions of the world on one map, using only type and clever use of space.
They state:
"Country Codes of the World maps 245 top-level domain country codes encompassing all United Nations countries as well as numerous islands and territories. (At the end of every URL and email address is a top-level domain. Although .com is the world's most popular top-level domain, it is far from alone. There are more than 260 top-level domains in use around the world, most of which are country code top-level domains.)"
All we need to do now is get one in the office to show how cool the new media department is. Check it out.