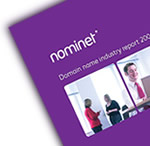 We mentioned last week that Nominet has released its second annual domain name industry report (PDF, 1MB).
These things usually contain a lot of fairly interesting domain name-related data. Fairly interesting, that is, if you work in the industry every day, like we do.
If you have a more casual interest in domain names then much of what's in there possibly isn't very relevant to you.
So instead of just summarising the headline findings and linking through to the report, here are a few bits of information and practical advice you might actually find useful:
Don't let your valuable domain names expire
According to the report, the number of cancelled domain names that then get re-registered is dropping. However, of domains that are cancelled, nearly 5% are snapped up within 10 seconds of their expiry. And over 10% are re-registered within a month.That means that if you let a valuable domain name expire, there's around a 1-in-20 chance that someone else will register it within 10 seconds. Now that might not sound too risky, but if the domain name is one you've built a business on then it is actually quite a gamble.With 123-reg, you can use auto-renew to make sure you don't run the risk of expiry. And if you want to move to a different domain company, just make use of the free transfer process rather than letting your domain expire, then re-registering it somewhere else. In short: don't ever let a domain expire, unless you don't want it any more.
People recognise and trust .uk domain names
Finding a decent domain name can take some time. But a survey of 2,352 people showed that 72% of British internet users will choose a .uk address ahead of a .com.If you're of a cynical disposition, your reaction might well be "well of course a Nominet report would say that .uk domain names are important." But I think this is just another piece of evidence which suggests you should look to promote your business with a .uk domain – assuming, of course, you trade in the UK.And this doesn't mean that other domain extensions aren't important too – simply that snagging the .co.uk should be an important consideration when choosing a domain for your business. We've got more advice on registering variations on your domain too.
The number of domain names is still growing, but more slowly
There are nearly 174 million domain names altogether (that's all domain extensions, worldwide). And just over 7 million of those end in .uk. The number of domain names is still growing, but that growth has slowed from about 30% last year to around 15%.Growth of .uk domains is 12.4%, down from 17% last year. That suggests the .uk market is pretty mature too. The main reason overall growth is still pretty strong is the massive expansion in certain domain types, like .cn (for China) and .ru (Russia).What does this mean for you? Well, in terms of guarding your online brand, you might want to consider covering some of these 'new' high-growth domain extensions by registering more variations of your domain name (like yourbrand.cn). Think it through though, because you can easily end up juggling lots of domains.
Have you taken a look at the report? Leave a comment and let us know what you found interesting.