The internet is supposed to make our lives easier and communication simpler, but how many of us  carry around more than one mobile phone, have a different Skype number and run several email accounts? Then there are the accounts for Facebook, Twitter, blogs, etc.
Wouldn't it be nice if you could have one place where you can post all this contact information? Somewhere you can securely control all that personal information via the internet and choose who can see it and what they can see? It's actually already there via the .tel domain.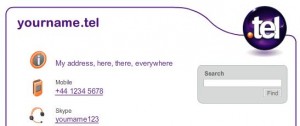 By signing up yourname.tel (eg johnsmith.tel) you not only get your personalised domain but you also get a single personal online home which will help your friends, family and work colleagues stay in touch with you. Plus being your name: it's easy to remember!
You can even add some extra information about yourself such as hobbies and interests and keywords so that like-minded people can find you in the .tel directory that could spell the end of traditional telephone directories.
With apps available for iPhone, Windows Mobile, Blackberry and Android as well as a simple online updating form, keeping your information current is easy and you don't need any additional hosting or special products, just the domain.
For visitors to your site, life is easy too. They can view all your public contact details online or download the information as a vcard direct to their mobile phone.
For your close friends you can add additional information – perhaps a home phone number – and keep that in a private area, only accessible by a username and password.
If re-organising your life into one simple page sounds like your sort of thing, sign up for your .tel via 123-reg.