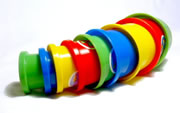 We might be in the midst of a deep financial crisis, but clearly there are still a few companies out there with deep pockets.
The evidence? At the end of last week, Toys R Us triumphed in a furious bidding war for toys.com, eventually agreeing to pay an enormous $5.1m for the domain name.
(I don't actually have much evidence that it was a furious bidding war, but given the amount of cash involved, I like to picture the final two bidders involved in a tense standoff, waiting to see who cracks first.)
Is it worth it?
Clearly, toys.com is a prime domain name for Toys R Us to own. It fits perfectly with their brand, and I'm sure they'll receive a ton of visitors, both from people typing it straight into their browser, and from search engines.
It seems an even cleverer purchase when you realise that the company's name can be harder than you'd think to type into a browser. For a start, the logo has a silly backwards 'R' in it, which doesn't have a direct equivalent on your keyboard.
I bet a good number of people mistype the 'r' as 'are' too – which makes me slightly surprised they haven't made the owner of toysareus.com an offer they can't refuse. Perhaps if they make sure everyone thinks of toys.com when they think of Toys R Us, they won't have to.
But despite all that, $5m is a lot to pay for a domain name. Toys R Us obviously think it's worth it, but do you? Leave a comment and let us know.
All time top ten
Looking at the most expensive domain name sales of all time, $5.1m is well into the big time.
Going by the list we published a year-and-a-bit back, toys.com would come in joint 7th in all-time sales, alongside asseenontv.com.
That's pretty impressive for a sale at any time, never mind during an economic slump (maybe there is something in the idea that domain name values are recession proof).
It's a lot of money, whichever way you look at it. Full story on TechCrunch and DomainNameNews.