The old-school love nothing better than to write headlines about the dangers of the internet and social media. But now, one of the internet's own is trying to raise awareness of the potential problems posed by location-aware services like foursquare and Google Buzz.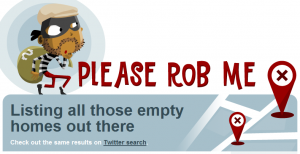 @pleaserobme from a Dutch team of net-heads is a tongue-in-cheek warning about the danger of letting the public know your current location. As their website http://pleaserobme.com explains, "publicly telling people where you are…leaves one place you're definitely not… home."
With your home address perhaps available elsewhere as part of your profile on a social network, you could be inviting those of dubious character to visit your empty home.
We love the possibilities offered by social media but one message is still clear: know exactly what you are signing up to and be careful what information you let out into the public arena.