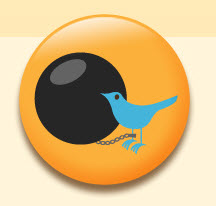 We all have a bit of trainspotter in us – don't we? (and there's no offence intended to trainspotters in that). We all have a little passion, something that focuses our attention more than other things and perhaps even sets us apart from our closest friends or brings us closer together. With most of those passions, comes a collecting phase. Whether it is memorabilia, prize-winning examples of just badges of pride, admit it there's something quite comforting and pleasing collecting relevant things.
Even in the social media world we now operate in, similar trends can be found. Sites like Foursquare and Gowalla encourage active badge collection and even Facebook you risk social suicide if you fail to accept a gift of this or that.
Now Twitter has its own version too. Badges of honour, the third-party Twadges, award tweeters for frequency, followers and obscure criteria such as 'Joined Twitter before Oprah'.
Their popularity will of course depend on the competitiveness of those using Twitter – expect it to be high as users vie to get this badge or that, before their mates – but the idea behind it is not just silly fun. With badges for least profanity, most links etc, it might also focus Twitter users on more considered tweets. Additionally, marketers are turning to Twitter more and more and this concept offers them an at a glance insight into what sort of person you are, just by the badges on display.
At the moment the system has a smaller following than many celebrities (around 3,500) but as word gets around the concept certainly shows potential.
Is this a positive addition to Twitter? Will you be signing up?