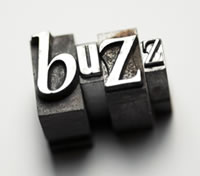 Another day, another announcement from Google. Seriously, does a week go by when the search giant doesn't unleash something new on the world?
This time it's Google Buzz that's grabbed the limelight. This is a social networking tool that works from within Google Mail, the company's free email service. Think of it as a kind of Facebook / Twitter combination that you access from within your email.
How Google Buzz works
Google Buzz lets you post updates containing text, images, videos and links – basically, anything you like. These can be seen by your friends. Similarly, you'll start to see updates from your friends appearing right in your inbox.
There's a video up on YouTube which does an excellent job of explaining how it all works, so take a look there for more details.
Buzz promises a lot of flexibility and can automatically pull in updates from other networks, like Twitter and Flickr (though not yet Facebook), so you don't have to check them all separately. With versions available for several types of mobile phone, Buzz seems to put more of an emphasis on location than other services.
Because Buzz is built into Google Mail, there's nothing to set up. It uses your existing contacts to create a network of your friends – unlike, say, Facebook, where you have to manually add your mates.
If you use Google Mail, watch for a Buzz option appearing on the left. Or if you're the impatient sort, do what we did and go to http://buzz.google.com to get access to the service straight away.
Will Buzz succeed?
There's no guarantee that Buzz will be a success. Any new service going up against Facebook is going to have its work cut out – even if it has been developed by a true internet giant. Then there are all the other social networks vying for attention. (No, we haven't heard of half of them either.)
However, regardless of whether it succeeds or not, it certainly serves to underline the importance of the "social web". People are spending more and more of their time online using services like Buzz, Twitter and Facebook – and that means if you run your own website, you really ought to be thinking about how you can make use of them to build an audience for your own stuff.
If you don't, it's a missed opportunity. People use social networks to share links and ask for product or service recommendations all the time. And it makes sense – which would you trust more: a link found through searching on Google, or a link sent to you by someone in a trusted network of contacts? Exactly.
There are a few basic ways you can start to attract visitors from social networks:
Create great, unique, exciting content. This is what people come to see on your website, so without interesting stuff there, you won't be able to build a buzz about your site online. To get started, see our list of link bait for inspiration and read this information about what makes great content.
Get on social networks yourself. The best way to understand how these things work is to use them. Your website should have a Twitter feed and Facebook page. Plus, presumably, a presence on Google Buzz. Get more help by reading these social media guides – although aimed at businesses, the advice is good for any website.
Make it easy for people to spread the word. You might have spotted the Share and Enjoy links at the bottom of posts on this blog. They let social network users post links to our stuff by clicking a button. If your site runs WordPress (like this blog) you can do this with an extension like Sociable.
What do you think of Google Buzz? Have you had big successes using social networks to get people to visit your website? Leave a comment and let us know.