These days, people are spending more time online and logged in. They are also communicating much more than just their credit card numbers. However, if your site doesn't inspire trust, they'll leave in a matter of seconds. With Christmas approaching, when customer demand is at its highest, you need to go the extra mile to reassure your visitors that your site is safe, and so is the information they share with you.
Does your site inspire trust?
A site that inspires trust and confidence is what gives it a competitive advantage and, ultimately, what convinces people to buy. Today, web users need to trust that you are who you say you are and that they should feel confident purchasing from your site.
What better way to prove that your site is legitimate than a SSL? SSL technologies help protect sensitive information such as passwords and credit card numbers by:
Encrypting the data that is being sent between a website and the visitor's computer, which means no one else can read it.
Confirming the identity of a website thus reassuring you that the website you are visiting is legitimate.
When you use SSL on your site, it will not only keep your customer's sensitive information secure but it'll also make your site much less of a target for phishing.
Showing credibility in under 5 seconds
Just like we decide to go into a store by just glancing at what it looks like, you also need to prove that your site is legitimate and safe as soon as a visitor enters the site. Whatever you do, make it obvious. When you use a SSL certificate, a padlock will show next to your website address reassuring visitors that the site is safe and secure.
However, an Extended SSL will highlight your details in a green bar, which is an immediate sign that that website is secure. Find out more about our SSL Certificates.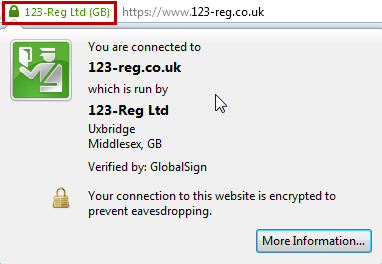 These are just a few of the solutions you can implement to not only keep your site secure, but also to sell more products and attract more customers.
How about you: how are you making your site's credibility obvious to your customers?