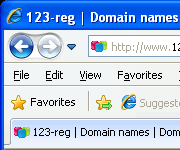 A web browser is the piece of software you use to look at internet sites. You're using one to read this.
There's quite a choice of browsers out there. Most people use one of the most popular ones, like Internet Explorer, Firefox, Google Chrome or Safari.
And then there's a whole host of smaller browsers. For instance, check out Opera, Flock, SeaMonkey, Avant and K-meleon.
Different browsers display sites differently
Having a choice of web browsers is generally considered a good thing. It means you can decide which you like, and a bit of competition encourages the browsers to introduce new features.
But if you've ever decided to build your own site, you'll know that multiple browsers can be a real headache. Because they all display websites in slightly different ways, it can take a lot of work to make sure your site looks good in all of them.
Not encountered this problem before? Next time you run into a web designer, ask them about it. They'll be happy for someone to share their pain. At length.
Seriously, it's a real issue. The extra development involved in getting sites right for different browsers costs time and money.
Web standards

Web standards are defined by the World Wide Web Consortium. They're designed so that if every web browser stuck to them, web sites would display the same way in all of them.
Now, browsers don't generally adhere perfectly to these standards – that's why developers have to test their sites in all the browsers out there.
And it's Microsoft's Internet Explorer that has taken a lot of flack in recent years because, of all the major browsers, it's the one that seems to be least standards-compliant.
Things are getting  better
It's not all doom and gloom though. The big news recently was the release of Internet Explorer 8 (IE8) – the newest version of Microsoft's popular browser. You can read about it on the BBC's site.
This is good news for web designers because IE8 takes web standards more seriously than previous versions did. It goes a good way to fixing problems present in previous versions, and so its release could really help to make life easier for web designers and developers.
What does it mean for me?
In the short term, IE8 is yet another browser to test your website in. However, as people start using it more widely, sites will be able to start dropping support for previous versions of Internet Explorer.
Because it's those older versions of the software that cause most problems, this should make everyone's lives easier. Particularly those long-suffering web designers and developers.
What next?
If you use Internet Explorer, you can switch to the new version right now – just download it. It offers some significant improvements over the previous version.
If you do build or run websites, you'll want to make sure yours works properly with IE8. Microsoft has produced its readiness toolkit which contains lots of information to help you. And there's lots of detailed information on its developer site too.
To test your website, try Browsershots. It will show you exactly how your website looks in different web browsers, without you having to install them all individually.