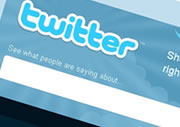 This week we're taking a look at Twitter. Yesterday we gave six reasons it's a complete waste of time. Today, it's the other side of the coin: six reasons you really should be using it.
Confused? Please forgive our contradictory stance. We just wanted to show the whole argument. In case you're wondering, we already use Twitter. And we like it. Here's why:
You get to hear news first. Twitter is ideal for getting up-to-the minute news – about whatever it is you're interested in. Most major news outlets use it, including the BBC and The Guardian, but sometimes ordinary people provide even faster coverage – like with the fire in central London earlier this year.  It's great for more specific stuff too. Like going to see bands? Follow the ones you like to get the heads up on gigs first.
It lets you stay in touch with companies you like. Aside from us (who you should go and follow right this second, if you don't already), you'll find plenty of big brands on Twitter. They use it to run competitions, communicate with customers, give a sneak preview of new products and update on service problems. Many even listen to what their customers have to say, making it a good way to ask questions.
When you ask a question, it gets answered. People on Twitter can be very helpful. I've recently asked what laptop to buy, where to find a good cafe with Wi-Fi, and even for holiday booking tips. Every time, at least one of my followers has answered. For specific queries, it can be a great way to find someone with first hand experience – quickly. Just remember to return the favour when someone asks a question you can answer.
You can stalk your favourite celebrities. Ever since Stephen Fry announced on the BBC that Twitter is the best thing since, like, ever (he did it in a much more articulate fashion, illustrating his point with a story about a bat), the Twitter celebrity bandwagon hasn't stopped . Particular thumbs up to the ones who bother to reply to people, rather than just broadcasting what they're up to. Here's a list of people to stalk follow.

It can help you meet new people. Yes, actual people, face-to-face.  From Tweetups to Twestivals and more informal gatherings (which probably also start with "tw-"), Twitter's a surprisingly good way to meet new people, network – or just find others with similar interests to you. (Don't be scared – as it turns out, lots of the people on Twitter are surprisingly normal.)
It keeps you in touch with people you already know. Yes, it's an obvious one, but it's also one of the best reasons to get using Twitter. Like mobile phones, Facebook and email, Twitter is another way to stay in contact with the people that matter to you. Conversing with strangers online and meeting new people is great. But sometimes it's good to keep up with the people you know well too.
Ok, those are our reasons for using Twitter. Now here's what we want to know from you: do you use Twitter? If so, how do you use it? If not, why not? Leave a comment and let us know. We might republish some of the best ones in the future.
(If you've not yet read our six reasons Twitter is a waste of time, don't forget to check it out too.)