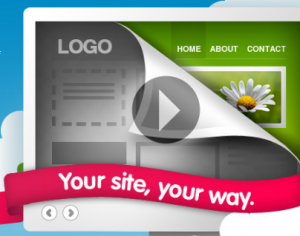 Back in the day, when the internet was in its infancy getting a website up and running needed a team of experts, or a very multi-talented individual with six different hats. Many businesses still follow that model when looking for their first website now, but it needn't be the case. Creating a website is easy if you choose to use 123-reg Website Builder. The stages however are still the same:
The Creative
The concept of a great site can be a momentary flash of inspiration or weeks of perspiration. What will the first impressions be, how will the pages link, what elements will you include? You could pay an expert conceptual creative or you could choose to use 123-reg Website Builder and benefit from the 100s of website templates to choose from.
The Designer
A concept is fine, but moving that from head, to paper to online is one of the most complicated parts of the process. A designer can hold your hand, make your idea become a reality and move inspiration towards conception but so can 123-reg Website Builder. With a template for almost every style of business, you are not restricted to those set designs either. Each of our templates is customisable, so you can change colours, change elements, even change the number of pages.
The Compiler
Making sense of images, written content, Twitter feeds, etc isn't easy and you could employ an expert but far better to use 123-reg Website Builder to enable you to drag, drop and organise the way your site looks. Moving elements about is easy. Placing them where you want to place them is easy. Making them work on your website is easy. Using 123-reg Website Builder is easy.
The Coder
Many people will probably consider they might be able to cover the first three skills themselves, but when it comes to coding, well that's a completely different language! Even if you know HTML and CSS, getting it perfect every time isn't easy with hand-coding. With 123-reg Website Builder however it can be as with a few clicks and a few mouse moves, the code is created automatically and all to W3 standard. Plus if you really want to try your hand at coding, you still can as everything is customisable (Business package only).
The Publisher
Even if you are a coding wizard or an arty architect, getting the site up online isn't always so easy, unless you are using 123-reg Website Builder. No need for separate hosting, email or even FTP accounts. All your publishing tools are there built in to your 123-reg Website Builder browser-based control panel. Just a few clicks and a confirm and your new site can be on message and online.
The Statistician
The modern internet is all about tracking and comparing. How many visitors, how long, where, when, where… There are countless tools out there to help but Google Analytics is the one they all look up to and with 123-reg Website Builder it is easy to integrate the same so as soon as you publish you can also be measuring.
Whatever your level of creativity or technical ability Website Builder can help you save time and money by automating the laborious bits that can so often go wrong. The site creation tool was originally designed by web designers  to make their own lives easier and has since been tweaked so that everybody can enjoy the benefits. What's more you can trial Website Builder for 14 days to see if it can help you get your website online too.