Every business on the Internet wants to achieve four goals: increase sales, get more revenue, increase customer loyalty and get new customers. There are many ways to achieve these goals like offering discounts, creating contests and promoting products and services on every relevant channel.
Even if these techniques are good and work most of the time, there is one thing that most people ignore but that can help get more revenue: building a site that visitors trust.  When a visitor believes a site it trustworthy, chances are he or she will complete the sale and not abandon their cart because they don't feel your site is secure enough.
To gain the trust of your visitors and get them to convert, you must first build a trustworthy site. A trustworthy site refers to reputation and security.
Reputation
A company's reputation reassures visitors that your business is not only a popular business, but also a reputable and reliable business. If you are a reputable brand like Amazon, people expect to get their orders on time and be provided with excellent customer service when needed.
However, to determine what your selling point is and what impresses your visitors, you need to get to know them first. We're all different and we're affected by different elements.
For example, some may be impressed by a company's number of customers, years of experience or awards. Others can be impressed by a huge number of Facebook fans or Twitter followers or flattering testimonials from former or current customers.  So, get to know your customers and show them what they need to see to feel more confident when buying from your site.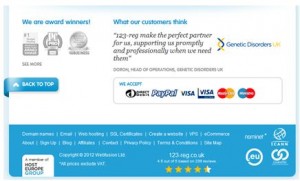 On a different note, one thing is for sure: if your content has grammar or spelling errors, few visitors will dare to buy from your site. So, pay closer attention to the finer points of the content on your site.
If you're just starting out, it may be a bit more difficult to get visitors to trust you but not impossible! Find your selling points and promote them heavily. Offer free trials and ask for feedback to get others to see how great your product or customer service is.
Security
Your visitors need a guarantee that your site is safe and secure. You may be taking all the precautions, using website protection solutions like the 123-reg Site Scanner to keep your site secure, but you visitors don't know that unless you show it to them.
Now, more than ever, people are scared to share their sensitive information online because of the recent hacks and breaches on important sites that were believed to be 100% secure. So, one thing you can do to show visitors that your site is trustworthy is to use a security seal. The security seal appears in your visitor's browser letting him know your site is secure.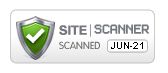 We have just launched Site Scanner, a website protection solution that helps keep your site secure against hackers. This also includes a Site Seal that you can use on your site to show visitors that your site is protected by an advanced security solution from 123-reg. Find out more about the 123-reg Site Seal and our recently launched Site Scanner solution.
What other things are you doing to build a trustworthy site?