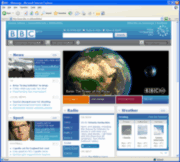 The BBC's taken the wraps off its redesigned homepage and made it available to the general public. It hasn't replaced their existing homepage yet, but you can see the beta version here: http://www.bbc.co.uk/home/beta/
We're not usually in the business of linking to websites just because they've had a redesign, but every now and then a site makes some changes and it's worth taking notice.
The BBC's site is one of those. Rightly or wrongly, it's a real trendsetter online. Where the BBC goes, others tend to follow. I've lost count of how many times I've heard "it's how the BBC does it" used as justification for making a change to a website.
We've had a quick look in the office and a few things jumped out at us:
The width of the page has grown, so now it doesn't look like it'll fit into a web browser window if your screen resolution is 800*600. If this change goes ahead, expect to see lots more sites dropping support for 800*600 screens too.
The colours of the page change when you click the links under the main homepage image. It's a bit disconcerting at first and I can't quite see the point of it.
You can personalise the homepage to see the content you're most interested in. Try dragging and dropping the the white boxes or clicking 'Customise homepage' at the top to find more content.
As well as trying out the page, you can read a blog post from the BBC's Acting Head of User Experience explaining the rationale behind the redesign.
What do you think of the page? Leave a comment and let us know.