How D for Dog took the lead in online business
Jenny Prevel's online business proves how much she loves dogs. Back in 2004, when she adopted her first rescue dogs, she wanted to create an online community where her fellow dog-lovers could share photos of their furry friends.
D for Dog was born and quickly grew to include dog news, events, articles, funnies and a highly-respected online shop selling a wide range of gorgeous and practical dog products and accessories.
17 years ago, setting up an online business wasn't the walk in the park it is now. Jenny explains: "There were no ready-made shopping carts to choose from and WordPress was in its infancy. So, anyone starting a website in 2004 needed a working knowledge of HTML to get started. I learnt basic HTML and got some free webspace in order to set up D for Dog. Very humble beginnings."
Fortunately, Jenny was motivated by her joint passions for dogs and for IT: "I love all things internet. I was in my mid-20s when the internet took off but, I grasped it right away and could see that it opened up a world of possibilities. Seeing your own website online – live for the world to see – that's still a big thrill."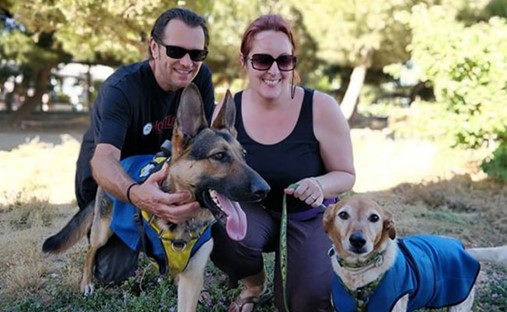 And why did Jenny decide that 123 Reg had the pedigree she needed for an online partner?
"I had already purchased a couple of domains from 123 Reg when I was trying to decide what path to take with my online career. So, when I decided to start D for Dog, it was a no brainer," Jenny said.
"I had always found 123 Reg very simple to use, with a clear pricing structure. It was so user friendly, I didn't consider going anywhere else.
"Right from the start, even all those years ago, I found 123 Reg so easy to use and navigate. I could have all my domains in one place, set up automated renewals and quickly and easily navigate the various sections. I know that all my domains are in safe hands.
"The few times I have had to contact 123 Reg for support, they have been really quick to assist. And that has never really changed. You still offer the same reliable service today, 17 years later."
Wonder what that is in dog years?
What new tricks can Jenny pass on to other would-be entrepreneurs?
As Jenny can confirm, being self-employed isn't an easy option: "You have to be dedicated or you probably won't succeed. The hours are long and the work can be dull at best and stressful the rest of the time.
"The world of blogs and ecommerce is always changing and competition is really high now, as well. You need to love what you are doing and make sure you have a niche or USP or you will just be joining a heap of similar offerings."
One of the things that has helped D for Dog maintain its status is Jenny's personal touch: "I really love chatting to customers," she said.
"Many newer pet product websites don't have much of a clue about what they are selling or why – it is all about the bottom line for them. But, for me, dogs are my passion and that shows when you contact us by email or phone."
That's right, you can get Jenny on the dog and bone – and she'd like to hear from you because, as she says: "You can't beat a good natter with a fellow dog lover".
And it is these interactions which help make it all worthwhile: "I love sharing my dog knowledge with other dog owners and, sometimes the expertise you can share can even be something that saves a dog's life."
When it comes to offering advice to anyone starting up their own online business, Jenny's message is simple: "Don't expect it to be easy. So many people think you can set up an online business, just put a few hours in and swan about for the rest of the week. It doesn't work like that.
"If you are not an expert in your field or you don't have a USP, the online market is too crowded for survival. If you like time off and holidays, stick to your nine to five. Never be tempted by quick fixes. Do what you plan to do and do it well and you should be OK."
So, what keeps her going when she's dog tired after another long day?  "I get an immense amount of pleasure working for myself. The internet made that possible for me. It is a medium that allows people like me to easily share their skills and passions with a wide audience."
If you would like to check out D for Dog's online dog products and information, visit the website, or find them on Facebook and Twitter as well Instagram and YouTube.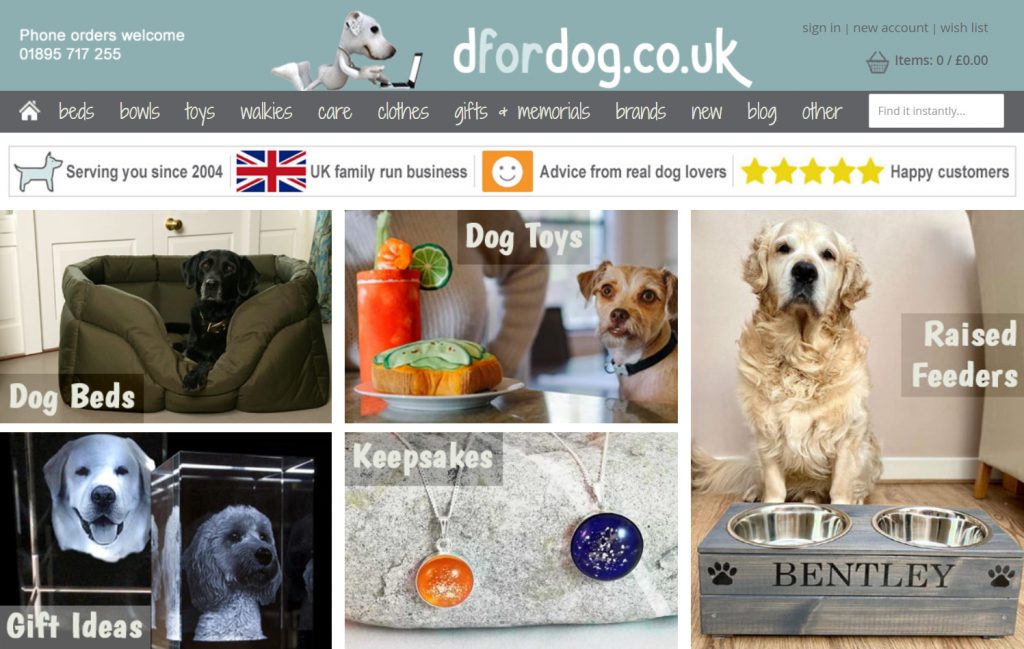 Feeling inspired?
If you're inspired by Jenny's story and you are ready to start your own online journey, we're ready to help. You can use our Online Shop to quickly and easily set up an ecommerce business.
We also love hearing about our customers' success stories. So, if you have a great story to share about how 123 Reg has helped your online business, get in touch here.