Meet Tom Bills: The latest 123-reg Customer Hero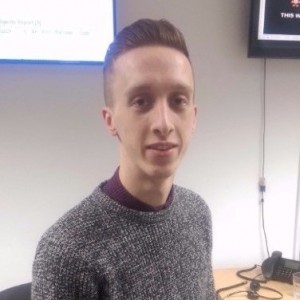 At 123-reg, offering great products is only part of what we do. We understand that in order to run a business smoothly, our customers need expert advice on hand to help them make the most of
the tools we offer. That's why we put such a strong focus on providing top-notch customer service. To help you get to know the people behind our customer service efforts, we like to profile some of the staff who have been praised most by our customers. This month it's Tom Bills.
Tom has always had an interest in IT, something which led him to study software development at university in Sheffield and in turn, that led him to 123-reg.
"As soon as I saw the opportunity at 123-Reg, it felt like a great decision to get myself into the industry within some capacity, this was further emphasised during my interview and it's a decision I'm glad I made."
Tom is also committed to providing great customer service: "Customer service is something that I find is paramount, not only from a personal perspective, but in general. My stance is, 'treat others as you yourself would like to be treated' and that is definitely something I put into practice on a daily basis."
Customer service is important for businesses of all sizes
The importance of customer service also goes beyond 123-reg and Tom feels it's something all companies should be committed to: "You could have the best products on the market, but without a loyal customer base that continue to show faith and trust within your business and continue to use your products, it would be in vain."
For this reason, Tom believes that it's important all businesses treat their customers with "the greatest care" to ensure that people remain happy and stay as customers.
To help with that, 123-reg has put together a webinar on getting to grips with customer service, which you can find here.
In terms of the support Tom has received in order to help him excel in his role, he said: "I had a job in retail prior to starting at 123-Reg, and although I think my customer service was good, I was a rather shy character. Working at 123-Reg has helped to change that and I've become a lot more comfortable in a customer facing environment. A special mention should go to Paul Allen and Jason Tilley for the fantastic training I was given. Working at 123-Reg is a continual learning experience, one whereby I like to go above and beyond what is required. I know it's a cliche, but you do learn something new every day."
He added: "123-Reg is a great working environment, hard work never goes un-noticed, which is something I appreciate it, whether it be an email or someone coming up to you and thanking you. Liz, my manager, and the pod leaders are great, in that they are easily approachable, regardless of the topic of conversation. No one's door is ever closed and that is an ethos which I like."
Have you received great customer service from 123-reg? Be sure to let us know.