The Destination domain: .xyz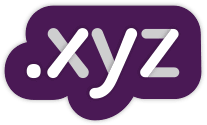 Did you know that the .xyz domain could have a psychological advantage over others, as our brain is pre-programmed to understand XYZ as a combination of authority?
Here are three reasons why a .xyz domain name could give you a subtle advantage:
XYZ makes sense of the world
XYZ is a universal term applied across many industries to label key terms or methods of explanation. For example, In judging colour across the colour spectrum, the references XYZ define how the human eye interprets colour and is used by artists, broadcasters, photographers and scientists as a reference every day. XYZ are also the universal labels for the axes on 3D graphs, with the majority of the developed world working with these on a daily basis, meaning the combination is built-in to their understanding as an important defining term to pay attention to.
XYZ is a common call to action
Ever been told to XYZ? It's a colloquial term usually told to men who are spotted with their trouser fly down. e.g. "Man, you need to XYZ" as in "eXamine Your Zip". To many, that means every reference to the letter combination XYZ attracts their immediate attention. Attention grabbed your website, email or online project takes an advantageous leap.
Less barriers as a global brand
Going online means you literally can be a global brand but so often a UK name that has worked so well can't transfer to other continents or even other states in Europe because of language issues. Perhaps the word has a different meaning in another language or at least a slanted connotation. With a .xyz you at least eliminate that potential issue with your domain suffix. Quite simply, the letters x,y & z are the universally recognised as the last three letters of the Latin alphabet. That means .xyz creates a global identifier and literally is the final word in domain name extensions.
Psychology of words is an often underestimated persuasion tool. In branding and in business if there is a short, quick and efficient way to gain a psychological advantage in your attempts to persuade a customer to choose you, it is well worth considering.